Roped Prose Productions – Agent Nyxon, The Longest Night
Roped Prose Productions – Agent Nyxon, The Longest Night
Following on from our previous episode "Agent Nyxon, Code Name: The Swan" the super sexy secret agent Nyxon is still the helpless captive of that villainous varmint The Cowboy!!!
Having been lured into a diabolical trap, the leather-clad lovely has to spend an entire night tied up in tight, inescapable bondage, inside her hotel room – a hotel which unfortunately for Special Agent Nyxon, actually belongs to her captor!!!
There is one piece of good news for the helpless heroine though, the van that she was meant to be transported to the city docks in, has broken down and is currently undergoing repairs in the shop. This means that Agent Nyxon has some time in which to mount an escape attempt before her captors are able to spirit her away.
What isn't such good news, however, is that The Cowboy isn't taking any chances and instructs his men to pay Agent Nyxon a special "visit" during the night and after spending a few hours in their company, the bound brunette is now a hot mess and in no condition to attempt any futile bid for freedom.
What's more, the Cowboy's men have tied her down even more stringently, lashing her ankles to each of the bed's legs and even tying her shoulders down to the mattress she lays upon, meaning that the gorgeous gumshoe is now completely pinned down and unable to move a single inch!!!
After a very long night, Nyxon awakens to see, to her horror, that The Cowboy is sitting in a chair drinking orange juice and admiring his prized possession. She glares angrily at him and moans pathetically as her mouth has been packed with rags and sealed in with packing tape that says "fragile" on it.
Right now, the word fragile best sums up her condition as the normally defiant detective is growing increasingly weary, a result of a very tiring stay at The Cowboy's horrific hotel. Agent Nyxon has certainly had The Longest Night…

Featuring: Nyxon
Size: 288.8 MB
Duration: 00:08:14 min
Resolution: 1280×720
Format video: mp4
Preview: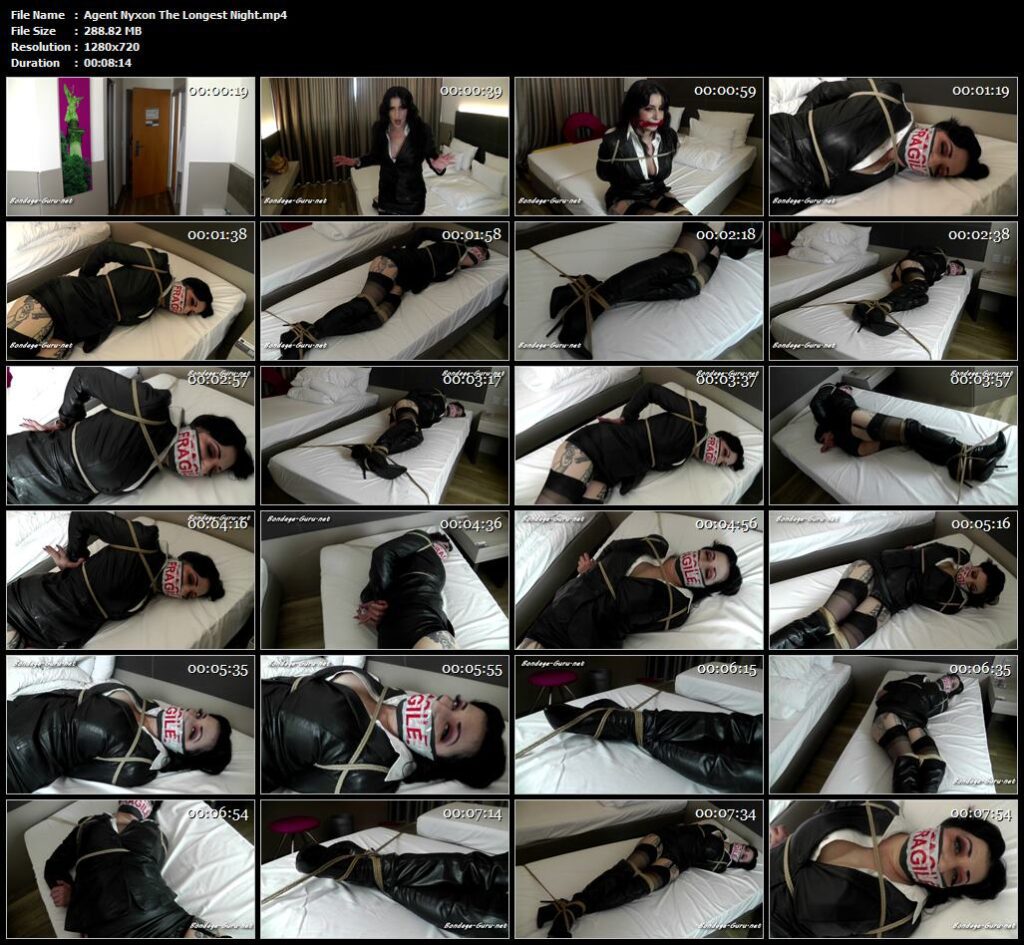 Download link:
Agent_Nyxon_The_Longest_Night.mp4