My Dorm Room Bondage Fantasy – Captive Chrissy Marie
There is a new security guard in my college dorm and I think he is really cute. I often try to find excuses to flirt with him while he is on duty. Ive never told him, but I secretly have been having fantasies about him using the handcuffs he carries on me to restrain me and have his way with me. Ive never tried bondage before, and Im not sure where these ideas are coming from, but I like it. Im curious so I decide to order some handcuffs online that are just like his, to see what it feels like. I did some research and decided I wanted to try the full experience, so I bought a ball gag as well. I can barely contain myself when they arrive in the mail. I decide to start right away as Im already really turned on just thinking about it. I realize I forgot that I also need to bind my ankles and I didnt get buy anything for that. After a second of thought, I grab a belt I see nearby, securing it tightly around my ankles. I then realize this is going to be a very difficult task if I keep my robe on, but Im only wearing my panties underneath. I dont really want to take the belt off my ankles to go get dressed, and my roommate is home visiting family, so I decide its ok to be topless and Im feeling a little hot and bothered anyway. I strip out of my robe, wearing just my white cotton panties, and continue by gagging myself with the large red ball gag. To finish off I handcuff my hands behind my back. I start to squirm and struggle to see how it feels. I moan through my gag as I enjoy the feeling of the cuffs restraining my wrists.
I suddenly realize I didnt find the keys before I put on the cuffs. Now how am I going to get out of them!? I struggle around helplessly wondering what to do. Then I spot my phone on the headboard. Perhaps if I can get to it, I can manage to press speed dial and call for help. I hope my crush isnt the security on duty, that would be so embarrassing, but what else am I supposed to do, stay here bound and gagged until I die? I reach for my phone with my bare feet, and after a few tries I succeed at getting my phone and hitting the speed dial. Even if I cant say anything through my gag, they will still send somebody. I struggle until I finally here a knock on my dorm room door. Chrissy, are you ok? He knocks again, and Im horrified as I recognize that it is in fact my crush, and he is going to see what I did to myself, lying here helplessly bound, gagged and topless! I try to answer him through my gag but he cant hear me, so he comes in anyway. He sees me lying there and is shocked for a second, but then immediately springs into action, removing my gag and asking me what happened as he reaches for his cuff keys. I tell him I tied myself up and then couldnt get loose, and had no choice but to call security. I immediately cover my bare breasts as soon as he removes the handcuffs. I start to undo the belt around my ankles and he is unusually quiet, at that point I realize he has a raging hard on, which starts to really make me want him. I tell him I just wanted to know what it felt like. You wont tell anyone will you? He sits on my bed and tells me No, Chrissy, I wont tell. Then he goes on to tell me he does this too and likes to tie women up, but hasnt had anyone to do it with for a long time. I get excited and decide to just go for it, asking Do you find me attractive? He tells me he does, but is still being hesitant. I put my hand in has lap, and he immediately tells me I shouldnt do that. Hes really trying to control himself. I tell him make me and at that moment he grabs my wrists stands me up and bends me over the bed, telling me to stay put while he goes to grab some rope. Once he returns he starts tying me up into a hog tie, telling me he think Ill really like the rope even more than the cuffs. I think I have to agree. I really love how confined I feel tied up so tightly with rope!He holds up the ball gag, asking if I have any last words, as I giggle and ask do I really have a choice? I open wide and he shoves the gag in my mouth. He steps back to takes it all as the picture is completed now with me all tied up and gagged. I cant believe my fantasy is coming true, but then to my surprise he says he has to go lock up all the doors for the night, and he is going to leave me here for an hour while he finished his shift, then he will check on me. Im left struggling and squirming in anticipation until he returns!

Starring: Chrissy Marie
Size: 1040.14 Mb
Duration: 00:15:50 min
Resolution: 1920×1080
Format video: mp4
Preview: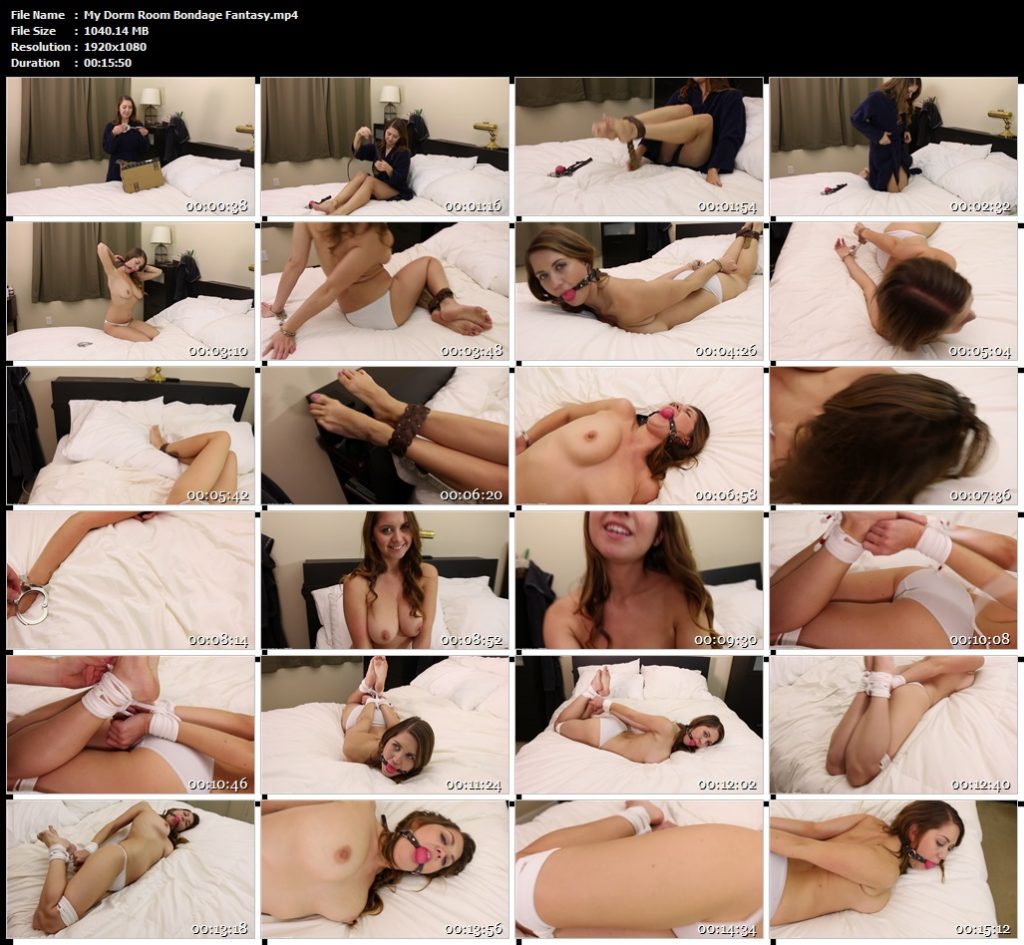 Download link:
https://wayshare.cc/baapmjpp9b7c/My_Dorm_Room_Bondage_Fantasy.mp4.html