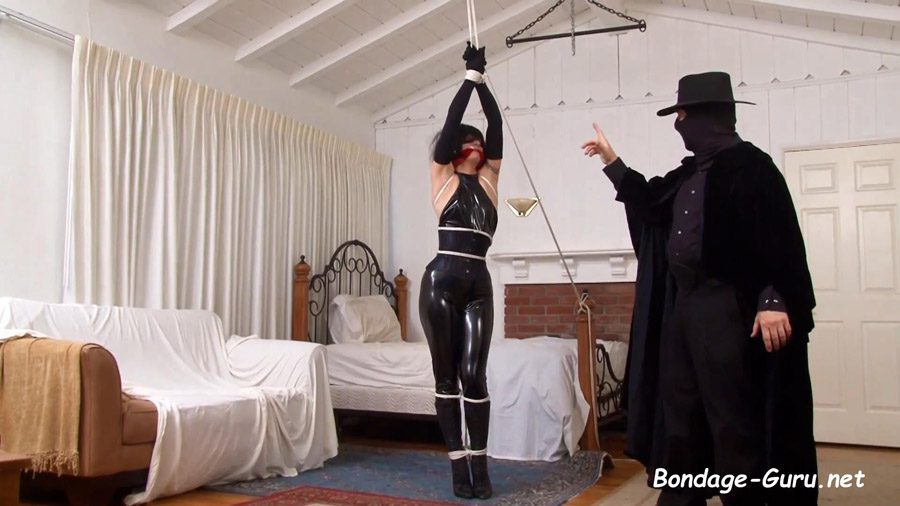 Diva In Distress – The Complete Video – AMERICAN DAMSELS by Jon Woods
Diva In Distress – The Complete Video – AMERICAN DAMSELS by Jon Woods
This sensational feature is now bargain priced! The story begins in a grimy garage, where government agent Megan Salinas has been stripped naked, cleavegagged with a bandana and tied to a chair. A mysterious gloved woman is seen holding a black statuette before she leaves the gorgeous latina alone to struggle. Soon, a masked villain enters to ask who took the coveted statue. Megan answers, but then instead of freeing her, he gags her with duct tape and once again she's left alone and helpless.
After completing a robbery, the Dangerous Diva (Loren Chance) is confronted by a mysterious agent in black (Britney Lace). When the Diva tries to make her escape, she's overpowered! Soon the black-clad villainess is ballgagged and securely locked up with a lot of chains and handcuffs. Will she be able to escape her enigmatic captor? (With a brief cameo appearance by Niki Lee Young, nude, bound and gagged.)
Next the mysterious agent in black has been overpowered by the Dangerous Diva and she's bound hand and foot and cleavegagged. The booted villainess leaves the helpless blonde and escapes, and the captive agent struggles in vain to free herself. Then inexplicably, the Diva returns — but someone else is stalking the Dangerous Diva!
The Dangerous Diva and the mysterious agent in black are both bound by none other than the infamous Crooked Claw! The caped villain tries to persuade the Diva to surrender the coveted "Black Bird," but she remains defiant. Both ladies are gagged while he searches for the valuable artifact. Each captive struggles to be the first to free herself, yet both remain helpless. Unable to find the statuette, the Claw then spirits the Diva away for further interrogation.
The Dangerous Diva has been taken captive by the Crooked Claw and spirited to his hideout where she's bandana-gagged and bound hands-over-head. After she refuses to cooperate, the caped villain leaves her with his scaly associate "Plisskin." When the Diva survives, the Claw unmasks his sexy prisoner. Will we finally learn the Dangerous Diva's secret identity?
The Dangerous Diva remains the helpless captive of The Crooked Claw. After removing her mask and wig, the defeated Diva is ballgagged and left in a suspended balltie. How long will she be able to hold out before the dark villain finally breaks her will?
Knowing escape is impossible, the Dangerous Diva finally surrenders the mysterious "Black Bird" to The Crooked Claw… but her troubles aren't over yet! The caped villain leaves his sexy captive outside where she's bound, tapegagged and exposed. Who will find the vanquished villainess?
The story is followed by the complete vignette, gorgeous Niki Lee Young (as a victim of The Dangerous Diva) is naked except for her black thigh-high stockings. She's tapegagged and tied into a spreadeagle position on the bed, struggling, moaning and squirming. Yet she remains a helpless captive of the Diva!

Starring: Loren Chance, Megan Salinas, Britney Lace, Niki Lee Young
Size: 2.6 GB
Duration: 00:59:38 min
Resolution: 1920×1080
Format video: mp4
Preview: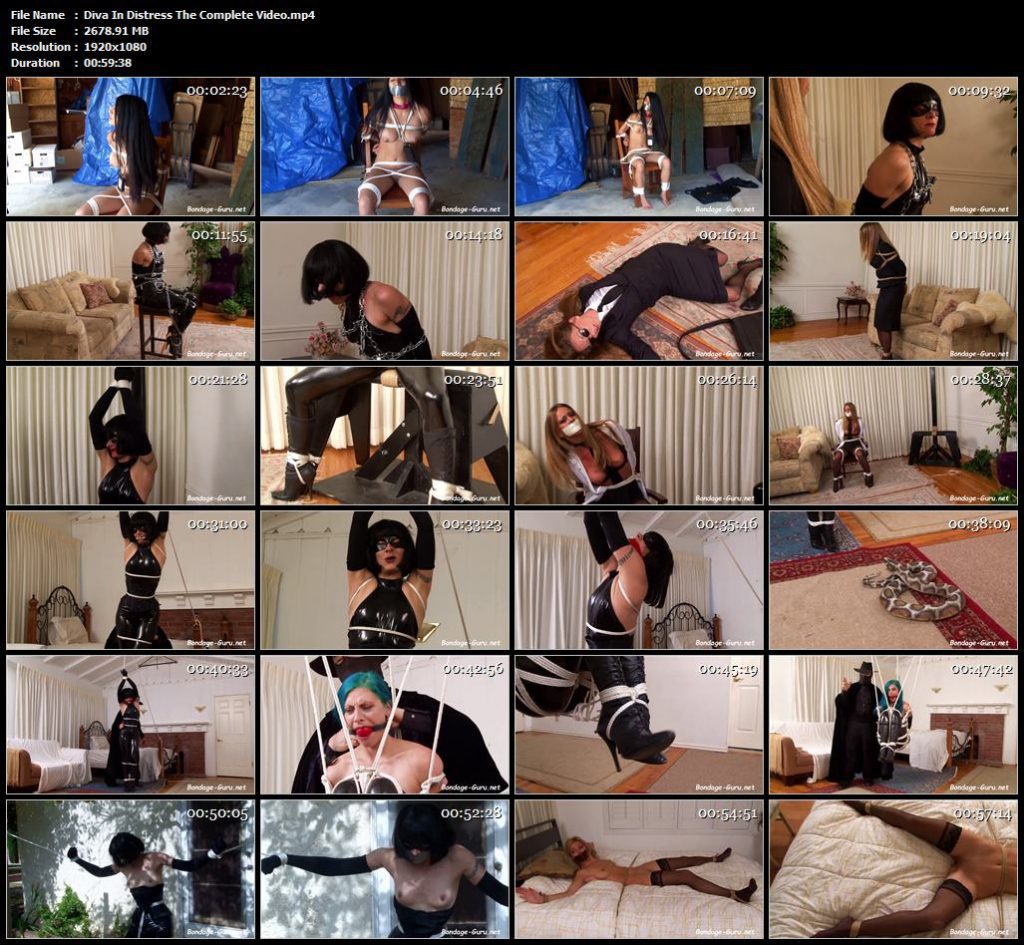 Download link:
Diva_In_Distress_The_Complete_Video.mp4