Action Lady Returns – The Complete Video – AMERICAN DAMSELS by Jon Woods
Action Lady Returns – The Complete Video – AMERICAN DAMSELS by Jon Woods
This sensational video is now bargain priced! As this story from the American Damsels Network begins, Action Lady (Carissa Montgomery) is working undercover at a research lab when Octavia (Loren Chance) bursts in to steal some advanced technology. But the villainess recognizes the bound and gagged secretary as her archenemy, and Carissa is thoroughly roped up and her huge breasts are exposed. Before Octavia makes her escape, she leaves the blonde beauty in big trouble.
Later, Action Lady has infiltrated the villainess's fortress by the sea. She's overpowered by Octavia, who ballgags and mummifies the gorgeous adventuress in a sinister wrap of her own creation. Once the evil woman learns of Action Lady's real reason for being there she makes her escape, leaving the busty blonde to an uncertain fate.
After a narrow escape, Action Lady tracks Octavia to her new lair. Our busty protagonist overpowers a guard to steal her uniform, but Octavia sees through the disguise and takes her captive. Then a rival villain enters unexpectedly and nabs Octavia. Both ladies are bound and gagged, with powerful vibrators secured to their thighs to enhance their humiliating defeat.
The story is followed by a collection of deleted scenes from the 1950s sitcom parody "Always In Trouble." In these segments, we get to see other victims of "The Phantom Burglar" from a previous episode. Sexy damsel Ginger Sparks has been stripped down to her girdle and retro lingerie and thoroughly chairtied by a mysterious villain. When the redhaired cutie begs to be let go she's promptly ballgagged. Poor Ginger is left alone to struggle, but soon her captor returns to expose her perky, all natural breasts. What will become of this poor, helpless captive?
Next, gorgeous Chrissy Daniels is getting ready to go out dancing when she's confronted by the phantom burglar who's been terrorizing the neighborhood. The curvy redhead is cleavegagged and tied to a stool while the villain robs her. But he soon returns and layers a detective gag over her cleavegag and hikes up her skirt to expose her stocking tops and garters. Poor Chrissy struggles and moans in a futile effort to free herself… But our damsel's ordeal isn't over yet!
As her captivity continues, the gorgeous redhead is stripped down, tied up and a powerful vibrator is placed in her hands. The damsel protests: she's heard of these things, but insists that a good girl like her would never use such a depraved device. The villain tapegags his luscious hostage and the vibrator is switched on. Soon Chrissy is forced to have a series of humiliating orgasms while her captor watches.
Then beautician Niki Lee Young encounters the Phantom Burglar who's been terrorizing the neighborhood. However, unlike the burglar's other victims, the gorgeous hairdresser seems excited to encounter the mysterious criminal. Niki is tied up in a classic position and silenced with a "detective gag." She struggles, squirms and moans, and when she tries to hop away, she's caught! Our sweet damsel's pink uniform is ripped open and her skirt is hiked up for a peek at her panties, stocking tops and garters. What else does the Phantom Burglar have planned for his not-so-unenthusiastic hostage?
The video concludes with the complete scene from the Action Lady story: one of Octavia's guards, all-natural babe Izzy Champayne is overpowered, stripped down to her panties and left to struggle bound, bandana-gagged and locked away in a closet when Action Lady steals her uniform. She squirms and moans, but she remains helpless until someone finally discovers the helpless guard.

Starring: Carissa Montgomery, Loren Chance, Ginger Sparks, Chrissy Вaniels, Niki Lee Young
Size: 2.3 GB
Duration: 01:00:17 min
Resolution: 1920×1080
Format video: mp4
Preview: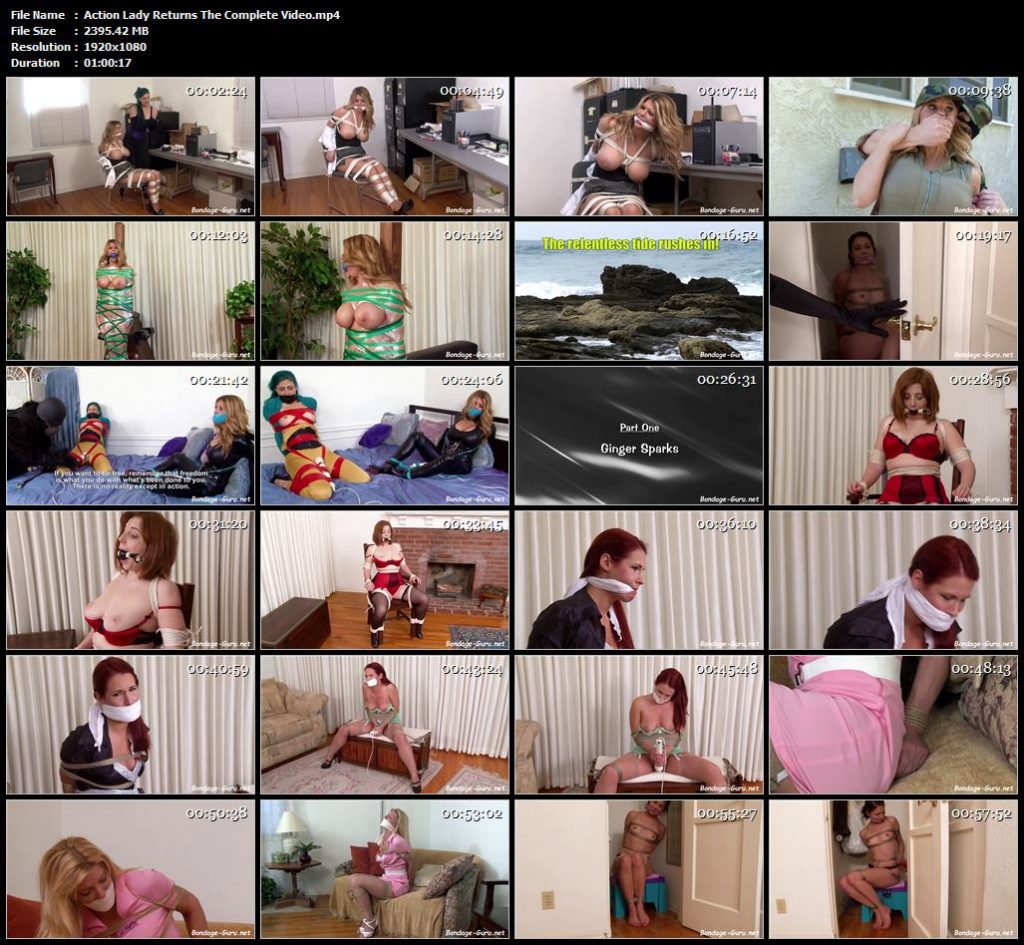 Download link:
Action_Lady_Returns_The_Complete_Video.mp4