AMERICAN DAMSELS by Jon Woods – The Adventures of Miss Boxworthy – The Complete Video
AMERICAN DAMSELS by Jon Woods – The Adventures of Miss Boxworthy – The Complete Video
This sensational bondage-filled fantasy is now bargain priced! As this steampunk-inspired story begins, the titular heroine (Candle Boxxx) is lured to a strange location with the promise of thrilling intrigue. She's then delighted to be taken captive by a scruffy villain, who binds and gags the flighty heiress (all shown onscreen). Miss Boxworthy gets into the moment and struggles, then she's led away by her captor.
When we next see our damsel, she's being held in a small cage by her captor while they wait for the ransom to be delivered. To help pass the time, she convinces the villain to tie her up and gag her so she can pratice her escape artistry. He indulges her, and soon Miss Boxworthy is thoroughly bound up and silenced with a stuffed cleavegag. The scoundrel then leaves his helpless hostage alone to struggle while he goes to collect the money.
As the adventure continues, Miss Boxworthy's step-father asks Lady Fox (Aidra Fox) to deliver the money for his step-daughter's safe return. The villain Bike is quite surprised to encounter his foe, and he takes quickly her captive. Lady Fox is cleavegagged and tied kneeling with her hands overhead. Her captor has also fitted her with the "forced orgasm belt." Soon the device is activated, and before long the gorgeous brunette succumbs to a helpless orgasm.
Miss Kendall Boxworthy (Candle Boxxx) is still trying to free herself when she's unexpectedly grabbed by the sinister Dr. Caesar Beringei. The mad scientist has wicked plans for our damsel, and she's strapped down to a table, ballgagged with a vibrator buckled to her thigh. The device is switched on, and our heroine almost transforms before she surrenders to a helpless, squirting orgasm. The horrible experiment is nearly a success when it's brought to an abrupt halt with the emergence of a sinister new player in the story.
Miss Boxworthy has unexpectedly fallen into the clutches of Professor Blackstone Emerson Claw III! The criminal mastermind steals a family heirloom from her from his own nefarious purposes, then leaves our heroine cleavegagged and suspended over a smoking vat of something horrible. The helpless damsel squirms athletically to free herself, but all her efforts are for naught! Will Miss Boxworthy be able to escape this dire fate, or will her adventures come to a cataclysmic end?
The story is followed by "Pin-Up In A Haunted House." As the tale begins, the titular damsel (Jayden Cole) is snooping around in a hidden room when she's suddenly grabbed hand-over-mouth and pulled into a closet by a spooky villain. The statuesque redhead is next seen detective-gagged and securely bound to a chair. Her masked captor re-emerges to expose her perfect, all natural breasts. Despite her struggles, poor Jayden remains a helpless prisoner.
Her ordeal continues with leggy, lingerie-clad babe ballgagged, bound into a "classic position" and struggling in the dungeon. Soon the stocking-footed beauty is roped into a very secure hogtie. The gorgeous redhead moans, drools and squirms in a futile attempt to free herself.
In the conclusion of "Pin-Up In A Haunted House," stunning redhead Jayden Cole is tapegagged, tied to the bed spreadeagled in her lingerie, gloves, stockings and heels with a vibrator roped in place to insure an exciting climax to her story. The leggy beauty tries in vain to resist the relentless hum of the device, but ultimately she surrenders to an unavoidable orgasm.

Starring: Candle Boxxx, Jayden Cole, Aidra Fox
Size: 1.8 GB
Duration: 01:00:02 min
Resolution: 1920×1080
Format video: mp4
Preview: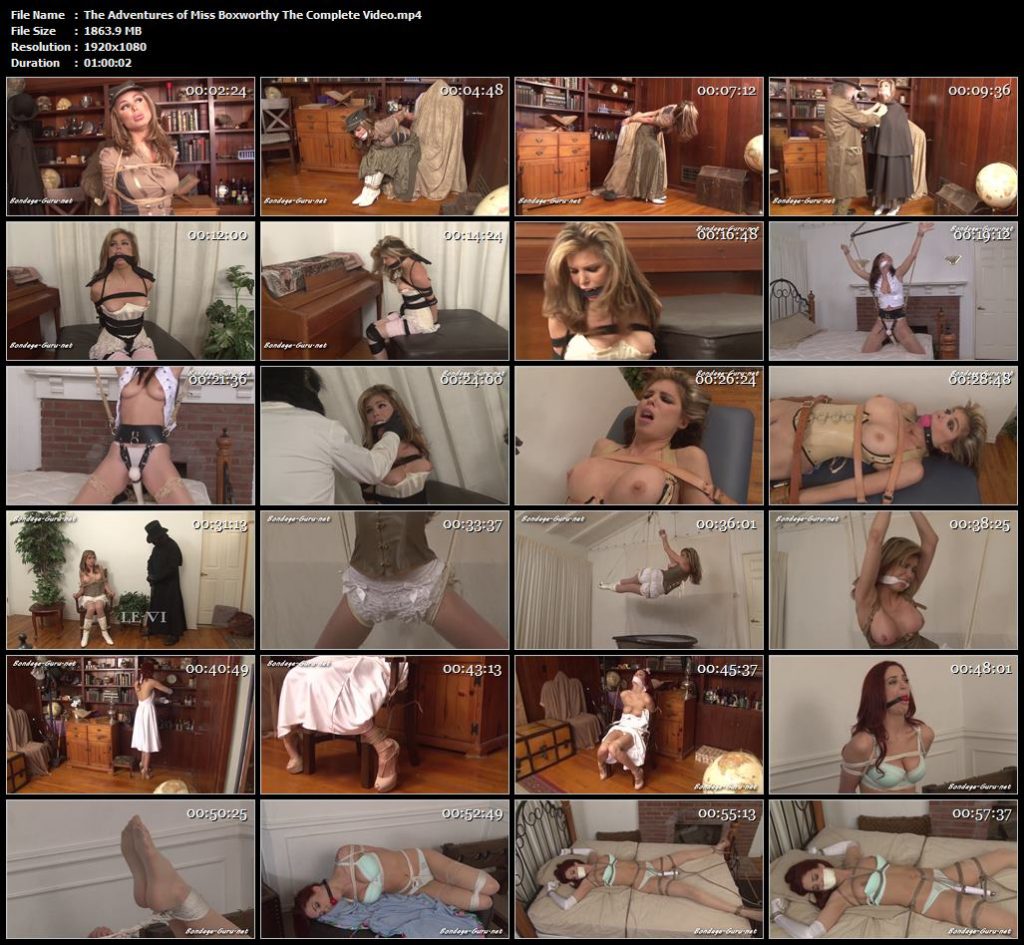 Download link:
The_Adventures_of_Miss_Boxworthy_The_Complete_Video.mp4