AMERICAN DAMSELS by Jon Woods – Mr Bike's Damsels – The Complete Story
AMERICAN DAMSELS by Jon Woods – Mr Bike's Damsels – The Complete Story
As this steampunk-inspired adventure begins, the beautiful spy Mata Hana (Hannah Perez) is taken captive by the villainous Mr. Bike. She's ballgagged and bound hand and foot in her costume (all shown onscreen). Left alone, the gorgeous damsel hops around on stage, and she breaks a glass to try to cut herself loose. But she's caught as she makes her failed escape attempt. What will the scoundrel do to her next?
Then Mata Hana" is hogtied, cleavegagged and her breasts are exposed by the scoundrel Mr. Bike. She struggles to get loose and manages to free her hands, but she's caught, her wrists are re-tied and her elbows are bound together. The villain also adds a toe-tie to her hogtie. Then the helpless spy is placed into a trunk to be spirited away to Mr. Bike's secret lair.
The adventure continues with gorgeous spy "Mata Hana" as the roped-up captive of the villain Mr. Bike. She reluctantly surrenders her secrets to avoid his fiendish vibrator torment, but he cruelly tapegags the dark-haired beauty and turns on the diabolical device anyway.
In the next part of this tale, the adventuress Lady Aidra Fox is taken captive by the evil Mr. Bike. The feisty damsel refuses to surrender her secrets, so the villain cleavegags the brunette beauty and subjects her to his insidious vibrator. She soon succumbs to a helpless orgasm and tells him what he wants to know… but will he free her?
The story is followed with a sneak preview from the new season of the American Damsels Network series "Go Hostagettes!" Sexy college cheerleaders Alexandra Belle and Daniela Lubov are the helpless captives of a mysterious villain. The fair-haired damsels are barefoot, bandana cleavegaged, chairtied and struggling. Soon their shapely legs are tied open to allow a panty-peek and their perky all-natural breasts are bared. Then when Daniela is tries a bit too hard to get free, we find her chair has tipped over.
Then leggy beauty Vivie Delmonico is ballgagged and tied down to the sofa in a position that shows off her incredibly long legs. Soon the high-heeled babe's luscious breasts are bared, and more rope is added to secure her in a fold-tie position.
In the final scene of the video, Vivie Delmonico is barefoot and dressed up in lacy lingerie for a progressive tie. She begins bound hand and foot in a classic position and she begs to be let go. But she's cleavegagged, and the statuesque beauty hops around when the villain leaves her alone. But she's caught and frogtied on a chair and continues to struggle in vain against the ropes. Then Vivie's panties are removed, her ample breasts are exposed and she's lotus-tied to the chair.

Starring: Hannah Perez, Aidra Fox, Alexandra Belle, Daniela Lubov, Vivie Delmonico
Size: 2.1 GB
Duration: 00:57:32 min
Resolution: 1920×1080
Format video: mp4
Preview: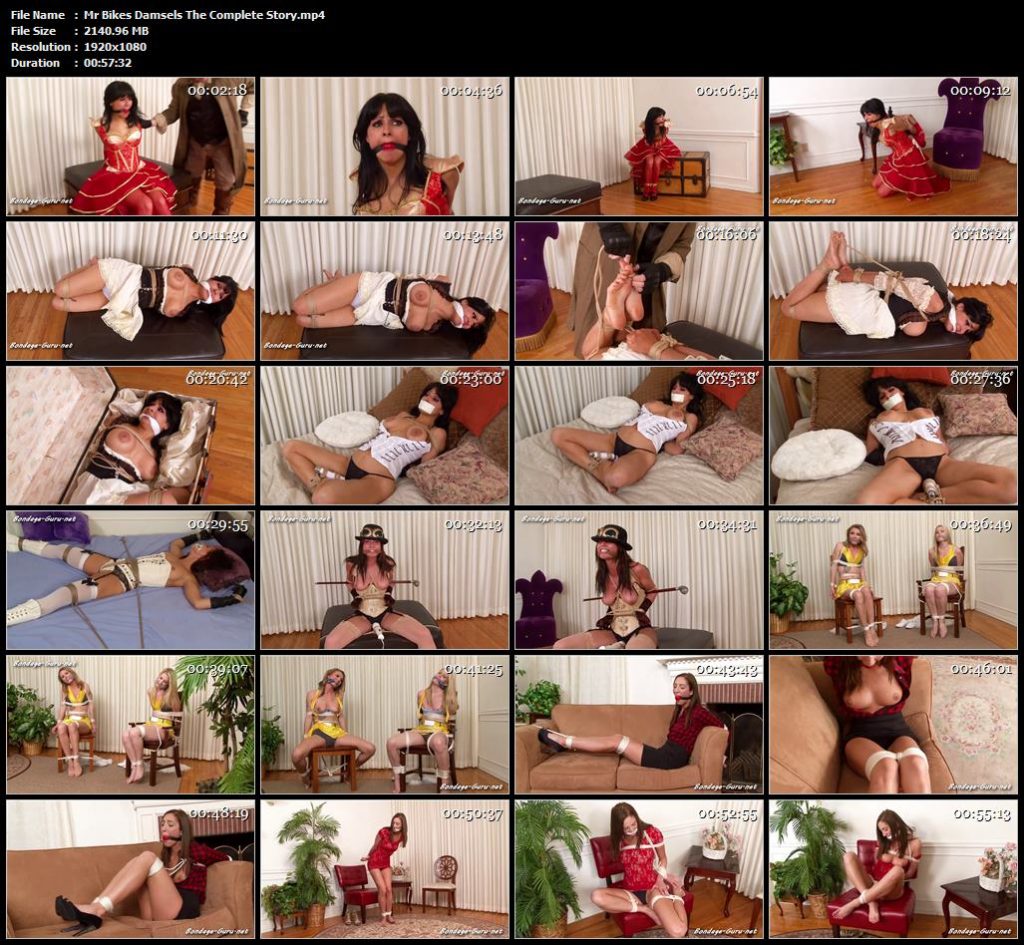 Download link:
Mr_Bikes_Damsels_The_Complete_Story.mp4