TILLYTOWN – A Heroine's Submission: Tilly McReese and Jacquelyn Velvets
TILLYTOWN – A Heroine's Submission: Tilly McReese and Jacquelyn Velvets
Our lovely heroine Jacquelyn is searching the hideout of the Evil Mistress Tilly, searching the computer and keyboard for any hints of the computer password so that she can access Tilly's secret plans for world domination. What she doesn't realize is that Tilly has been watching her the entire time, lurking in the shadows! Before Jacquelyn can even react, Tilly springs upon her and demands to know just what Jacquelyn is up to! Jacquelyn vows to bring Tilly down for justice once and for all, but Tilly just laughs it off and grabs Jacquelyn to the next room to have her way with her!
A few moments later, Jacquelyn is all bound up with her legs tied together and her hands tied behind her back! The binds are digging nicely into Jacquelyn's golden blazer, as Tilly sits her hard on her lap and starts to grind on her from behind, letting her know exactly who's in charge! Tilly's fun with Jacquelyn has just begun as she stands her up and grabs her tits hard from behind while continuously grinding her skintight black jumpsuit hard into Jacquelyn's bound and captured body! Jacquelyn is just screaming and hoping that someone will realize she's missing and come save her, while Tilly knows no help is coming and will not stop until she hears the sweet submission coming out of Jacquelyn's lips!
Jacquelyn's tits are popping out of her black sports bra and though she cannot allow her body to orgasm from the quickening of Tilly's grinds against her, it soon becomes inevitable that the biggest climax she's ever experienced in a long time is coming! The sounds of Jacquelyn's screams of reluctant release are all music to Tilly's ears as she continues to grind harder into Jacquelyn and slap her exposed tits around from behind. With Jacquelyn now completely spent and submissive, Tilly smiles as she leads Jacquelyn to her new home in the dungeon.

Featuring: Tilly Mcreese, Jacquelyn Velvets
Size: 2.8 GB
Duration: 00:22:38 min
Resolution: 1920×1080
Format video: mp4
Preview: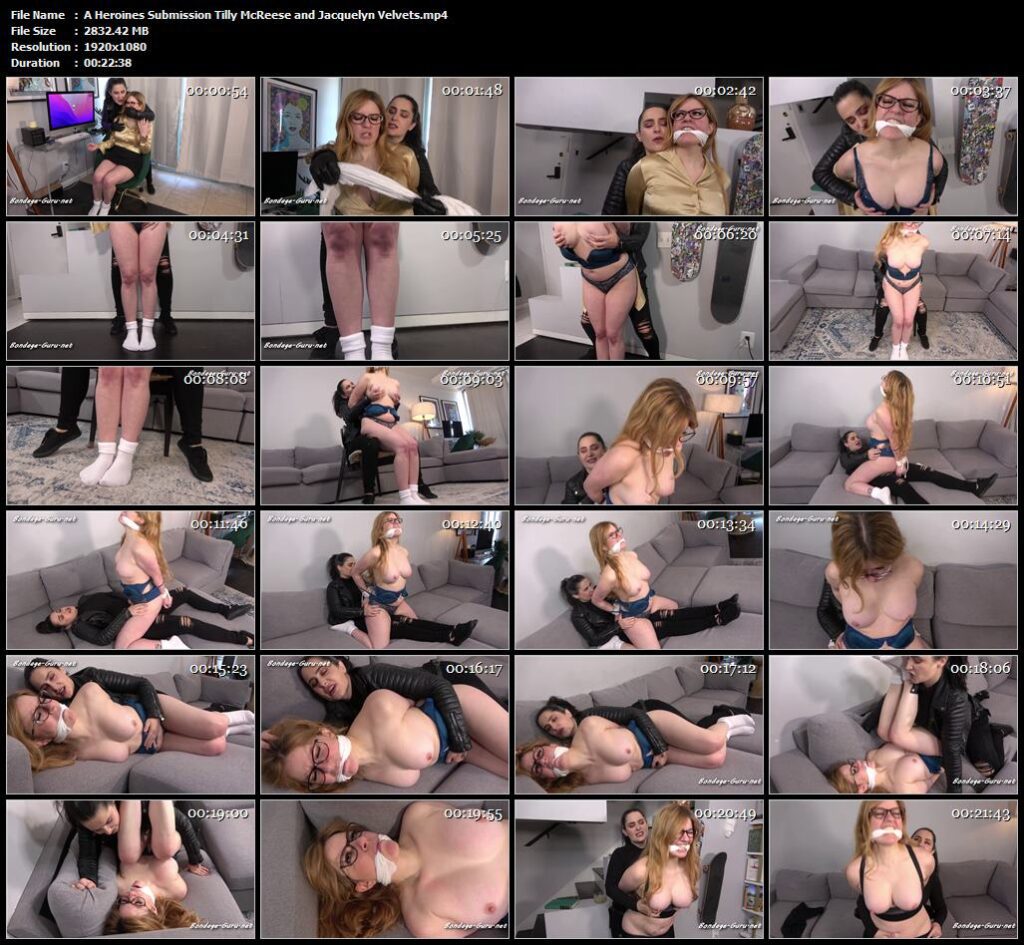 Download link:
A_Heroines_Submission_Tilly_McReese_and_Jacquelyn_Velvets.mp4