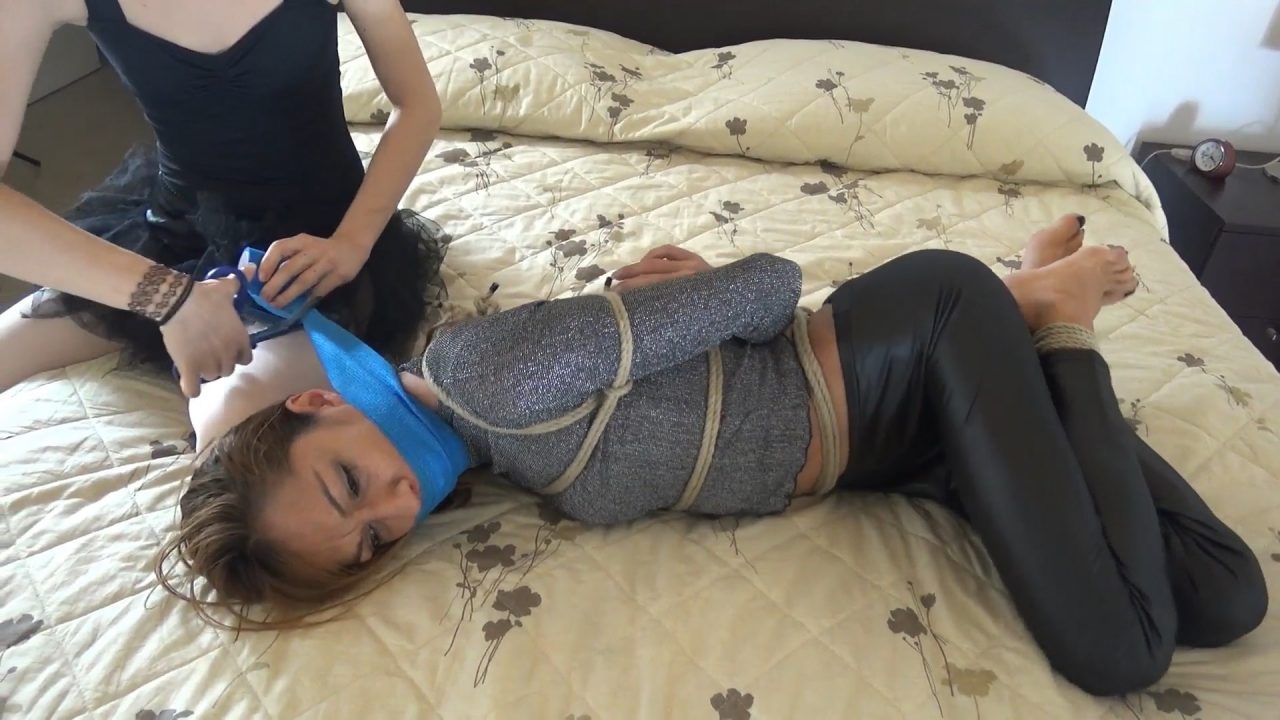 The Rival Ballerina – Jessica & Kelevra – Captured Beauties
The Rival Ballerina – Jessica & Kelevra – Captured Beauties
Kelevra is the rising star of ballet and has just gained the role of prima ballerina in an upcoming show at expenses of Jessica. Jessica obviously holds a grudge on her and decides to ruins her rival. While Kelevra is preparing for the podium training in her house in her ballet uniform, doesn't notice Jessica who sneaks behind her and presses a cloth on her mouth, making her inhale the chemicals soaked in it. After some seconds Kelevra loses her senses.
The young dancer wakes up on a bed. She's tied up with rope in a hogtie. Jessica taunts her telling her that she's going to miss the official training session meaning that she'll lose her lead role in the ballet. Kelevra insults her and is immediately silenced with a red knotted cleave gag. She moans desperately while when Jessica leaves her.
But Kelevra is not going to give up s easily. After some work on her binds she's able to undo the knot connecting the hands and the ankles. Not being anymore hogtied she manages to raise from bed. She then hops around to find something with whom she can cut her bonds and finally finds a pair of scissors in the bathroom.
In the next scene Jessica comes back and finds out that Kelevra has escaped. She searches her but when she enters in the bathroom she's punched in the solar plexus. Breathless she's easily overpowered by Kelevra.
Bitterly defeated by her rival Jessica lays on bed properly hogtied. Kelevra teases her that not only is a mediocre dancer but also not at all skilled with know and a failure as villainess. She then put a cloth in her mouth and loops vet wrap around her head, effectively silencing her. She goes to the ballet hall after having explained what happened to the manager. Angry and frustrated Jessica tries to get loose but without much success. Apparently she's going to endure the triumph of her rival.

Starring: Jessica, Kelevra
Size: 491.45 MB
Duration: 00:17:15 min
Resolution: 1920×1080
Format video: mp4
Preview:


Download link:
The_Rival_Ballerina.mp4