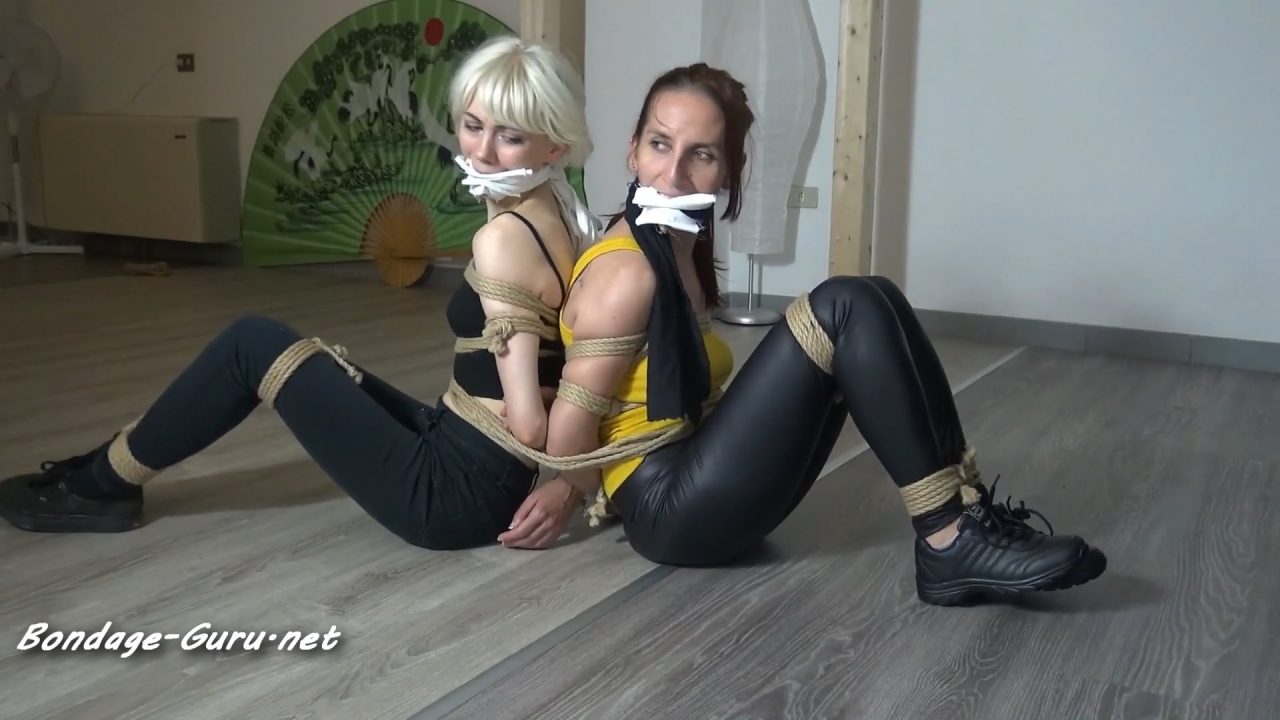 Rapina su Commissione parte seconda- Commission Theft – part 2 – Layla – Kelevra & Minou – Captured Beauties
Rapina su Commissione parte seconda- Commission Theft – part 2 – Layla – Kelevra & Minou – Captured Beauties
Nel capitolo precedente Layla, una direttrice di banca presa prigioniera da due ladre dilettanti, Minou e Kelevra, si è liberata e ha catturato a sua volte le due ragazze. Minou e Kelevra si ritrovano legate schiena contro schiena e imbavagliate con un fazzoletto in bocca tenuto assieme da un altro pezzo di cotone avvolto intorno alla testa. Non riescono né a liberarsi ne a comunicare tra loro.
Layla ritorna dopo qualche minuto. Ora Layla vuole sapere chi ha commissionato la rapina e chi aveva detto alle due ragazze di prelevare dei documenti riservati nascosti nella cassaforte. Minou e Kelevra negano di conoscere il mandante. Di lui sanno il nome, Don Mario, e conoscono la voce al telefono. Layla toglie loro le scarpe e poi le calze. Poi agita pericolosamente il coltello e le minaccia di amputare loro qualche dito. Se non parlano.
Ma proprio quando le due ragazze terrorizzate sono sul punto di parlare arriva Don Mario. Layla lotta risolutamente, ma viene messa a dormire.
Nella scena successiva Layla si ritrova legata sul tavolo in hogtie. Le corde sono strettissime e non c'è per lei nessuna possibilità di fuggire. Una garza medica le avvolge la faccia impedendole di parlare. Le due ladre le mostrano le sue preziose scarpe che verranno rubate insieme ai documenti riservati. Layla si dibatte furiosamente e le insulta attraverso il bavaglio, ma non può fare niente. Nei minuti seguenti Layla, lasciata sola, cerca di allentare le corde muovendosi per quanto possibile, riesce anche a mettersi di lato, ma non riesce a sciogliere nemmeno un nodo. Tutto quello che può fare è sperare che qualcuno venga a liberarla.
In the previous chapter Layla, a bank director taken prisoner by two amateur thieves, Minou and Kelevra, freed herself and captured the two thieves. Minou and Kelevra find themselves tied back to back and gagged with a handkerchief in their mouths held together by another piece of cotton wrapped around the head. They can neither free themselves nor communicate with each other.
Layla returns after a few minutes. She wants to know who commissioned the robbery and who had told the two girls to collect confidential documents hidden in the safe. Minou and Kelevra only know the nome of the guy: Don Mario. They only talked with him by phone. Layla takes away their shoes and then the socks. Then she dangerously shakes his knife and threatens to amputate some of their fingers if they do not speak.
But just when the two terrified girls are on the verge of talking, Don Mario arrives and takes Layla by surprise. Layla fights resolutely, but she succumbs and is put to sleep.
In the next scene Layla finds herself tied on the table in hogtie. The ropes are very tight and there is no chance for her to escape. A medical gauze wraps around her face, preventing her from speaking. The two thieves show her precious shoes that will be stolen along with the confidential documents. Layla struggles furiously and insults them through the gag, before they leave her alone to struggle. In the following minutes Layla, tries to loosen the ropes for what is allowed by her precarious position. She even manages to get to the side, but can't even untie the knots. All she can do is hoping for someone to find and free her.
Dialogue In Italian

Starring: Kelevra, Minou, Layla
Size: 657.96 MB
Duration: 00:15:59 min
Resolution: 1920×1080
Format video: mp4
Preview:


Download link:
Rapina_su_Commissione_parte_seconda.mp4