Nyxons Bondage Files – Karly Salinas Revenge On A Hooter's Hussy
Nyxons Bondage Files – Karly Salinas Revenge On A Hooter's Hussy
Nyxon walks Karly into the living room. Karly's wrists are tied behind her back and a strip of tape gags her. Nyxon has one hand on her arm as she forces her to walk to the couch. Nyxon spins Karly around and looks her over, disgust in her face. Karly struggles and protests. There's a bunch of rope on the couch. Nyxon spins Karly around as she looks her over.
Nyxon: "So you work for Hooters? Maybe not so much when I get done".
Nyxon picks up her phone and snaps several photos of Karly. After a few seconds, Nyxon pushes Karly onto the couch. She bends over and forcefully takes off Karly's socks, tossing them away.
Nyxon: "Stand back up".
Karly refuses. Nyxon grabs her by the arm and forces her to.
Nyxon: "I said Stand UP!".
Once Karly is standing again, Nyxon again looks her over as if she's thinking about something. She spins Karly around for a moment, looking her over front and back. Finally she grabs Karly's shorts and pulls them down, revealing the panties under the pantyhose.
Nyxon: "Step out of the shorts. Now".
Karly again refuses. Nyxon tickles the back of Karly's knees, forcing Karly to step out of the shorts. Nyxon stands up and turns Karly to face her. She pulls the tank up slightly and, grabbing one of the ropes off the couch, ties a crotch rope on Karly. She ties the back of the crotch rope off to Karly's wrists. Nyxon ties a harness on Karly. She finally strips Karly of the pantyhose, leaving Karly only in her tank top and panties. She pushes her back down on the couch and ties her ankles and knees. Nyxon stands up and examines her handiwork. She grabs the phone and takes a few more photos. Then she sits down next to Karly.
Nyxon: "I guess you want to know why I did this to you. Well, my boyfriend and I were in your restaurant last week and I saw you flirting with him the whole time. Right in front of me. And then imagine my surprise to find out he met you later".
Karly protests and tries to deny it all. Nyxon holds up the phone.
Nyxon: "This is his phone".
Nyxon starts scrolling through some pictures, showing them to Karly.
Nyxon: "Here's you and him in the bedroom. Here's you and him in the shower. Here's you and him in the pool. You really do like to get wet, don't you? Want me to go on?".
Karly, realizing she's caught, shakes her head. Karly motions for Nyxon to remove the gag. Nyxon looks at her for a moment, then takes it off.
Nyxon: "You wanted to say something?".
Karly: "I'm sorry. I didn't know he was your boyfriend. He told me you were his sister. Honest!".
Nyxon: "And you believed him?".
Karly: "Yes, hones–".
Nyxon hand gags Karly.
Nyxon: "Either you're stupid or you think I'm stupid. Either way, it's fairly obvious we aren't brother and sister. We look nothing alike. So let's try again, shall we?".
Nyxon lets go.
Karly: "Listen, I wasn't really into him, especially with all those disgusting tattoos–".
Nyxon again hand gags Karly.
Nyxon: "What do you have against tattoos. I have tattoos. Are you calling me disgusting? Because if you are, we're going to have a real problem. Now think your next words through carefully".
Nyxon lets go again.
Karly: "I'm sorry. Really, I am! It wasn't even good for me. He wasn't even a minute man! More like a three second man".
Nyxon hand gags Karly again.
Nyxon: "You just don't know when to shut up, do you? Let me help you with that. I mean, he is still my boyfriend". (Nyxon looks at the phone again) "You know, looking at these pictures, you like to put things in your mouth. I have just the thing to go there".
She lets go and walks off camera for a moment.
Karly: "Wait, what are you going to do now? Please. Just let me go. I'll stay away from him and do anything you want. What? What's that?".
Nyxon comes back with a white ball gag.
Nyxon: "Open wide".
Karly tries to fight it but Nyxon gets the ball gag in. Nyxon picks up the phone and takes a few more photos.
Nyxon: "Look happy or I'll hurt you".
Karly tries to fake looking happy despite not being happy.
Nyxon: "Good. Now I'm going to post these to your Facebook and Twitter accounts and tag Hooters in them as your suggestion for a great new look for the restaurant. Then we'll really have fun".
Nyxon has Karly stand up. She grabs a pair of scissors and cuts the straps of the tank top, then pulls/tugs it down off of Karly. When she gets it past the harness, she just cuts it the rest of the way off. Karly is now left in her bra and panties.
Nyxon: "I'll be right back. Don't go anywhere".
Nyxon walks off camera. Karly struggles in place, eventually falling back on the couch. After a few minutes of struggling, Nyxon comes back with more rope.
Nyxon: "Oh, good, you're where I want you".
Nyxon ties a hogtie rope on Karly. Karly is now pretty well immobilized.
Nyxon: "I have to run some errands, but when I come back, the fun will really begin".
Nyxon walks off leaving to Karly to struggle.

Starring: Nyxon, Karly Salinas
Size: 2.1 GB
Duration: 00:36:21 min
Resolution: 1920×1080
Format video: mp4
Preview: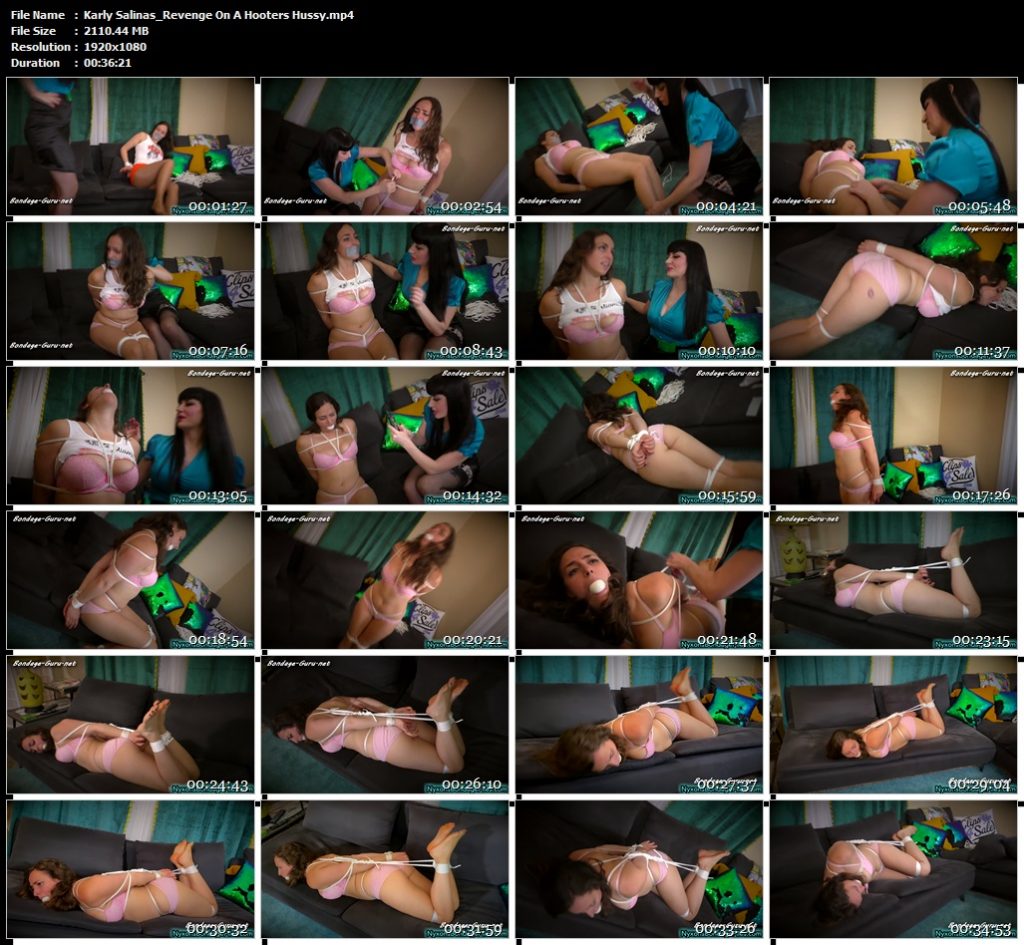 Download link:
Karly_Salinas_Revenge_On_A_Hooters_Hussy.mp4