Nyxon & Irene Silver Escape Challenge HD – Nyxons Bondage Files
Nyxon & Irene Silver Escape Challenge HD – Nyxons Bondage Files
Irene and Nyxon are sitting next to one another at the start of the video. Both are talking to the camera, starting off introducing themselves.
Nyxon: Today we're going to take turns doing an escape challenge. Irene is going to go first.
Irene: Bring it baby!
Cut to Irene already tied up. She's in a tight aem tie with her ankles and knees tied.
Nyxon: How's that?
Irene: A little tight but I can hang.
Nyxon: Good because the viewers want us gagged also.
Irene: Wait, what?
Nyxon handgags Irene as she rummages through her bag.
Nyxon: Hold on, I got something here…perfect!
Nyxon takes out a pair of panties and shoves them into Irene's mouth despite Irene's protests. Nyxon then tape gags Irene.
Nyxon: There! Now see if you can get loose. Irene starts struggling.
After a couple of minutes: Nyxon: Ya know, if you can't get out of this then I'm sure I can't so I think I'll pass on my turn. (Looks at phone) Look at the time! I gotta run! See you next week for the next show!
Nyxon gets up and leaves Irene still bound and gagged. Irene struggles against the ropes trying to free herself. She succeeds in getting the tapegag to loosen, and manages to spit the panties out. Nyxon decides that that's not what their viewers want & marches back on camera with some duct tape & seals Irene's mouth shut.

Starring: Nyxon, Irene Silver
Size: 883.1 MB
Duration: 00:10:52 min
Resolution: 1920×1080
Format video: mp4
Preview: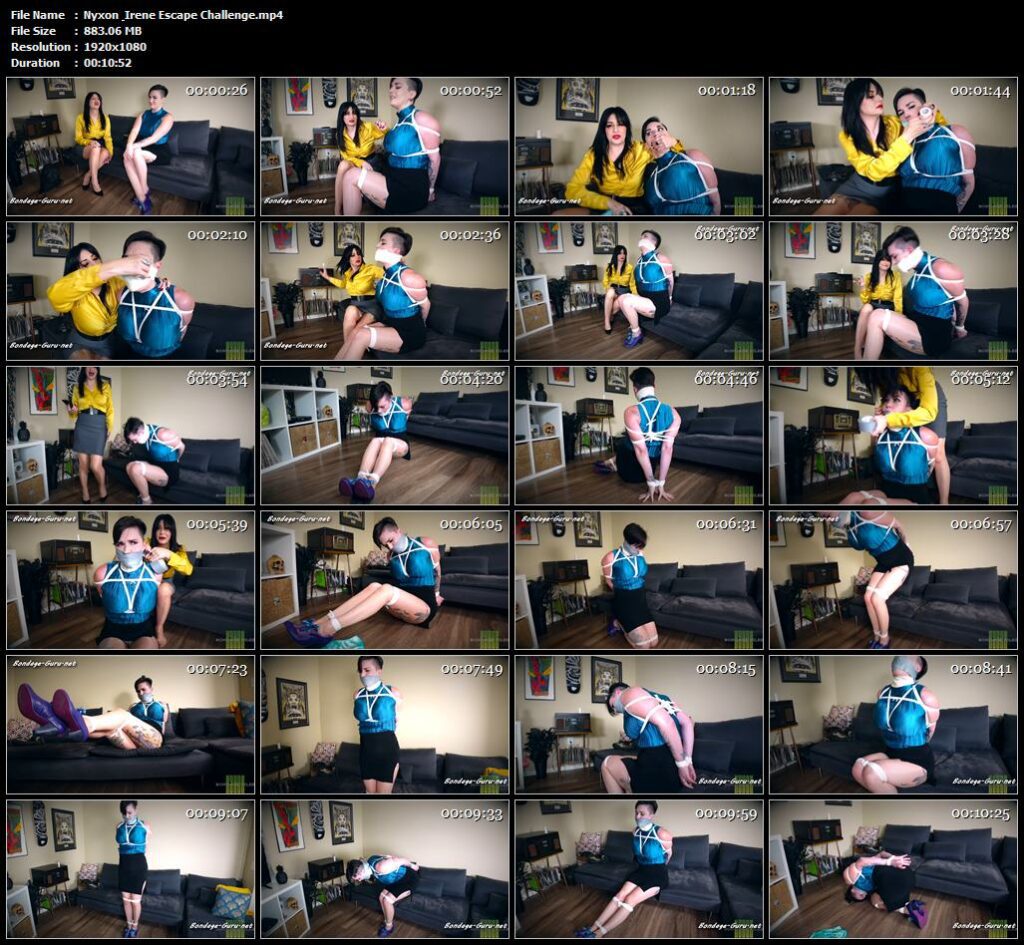 Download link:
Nyxon_&_Irene_Escape_Challenge.mp4