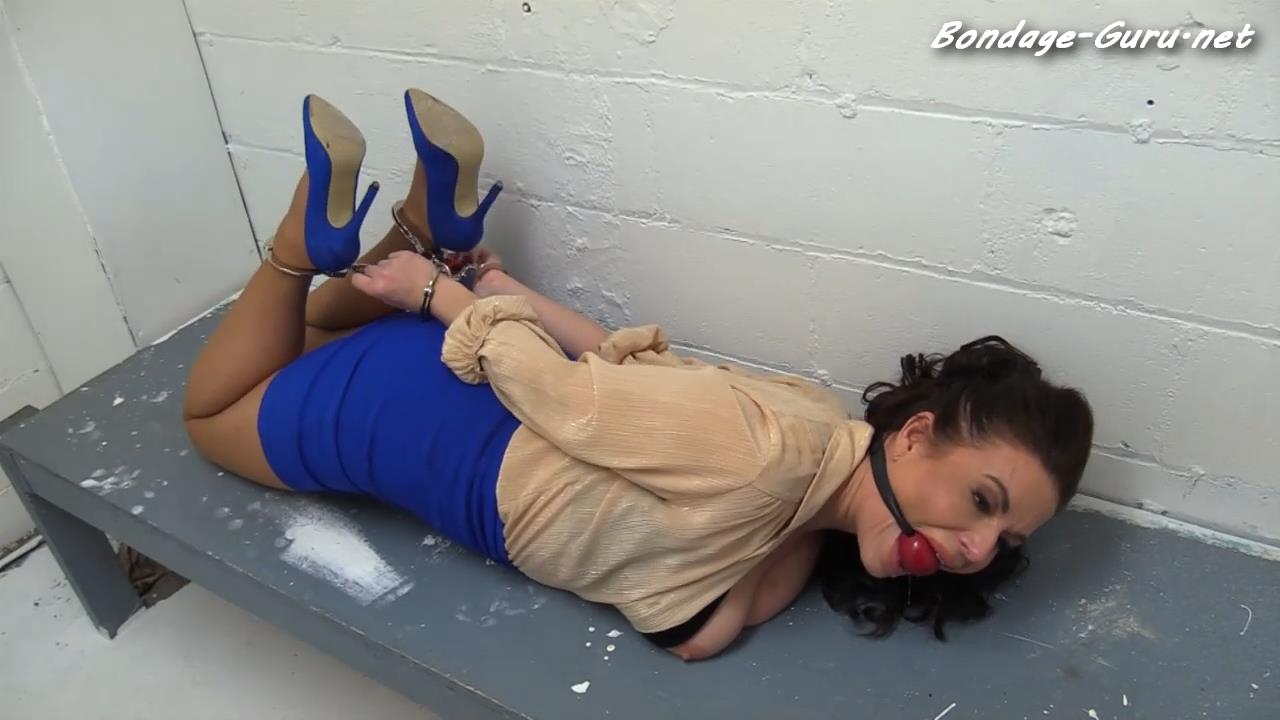 Ms Nevers interrogates JJ – Bondage: JJ Plush, Born to be Bound
Ms Nevers interrogates JJ – Bondage: JJ Plush, Born to be Bound
Nyssa has caught on to JJ's slick ways of stealing money from the company, so it's time for her to fess up and return the cash. There lies the problem, JJ wants to play innocent and claim no fault! Well that won't work the time, Nyssa cuffs her and shoves her in a prisoner holding cell. JJ is pissed yet still won't tell the truth after Nyssa locks her in there, still cuffed behind her back. JJ's been yelling so Nyssa comes in to shut her up, shoves a huge red ball gag in her mouth and hog cuffs her to give her time to think about what she's done.JJ struggles profusely and can't help but to drool all over that shiny red rubber ball.JJ still won't admit she stole the money, so Nyssa will have to find a way to make her pay. Nyssa drags JJ out of the cell, still cuffed. She takes her in the next room and pushes her against a rusty pole, and cuffs her wrists behind her around the pole. Time for a cuff exchange, she shackles JJs ankles around the pole as well. This thieving woman isn't going anywhere, at least not until Nyssa recovers that money.Nyssa wants to hear what JJs got to say now, so she takes that huge red ballgag out of her drooling mouth and once again, JJ won't admit a thing! Nyssa grabs another pair of cuffs and elbow cuffs her around the pole. JJ is completely cuffed up now, and if she doesn't want to talk, then Nyssa has just the thing to shut her up. Nyssa takes a pair of dirty worn pantyhose and shoves them in JJs mouth and wraps her head to the pole with ace bandage. JJ can take some time to think about what she will say next.
Nyssa knows this bitch isn't going to break, and honestly the money taken wasn't all just Nyssa's, so she really needs to get that money back, and fast. She makes a video and says that this is the bitch who took the money and that someone should come get it from her. And sends it. Nyssa laughs and pulls JJs tits out of her bra and leaves her there to snuggle and think about whats to come. Nyssa changes up the gag so that its just a tight head wrap, leaving JJ to see just how creepy and disgusting of a place she's trapped in.
After a while Nyssa comes back and it seems that she's gotten lucky, she's off the hook, the guy wants to buy JJ and even better, he's willing to pay more than the amount that was stolen. Its a payday for Nyssa, things could have better for JJ if she was just willing to give back that cash.but now, who knows what will happen to her.The guy coming is not a very nice man. Quite malicious in fact.

Starring: Nyssa Nevers, JJ Plush
Size: 957.37 MB
Duration: 00:24:44 min
Resolution: 1280×720
Format video: mp4
Preview:


Download link:
Ms_Nevers_interrogates_JJ.mp4