Halfway House Of Sluts – That Bondage Girl
Halfway House Of Sluts – That Bondage Girl
Cadence and Michele have each been sent to a group home to curb their sexual urges. Nate, the man in charge is there to take them in and explains the group home rules. In order to keep the girls on the "right path", each is assigned a bedmate. Their role is to keep the girls from masturbating or doing the wrong things at night. As he's explaining, the girls' chemistry is undeniable. He tells the girls their room numbers and their bedmate's name and sends them on their way.
Cadence has been assigned Dixie as her bedmate. Cadence quietly enters her bedroom and strips down to her panties as Dixie stares a little too long and a little too pervy. She gets into bed with Dixie and both girls fall resting. As they are napping, Michele comes sneaking in. She strips naked and quietly removes the blanket from Cadence, as to not wake Dixie, and caresses Cadence's legs working her way up her body to her belly and nipples. She climbs on top of Cadence and kisses her gently. Cadence begins to stir and Michele sensually covers Cadence's mouth. Cadence's eyes go wide and then she recognizes Michele and fear turns to pleasure. Michele removes her hand and the two kiss passionately. Michele begins moving down Cadence's body, pushes her panties to the side and brings Cadence to a back arching, toe pointing and eye rolling orgasm. They kiss again and Cadence moves on top of Michele and returns the favor. Meanwhile, Dixie is awakened and her eyes open and just as Michele finishes her orgasm she sits up and puts a hand over both girls' mouths. Dixie tells them it looks like they're having fun…but they can't let the others hear. Turns out Dixie uses the home as her own sexual playground and now she's got two in her trap. Dixie makes Michele remove Cadence's panties and tie her ankles together.
Michele is on her side with her tied feet and Cadence lying on her stomach with her tied feet up behind her. Dixie grabs Cadence by the hair and makes her lick Michele's asshole while Michele spreads he cheeks open. Dixie fingers Michele's pussy as Cadence tongues her ass until Michele cums. Dixie makes them switch and Michele gives Cadence's asshole a tongue bath as Dixie holds Michele's hair and keeps a hand over Cadence's mouth until she orgasms. F
Cadence is now hogtied as Dixie licks and soaks with her soles while fingering her pussy. She makes Michele hold her head up by the hair and keep a hand over Cadence's mouth to keep her quiet. Cadence has a toe pointing, eye rolling orgasm.
Cadence is sitting against the head of the bed with her ankles tied to each of her wrists. Michele is on her knees and uses the hitachi on Cadence while keeping a hand over her mouth. At the same time, Dixie is fucks Michele from behind with a strap on as she pulls her hair and keeps a hand over her mouth. This continues until Michele and Cadence explode with orgasms.
Dixie hovers over the girls, grabbing both of them by the hair and makes them sit pussy to pussy. She makes them scissor each other while intermittently covering each other's mouths and suck on Dixie's tits. Cadence and Michele both cum, keeping each other's moans contained with the hand gags.
Michele, wearing the strap on, is tied on the bed in spread eagle. Cadence hops on the cock in reverse cowgirl while Dixie sits on Michele's face getting her pussy licked. Dixie pulls Cadence's hair and keeps a hand over Cadence's mouth as she rides the cock. They have an explosive eye rolling orgasm. Dixie and Cadence fall to Michelle and all three girls make out together. Dixie hand gags both girls one last time and tells them they're gonna keep it their little secret and that they'll meet at the same time the following night.
*This was a custom

Starring: Cadence Lux, Michele James, Dixie Comet
Size: 1.0 GB
Duration: 00:27:05 min
Resolution: 1920×1080
Format video: mp4
Preview: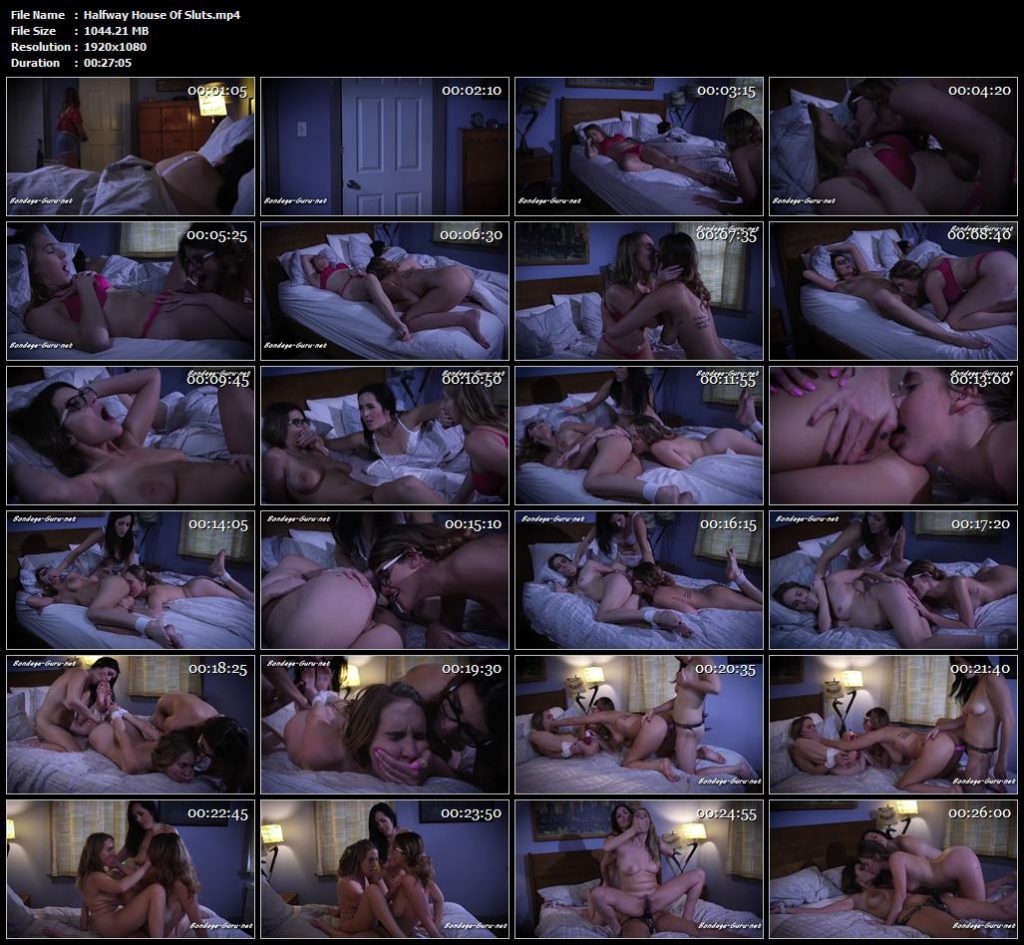 Download link:
Halfway_House_Of_Sluts.mp4