"You're Not Room Service!" – Captive Chrissy Marie
I just got back to my room after spending the morning at the beautiful rooftop pool at my hotel. I'm super thirsty but I remember my mini bar is still empty from last night so I call room service and ask them to send someone to re-stock my fridge. I expect it will take a while so I go to relax on the bed but quickly here a knock at the door. That was quick! I tell them to come in, I left it cracked, and to my surprise a mischievous looking man bursts in and I yell "you're not room service!" before he quickly grabs me and hand gags me to stop me for screaming for help. He tells me he was watching me at the pool and followed me back to my room! He starts tying me up tightly with rope as I try to get away with no luck and no escape from his groping and spanking. I struggle and protest with him, begging to be let free, earning myself a nice tight cleave gag to shut me up. He pulls open my bikini top leaving me tied up topless and humiliated.
He tells me he knows I have money and he is going to find my in room safe and take it all! But before he leaves, he decides I need more rope, and binds me into a back breaking hog tie before leaving me to struggle hopelessly on the bed. Hopefully he will just let me go after he gets his money. I roll around and tug on the ropes to no prevail, it's no use. He returns once he's gotten the goods, but just gropes me some more and even tickle tortures my bare feet before leaving me there for room service to find!

Starring: Chrissy Marie
Size: 916.82 Mb
Duration: 00:12:50 min
Resolution: 1920×1080
Format video: mp4
Preview: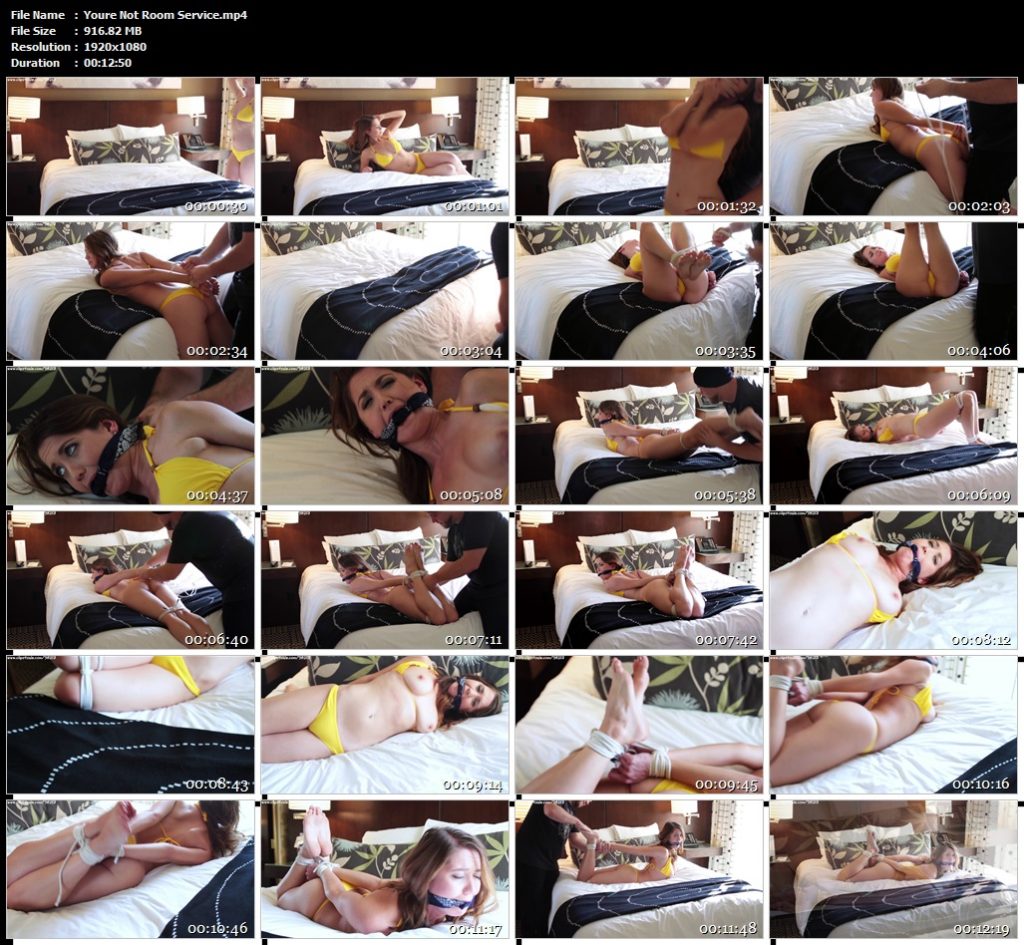 Download links:
https://wayshare.cc/zwwdyaf6odju/Youre_Not_Room_Service.mp4.html