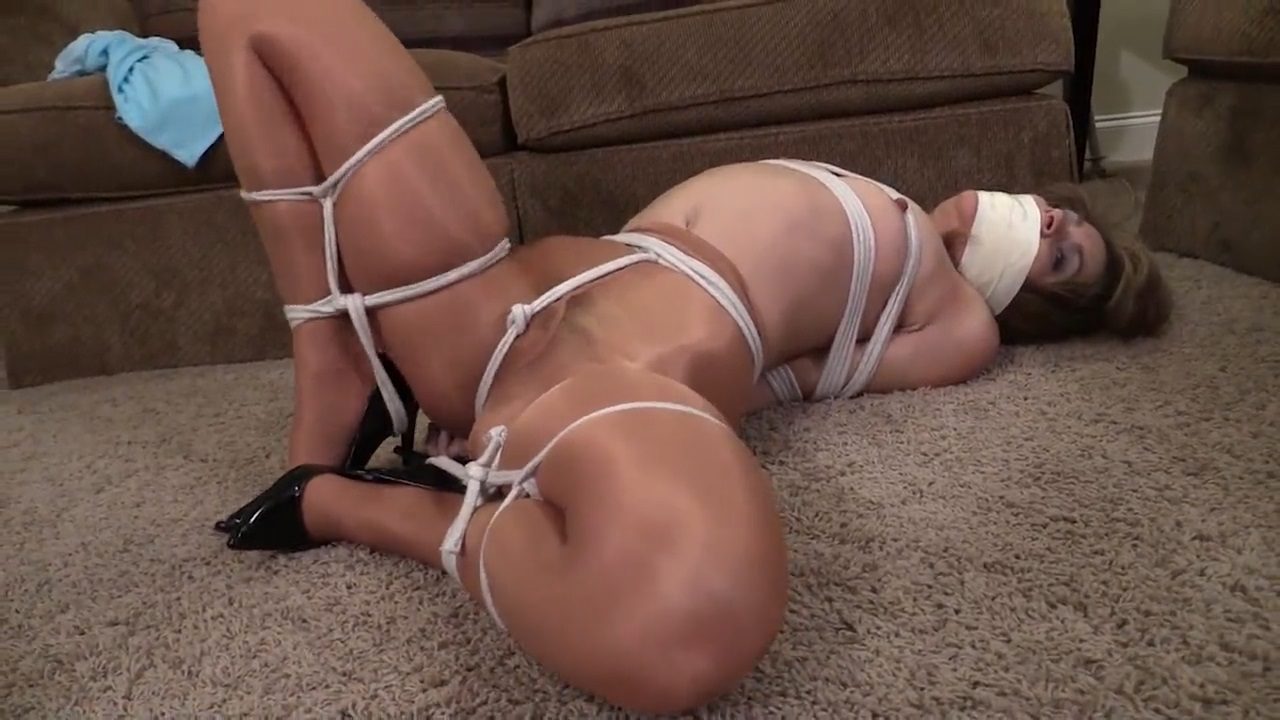 You can't let my boyfriend find me like this! Tied up in just my pantyhose! – Mouth Stuffed and Tied Up Girls
Annabelle and her boyfriend have caught this trying to rip them off. They have him tied up until they can figure out what to do with him. But the boyfriend needs to go somewhere and has left Annabelle to keep an eye on him. After all, he is tied up. What could possibly go wrong.
The video begins with Annabelle sitting and talking to the tied up man. Thinking he is in no position to retaliate, she starts to torment him. She stands over him and lets him look up her skirt to notice that she is not wearing panties under her pantyhose. She tells him that he can look, but assures him that he will never get to touch. All of a sudden, Annabelle needs to use the lady's room and leaves the man. Several minutes later she returns to tease him some more. But when she walks into the room, he isn't there. There is nothing but the rope used to tie him up. As Annabelle sits there and wonders how the man ever got loose, he returns and grabs her. The next thing Annabelle knows, the man has her stripped down to only her shiny pantyhose and has her tied up. "No please, you have to let me go" she begs him. "My boyfriend cannot come back to find me like this" she adds. But the conversation abruptly ends when the man stuffs and tapes a wad of panties in her mouth to gag Annabelle. Now it is Annabelle's turn to be tormented and teased. And this man know exactly how to torment her. He ties a knotted piece of rope between her legs. He pulls it very tight making sure the knot is snug against her pussy. The man then stands back to watch Annabelle struggle bound and gagged. The crotch rope has the affect on Annabelle the man was hoping for. Soon she is moaning with pleasure as it rubs her in just the right spot. Her moans get louder and louder until all of a sudden, she has the first of many bound orgasms. Annabelle's boyfriend will come back hours later and find her almost still tied like this. The only difference will be that the crotch rope will be gone and her pantyhose will ripped open.

Starring: Annabelle Genovisi
Size: 189.82 MB
Duration: 00:16:03 min
Resolution: 1280×720
Format video: mp4
Preview:


Download link:
You_cant_let_my_boyfriend_find_me_like_this.mp4 – 189.82 MB