Trussed Up & Tickled – Captive Chrissy Marie
Chrissy has been bound into a tight hogtie with zip ties, elbows touching and her big toes also tied together with white rope (off screen). She is wearing a posture collar and is forced to remain in an uncomfortable kneeling position for Master Matt who has arrived home and wants to play a kinky game for some stress relief after a long hard day at work. We check to her bonds from all angles then Chrissy starts to speak. "Oh my, you've got me all trussed up like a pig. How do you want me to please you today?" He goes on to tell her that after a stressful day her laughter will be his remedy. Knowing what that means, she asks if perhaps they could watch a funny movie together instead, but he tells her no he has something else planned, but first has to add one more thing. He moves to call gag Chrissy as she make puppy eyes saying "Aww but I don't wanna be gagged". He just tells her too bad and puts the gag in her mouth. He doesn't want her laughter to get so loud that the neighbors complain!
Now effectively ballgagged, Master Matt get behind her and starts tickling Chrissy all over as she laughs and squeals through her gag. He finds she is especially ticklish on her sides and bare soles today, as well as her usually extremely ticklish armpits! She is lucky he let her keep her pajamas on. Chrissy tries her best not to squirm around so much that she would fall out of her kneeling position. After almost 8 straight minutes of tickling, Chrissy is starting to think she can't possibly laugh anymore! Luckily shortly there after he finally gives her a rest and removes her ball gag. He tells herm"Well, that was some fun foreplay, you ready to finish off the night with a bang?" Chrissy responds "Oh, please, no, I am so exhausted from all the tickling. Can I please just go to sleep?" She should have thought twice about that answer.
He tells her that's fine, but he is going to leave her tied up for the night. She freaks out "No, please, untie me! I changed my mind, I'll do it!" Master Matt shows little remorse. "Sorry honey, you made your decision." He kisses Chrissy on her forehead and leaves. Chrissy finally moves into somewhat of a lying position, and tries to get as comfortable as she can since she will be forced to sleep like this tonight. She struggles for a minute as she starts crying due to the uncomfortable position she is in.

Starring: Chrissy Marie
Size: 581.09 Mb
Duration: 00:11:30 min
Resolution: 1920×1080
Format video: mp4
Preview: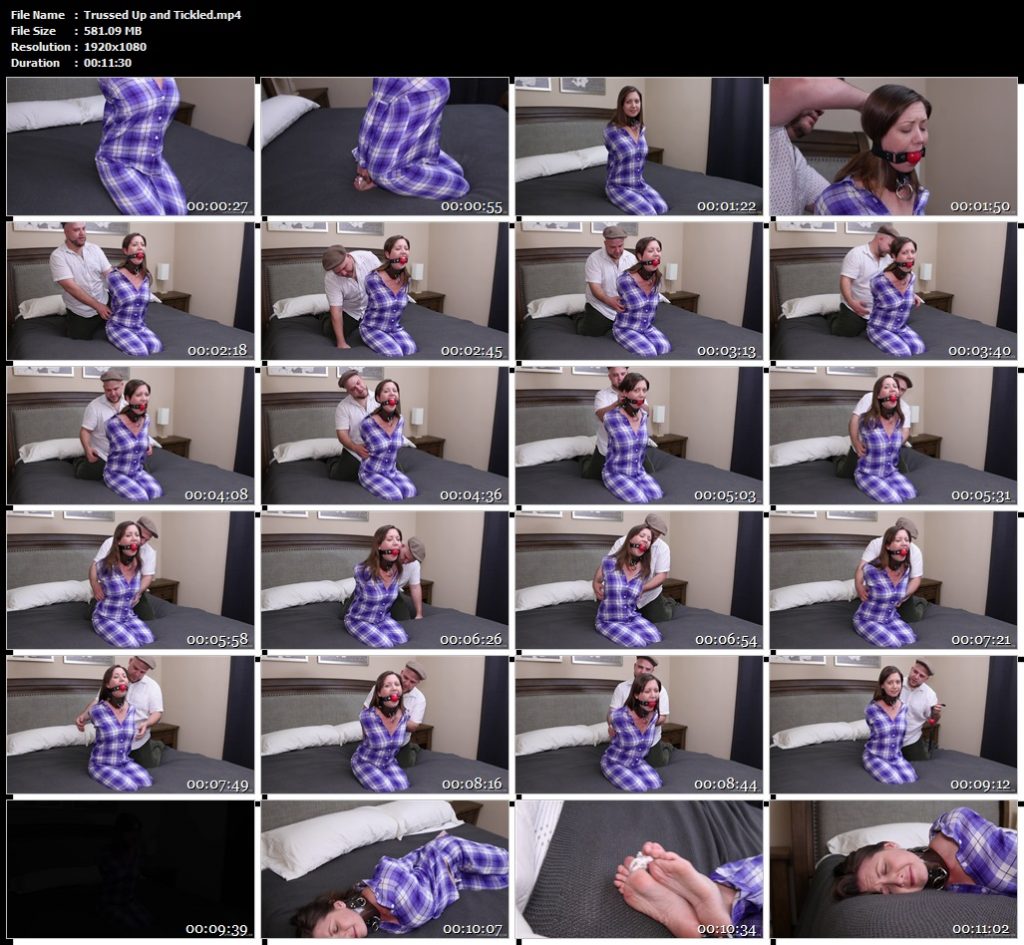 Download link:
https://wayshare.cc/aq2nd0wxu32s/Trussed_Up_and_Tickled.mp4.html