Tied Up Behind His Back! – Captive Chrissy Marie
He just got home from a long day and wanted to sit down with his wife and eat dinner. He checks the time and realizes she isn't due home for a little while longer. He decides to relax and listen to some music while he waits for his wife to get home. Soon after he turns up the tunes Chrissy gets home, talking to him from behind until she glances over at him and realizes he has those damn noise cancelling headphones on! She decides she is going to get changed and then come see if he wants to go out instead of cook. She turns around to go upstairs but just outside the kitchen a man grabs her and hand gags her tightly! He forces her back into the kitchen and is initially surprised to see her husband sitting there, but as she tries to call for help he realizes that he can't hear a thing with his loud music on! He starts to tie her up as she desperately tries to get her husbands attention. He needs to shut her up so he stuffs her mouth full and tightly cleave gags her, leaving her squirming around on the kitchen floor while he goes to find more rope to secure her with!
To her horror he soon returns with even more rope to bind her elbows nice and tight! He then pins her arms down with a ropes around her breasts so that she surely cannot escape! He lifts her up and carries her over his shoulder up to the safe since he knows he might need her to help him open it! Later Chrissy somehow manages to escape her captor while still bound and gagged! She is hopping around the house with her shirt open and her big boobs bouncing up and down, trying to reach her husband for help. She is so close but he still can't hear her with his headphones on and music blasting. It's too late anyway and the man comes back in and grabs her before she can reach him. He is finished robbing the place but he decides to hogtie her tight on the kitchen floor and leave her there for her dumb husband to find later! Chrissy is left to struggle helplessly on the floor until her oblivious husband finally wonders where she is! It doesn't take him long to find out when he takes off his headphones and turns around to find his wife tied up and gagged on the kitchen floor!

Starring: Chrissy Marie
Size: 687.84 Mb
Duration: 00:14:29 min
Resolution: 1920×1080
Format video: mp4
Preview: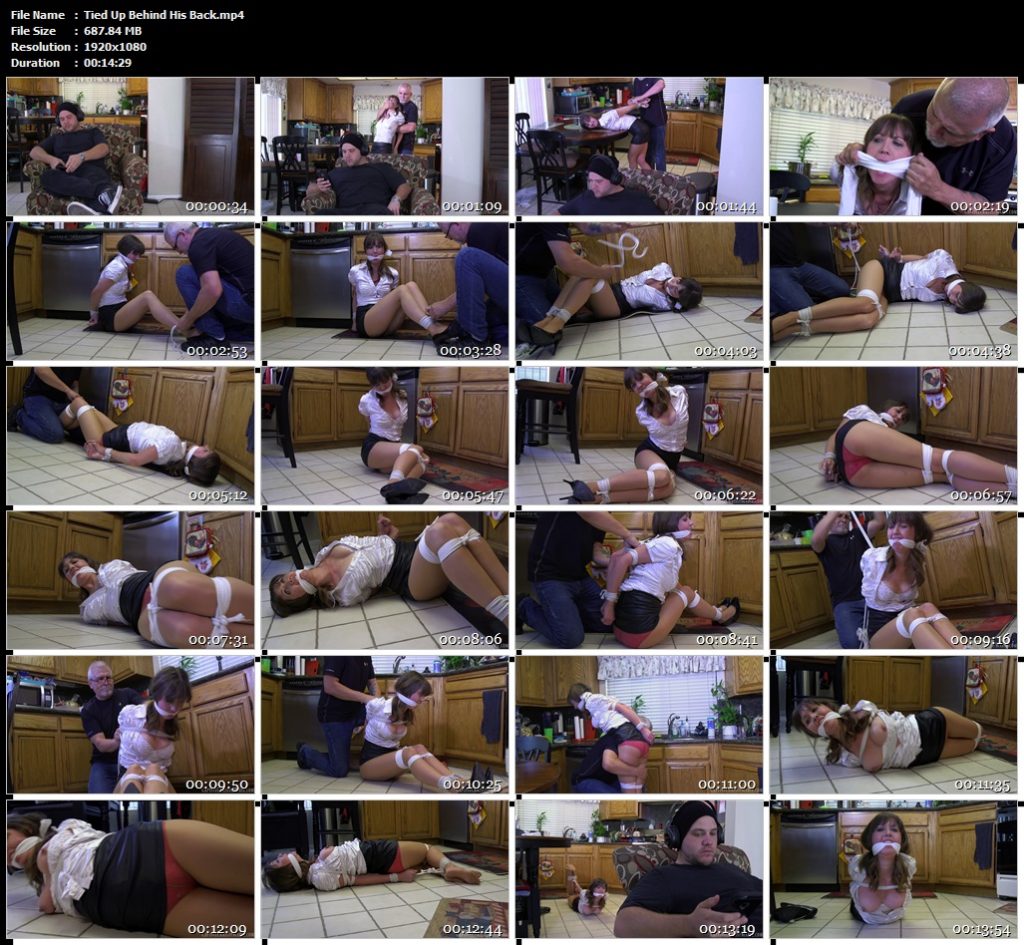 Download link:
https://wayshare.cc/tm2wjgjr69iv/Tied_Up_Behind_His_Back.mp4.html