The Creep Who Caught Chrissy – Captive Chrissy Marie
"OK, I'm in," Chrissy says to her friend on the phone. "You really think this guy is the creep who took Cindy?" She pauses as she spots something nearby. "Well, things do seem a little suspicious. The party's still going on downstairs, so he should be distracted. I'm just going to slip off my shoes – I'm sure I'll be a little quicker and quieter if I'm barefoot, I'll check back in if I find anything. I feel like a real Nancy Drew today." Chrissy slips off her heels and walks through the room, quickly noticing the digital camera on the kitchen counter. She picks it up and turns it on. "Bingo," she says with a smile, dropping the camera into her bag. Just then, the homeowner enters the room. "What are you doing?" he asks. "Oh, sorry, that seems a little extreme, doesn't it?" Chrissy says. He threatens her and forces her to turn around. Cant we talk about.. she doesn't even have a chance to finish her sentence before he hits her in the back of the head with it and she falls to floor. Chrissy looks around dazed and confused, eyelids fluttering, then goes out with a sigh. The man takes her by the ankles and pulls her along, but within a moment or two she starts to reawaken. She moans softly, starting to come to, but the man hits her head against the floor, causing her eyes roll back, and she's out again. The man resumes pulling her away.
Chrissy awakens on a bed, wearing her shoes again. She shakes her head and regains her composure. There's nobody around. "Wow, I've gotta get out of here," she says. Before leaving, she takes off her shoes again. Chrissy opens the door and creeps down the hall, but before she gets too far, the man springs out and pins her back against the wall! He clamps a white cloth over her mouth. She struggles violently, but the cloth takes effect quickly, and her eyes flutter shut as shes knocked out again. The man picks her up and carries her over his shoulder back to the bed, laying her down and looking her over, trying to figure out what he is going to do with this dirty little spy. Before leaving, he gets a nice look at her sexy bare soles. Next Chrissy awakens in a chair at a table with the man, a drink in front of her. "Are you some kind of stalker or something?" She asks. "I'm not answering any questions, dear" he says. "I'd ask you some questions, but I've got a party to get back to and I don't want anyone else coming up here. So you're going to drink that, and I'm going to go back to the party while I figure out what to do with you." Chrissy runs a foot up the man's leg. "Are you sure there isn't any other way we can figure this out? I might not even press charges if we just forget this whole thing." The man starts getting impatient. "Look, I'm not interested in anything like that. Just drink the drink, and we don't need to get violent." Chrissy leans back and says "Fair enough". She takes the drink and sips from it. "Wow, that works fast," she says, putting a hand to her head. "I feel so… woozy…" Chrissy stands up and the man comes around the table as she slumps limp into his arms. This time Chrissy awakens sitting in a folding chair, hands tied behind her. She looks around and notices the man. She starts to get fed up. "When I get out of here, you're really going to get it!" She says. "I don't think so," the man says, "I'm going to drop you back off at your house, with your shoes and your bag, and we're going to forget this incident." The man steps behind her as she starts to say "What makes you think I'm just going to." But before she can finish, he hits her sideways across the back of her head again. Chrissy slumps back into the chair, knocked out. The man takes her chin in his hand and moves her head from side to side. "I hope this is the last we see each other," the man says. He lets her head drop down, chin to chest.Chrissy is just arriving home, takes off her boots and pulls out her phone to call her friend. "Hey, I got the evidence, it was crazy!" As she talks, she pulls off her ankle socks and resumes playfully kicking her feet. I really did feel like those stories, like Nancy Drew. I even got knocked out a few times, which was really strange. Yeah, I've never been knocked out before, but it would have been kind of sexy if I wasn't in danger. I guess it's all those stories we read when we were younger? She looks around. "Huh, actually I'm starting to feel kind of sleepy now…" Her eyelids grow heavy. "Oh, what was I saying? I think I have to go. Chrissy hangs up, but soon passes out on the sofa. When she comes to, she is in her bed, the man sitting next to her. "I think you have something of mine," he says menacingly. "Uh, I don't think so," she says. "Maybe you just lost it?" she asks innocently. "Do you know what a pressure point is?" the man asks. "I don't think so," she says, as the man leans in and pinches a spot on Chrissy's neck. She sighs softly, fainting on the bed. The man stands above her and looks her over, running a hand down to her breast and groping her. After a moment he steps away. "Keep it professional," he says to himself, and walks away. Chrissy wakes up on a chair, her hands tied behind her back, scanning the room for the man. "I guess I'm alone this time," she says to herself. She sees her cell phone on the ground nearby and starts reaches to it with her feet, trying to grasp at it with her toes. Then suddenly, the man reappears. "Oh no, you aren't supposed to be up yet." He says. "What are you going to do?" she asks confidently. "Knock me out again?" The man steps behind her and chops the back of her neck. She cries out, her eyes roll, and she's out again. She reawakens to find the man in front of her with a white cloth. "Don't you have anything better to do than creep around and knock people out," she asks. "I'm not some damsel in distress, you know. If I was free you'd be in trouble. The man has heard enough and covers her mouth with the cloth. She struggles, and the man soon removes the cloth. "Tell me where the camera is," he says. "Nope," she replies with a smile. The man covers her mouth again, as she grows weaker. He removes it again. "The camera!" he yells. Chrissy is having trouble staying awake, but she looks at says "I'm not gonna give it up." The man shakes his head, and reapplies the cloth to knock her out again.
Chrissy wakes up in the chair yet again. The man is not around, and she manages to loosen the ropes. "This jerk has really made me mad," she says. He re-enters, and Chrissy pretends to be bound. The man approaches and squats before her. "Are we going to need to do that again?" he asks. "I don't think so!" Chrissy says as she brings her legs up, wrapping them around his neck. In just a few moments, the man slumps to the ground. "See," she says. "I'm not such a pushover." She frees herself from the bonds and dials her friend on the cellphone. "The creep busted in here," she says. "Yeah, I'm OK. Believe it or not, I've got something better than the evidence. I've got the guy. Call the police and come right over. I'm going to tie this creep up. I might get a couple punches in on him, while I'm at it!

Starring: Chrissy Marie
Size: 1244.53 Mb
Duration: 00:17:30 min
Resolution: 1920×1080
Format video: mp4
Preview: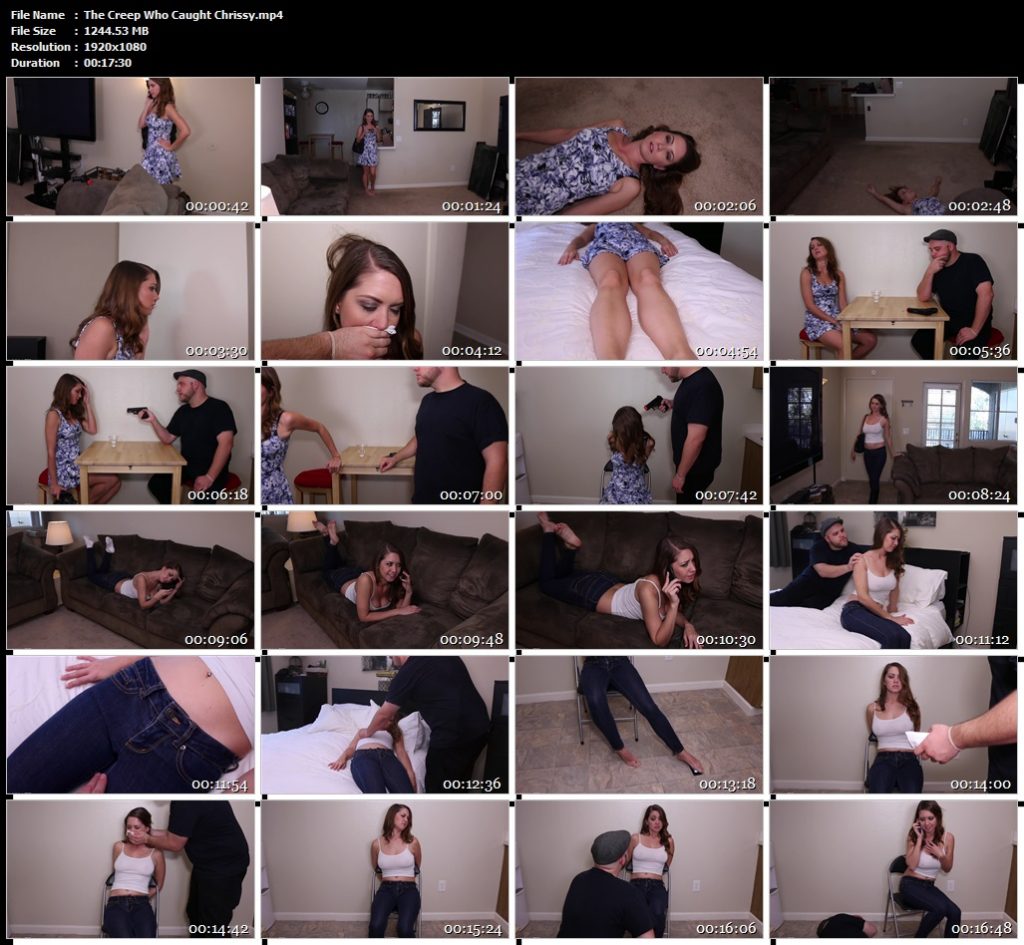 Download links:
https://wayshare.cc/mq6p3q4ve83r/The_Creep_Who_Caught_Chrissy.mp4.html