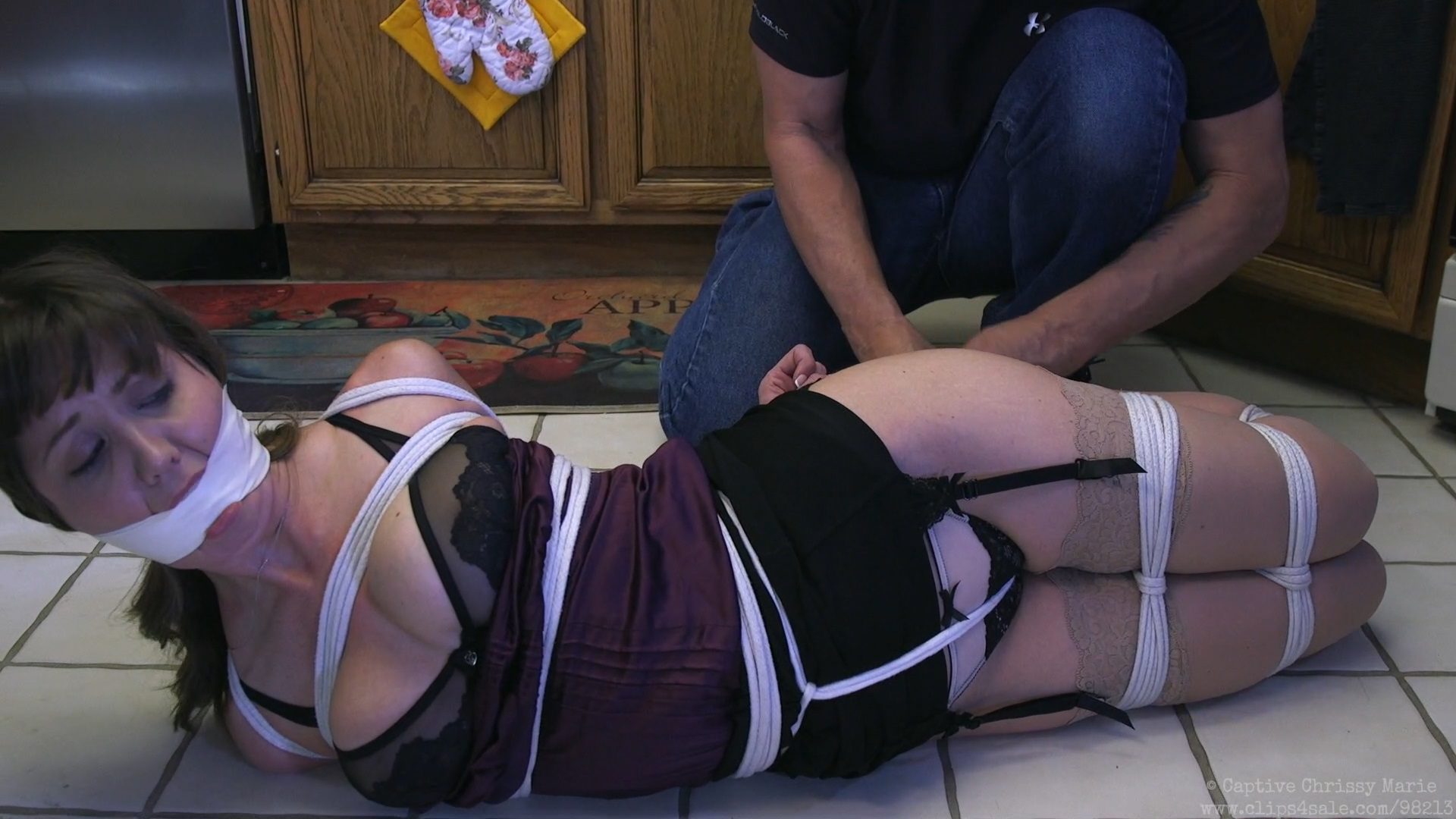 The Bound Alternative – Captive Chrissy Marie
I'm in urgent need of a plumber for both my sink and bathroom! Great, there goes all my shopping money for the month! I call up my dad for help and he refers me to one of his friends and tells me he will talk to him about giving me a discount. Just what I wanted to hear, since there are these stilettos I've been obsessing over, so I go ahead and splurge on them! I saved only $100, figuring that would be more than enough for the plumber since he is a friend of my dad. Later that day, I walk into the kitchen to check on his progress and ask him what I will owe him. I can't believe it when he tells me it will be four times higher than I planned for! I tell him I only have $100 cash, but he insists he can't give me anymore of a discount since he has to at least pay for parts. I quickly try to figure out an alternative. I start looking him up and down, checking him out, and I must admit, I do have a thing for older men. And maybe the wine has lowered my inhibitions. I get closer and suggestively ask "how about I give you the $100 and maybe a little something on the side?" as I grab his hand and try to slide it up my skirt, revealing the sexy lace tops of my stockings and garter. He quickly pulls his hand away and says he is apprehensive since he is friends with my father as well as old enough to be my father, but I assure him that I'm really into that, as I continue to try to seduce him. It works, but not as I expected. He tells me he wants to play, but something a little less intimate than just pulling down my panties and fucking me. I'm a little surprised but so intrigued that I'm already getting turned on. He comes back with a bunch of ropes, and I realize he is one of those kinky guys that likes to tie girls up. Before I can say anymore he grabs me and immediately starts tying me up TIGHT! I get a rush but yet feel so powerless. Then he bends me over the sink, which really gets me hot and bothered. He keeps tying more and more rope around me and I tell him I'm glad we could work something out, but he just tells me were not done yet. I wonder what that means? He puts me down on the floor and I softly moan and squirm around as he finishes tying my legs. The he leaves me there in anticipation of what's coming next. I struggle around, a little shocked at just how tightly he tied me, but still enjoying the experience.
He returns with a pair of my panties and tells me that if we're going to do this right, he is going to have to gag me. I panic and tell him I don't want to be gagged but he stuffs them into mouth before I can finish pleading with him. Then it gets even worse, he wraps really tight microfoam tape around my head several times, my mouth wide open, but I can't say a thing. The ropes were kind of sexy, but now I'm getting worried. Why does he want to torture me with this gag. He keeps adding more rope around my elbows, chest and waist, then pulls up my skirt and leaves me to struggle while he goes to fix my upstairs toilet. I'm not sure whether to be angry or turned on at this point. I struggle around trying to loosen the ropes a little, as I keep gagging on the wad of panties in my mouth, but it's no hope and I know that I'll be stuck like this until he decides to untie me so I better be good. This started out as a lot fun, but it's starting to become really not that fun anymore! He finally returns and for a second I think he will finally let me go, but I turn out to be wrong again, he just came back to get a good show now that he's done working! So he ties a crotch rope and yanks it tight as I moan uncontrollably. He hogties me then pulls out my tits to top it off and leaves me helplessly struggling. Although I'm severely bound and gagged, I can't help but orgasm from the tight crotch rope rubbing up against my panties as I squirm around on the kitchen floor!

Starring: Chrissy Marie
Size: 976.73 Mb
Duration: 00:18:10 min
Resolution: 1920×1080
Format video: mp4
Preview: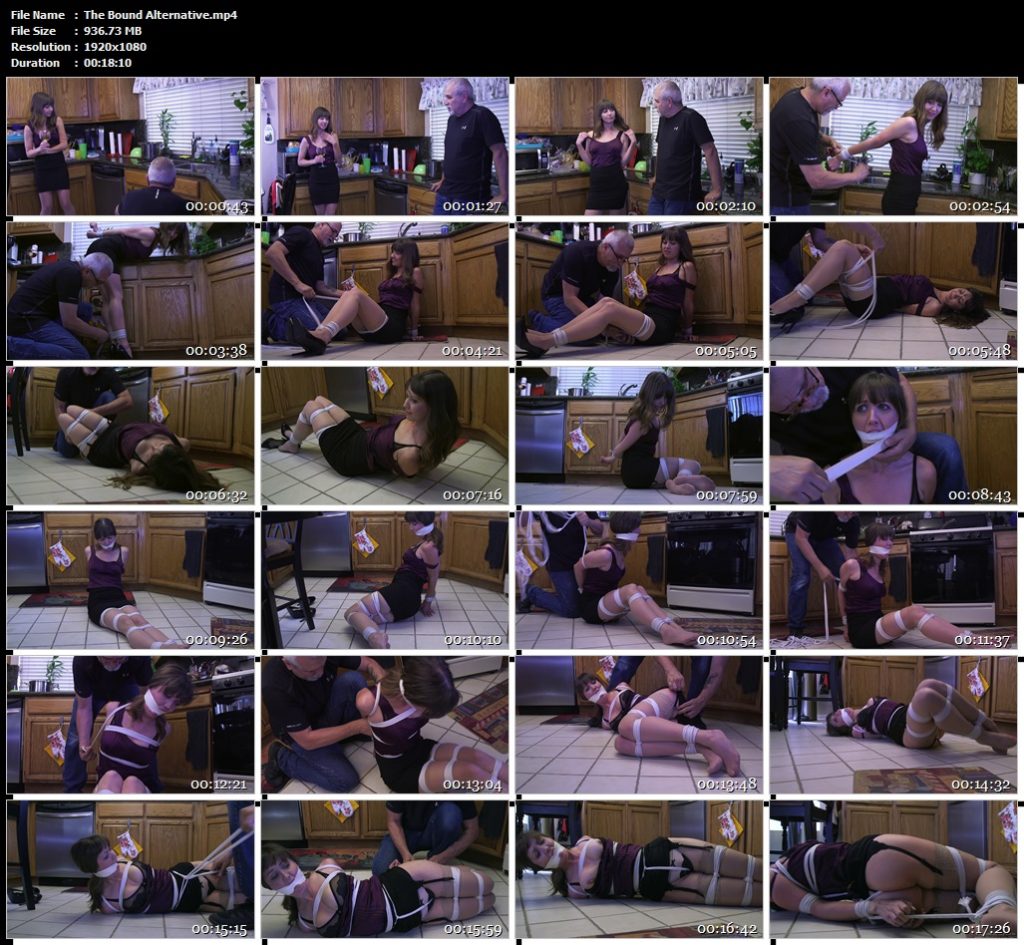 Download links:
https://florenfile.com/lb1hdnn4vmij/The_Bound_Alternative.mp4.html