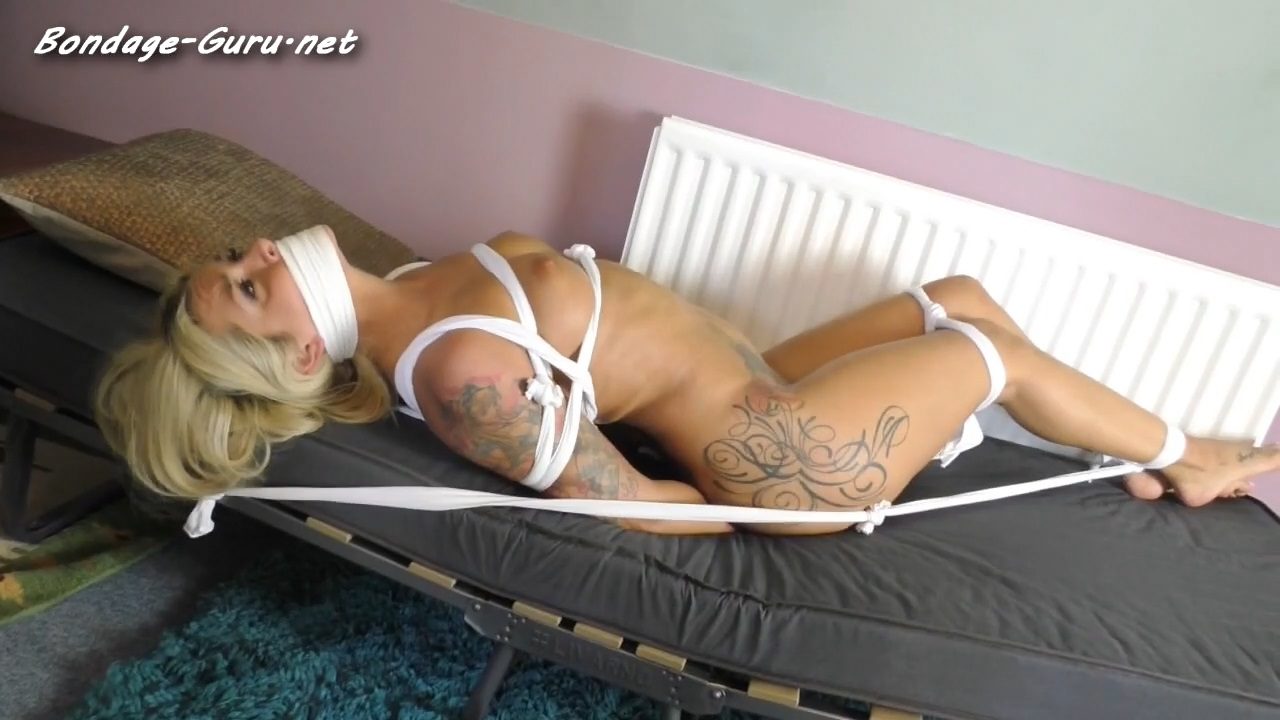 Tasha in: NOW SHOWING: Gorgeous Lady Jailor Tricked, Relieved of Her Uniform, Trussed & Gagged Most Thoroughly by That Escaping Prisoner! (Complete Dual Sequence)
Tasha in: NOW SHOWING: Gorgeous Lady Jailor Tricked, Relieved of Her Uniform, Trussed & Gagged Most Thoroughly by That Escaping Prisoner! (Complete Dual Sequence)
Incredible Natasha Marley, physically perfect, blonde and highly sexy, is tremendously satisfying to have under the ropes and gags. In this particularly kinky uniform stripping adventure, you'll get to experience every inch of that impressive, sculpted, bronzed body as it surges and writhes, bound with ropes and bedsheets and – ah, you know what, let's get to the story so you can go right after this enticing adventure!
Egbert 'Sinbad' FossilFuel is the demented son of organised crime gargoyle, Big Lenny FossilFuel. The senior is contemptuous of his perverted son who is always getting nicked for small fry crimes like 'washing from line stealing' and peeping tom type bullshiz. In fact, it's getting a bit too much and they have moved him to the Psych Wing of the jail he is in. It's still a luxury number, ol' Lenny's bent screws on the inside know what side their bread is buttered from. But, what nobody, even Lenny, knows is that Egbert, with the help of his girlfriend, intends on breaking the fuck out. The plan is simple, overpower the new and very beautiful guard watching over him between treatments, strip her of her uniform, give said uniform to the girlfriend to wear, then she escorts Egbert out of the facility somehow. It has to work, right? Surely this is a credible premise and nothing can go wrong?!
So here we have the ravishing, leggy dream that is Tasha, sitting cross-pinned, looking scrumptious in her uniform complete with firmly knotted neck tie. In fact, we thought she looked so sexy like this that we wanted Egbert to first bind and gag her IN the outfit, and so he does. With her back turned, the mentally imbalanced patient, who has concealed her baton, uses that very item on her right now. By the time she comes around, the bastard has torn up a load of bed sheets and tightly bound and gagged her in a chair. The furious guard smoulders, trying hard to talk behind that ridiculously tight over the mouth cloth gag. Of course, she cannot even part her lips, so the amazing mmmmmmmm noises which follow will surely thrill muchly.
Leaving the tied and muzzled beauty struggling in his cell, Egbert goes to check if his girlfriend is loitering nearby. The plan is that she be hovering outside so when he comes to undress the captive guard, he can toss her uniform out of a window for her to pick up. Oh how simple, convenient and not in any way unrealistic, right? Meanwhile, chair hopping mad Tasha almost gets to some scissors the nimod has left in his wake, after using them to cut up his bedsheets. But, he is back now, and the time to strip this sexy bitch is at hand!
Bound and gagged once more, her wicked body stringently trussed with more bedsheets and her tied ankles further lashed to the iron rail of the jail cot, the feisty, amazing damsel looks the best ever. So much so that before he steps out again, he can't resist feeling her up, squeezing her gorgeous tits in excitement while Tasha moans into her tight gag. Then she is alone again, writhing sometimes as if in ecstasy, naked on that prison cot. It's quite frankly a sight that needs no further description. It just rocks so much. But it is not over. Far from it.
With his girlfriend having been tossed the uniform, the breakout plans are in full swing. Deciding that those bedsheets, as tightly pulled an knotted as they are, may not hold her for the rest of the afternoon, until the next shift discover her, he returns and ties the humiliated guard up with tight white ropes. Then stupidly tightly cleave gags her protestations into mufflement with more cloth. Feeling Tasha's insane bod up some more, he makes good his escape, leaving the simmering blonde heavily bound and gagged in his luxury cell. Returning to cleave gag her (total bonus scene) and let her struggle and strain with her gorgeous bare feet in our faces! She gets a damned good pigtying all gagged up like this too.
It's just breath-taking how hot this next phase is with the very foot-friendly camera giving us a roller coaster of a ride at the trussed and silenced Natasha's expense. This girl is just so fantastic and every move she makes, every noise she pumps out, is geared toward giving you the ultimate kinky damsel in distress experience. Of course, it's always WAY sexier when the damsel in question is a tough, spitfire of a chick who REALLY objects to having a gag in her mouth and her super body mercilessly restrained. You just KNOW she's going to fight every last second of it.

Starring: Tasha Marley
Size: 1.08 GB
Duration: 00:29:03 min
Resolution: 1280×720
Format video: mp4
Preview: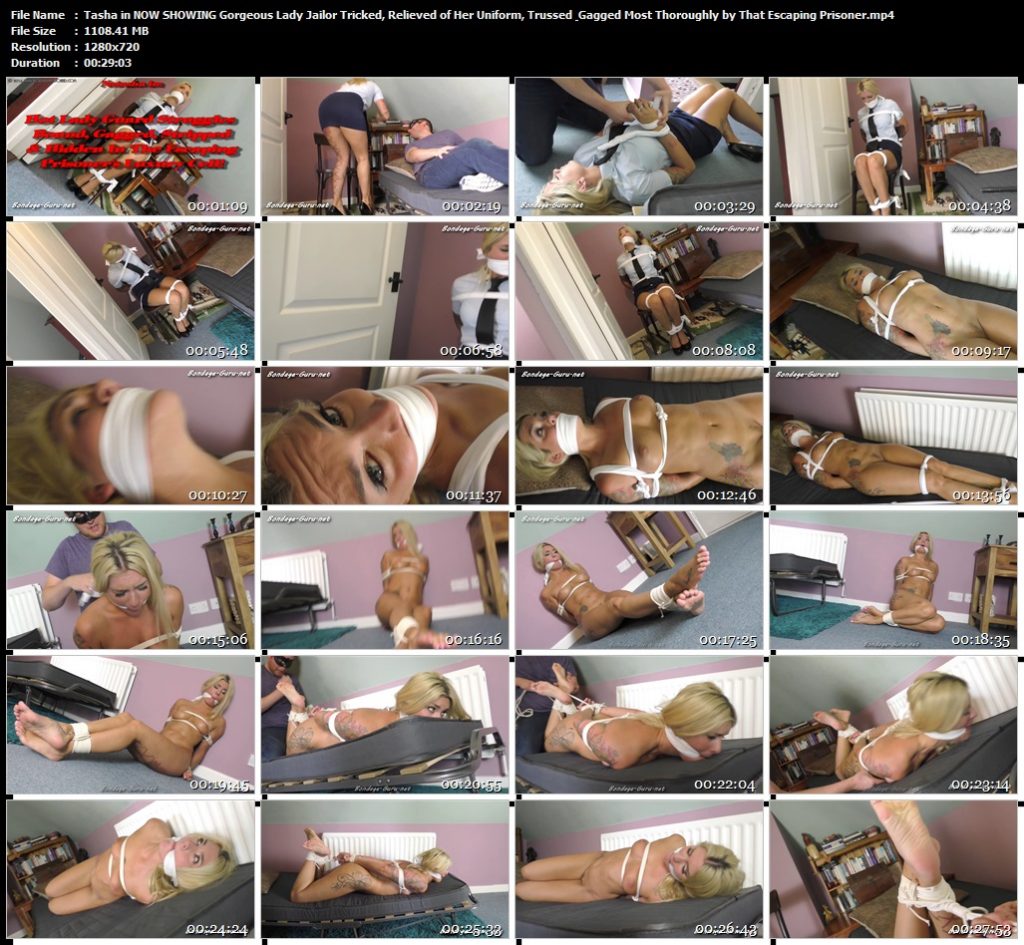 Download link:
Tasha_in_NOW_SHOWING_Gorgeous_Lady_Jailor_Tricked…mp4