Superbound – Payton Preslee in Bikini Detectives in a Bind: Trapped, Bound & Gagged
Superbound – Payton Preslee in Bikini Detectives in a Bind: Trapped, Bound & Gagged
In a world of make believe, some things are hard to believe, such as there being bikini detectives! Perhaps in a land of perpetual overbearing heat near the beach! In walks, bombastically busty Payton, a stunner whom you probably can"t look in the eye because you"re always looking down at a rather impressive protrusion! She enters the lair of a fellow whom she suspects of being a renowned thief. Having let herself in, she is clearly confident as to her ability to get out of there if she has to. After a cursory search involving a whole lot of bending over, with views that will stop your heart, she finds some sanitizer lotion and thinks nothing of it until she takes a closer look. It"s actually a flash-drive, no doubt with lots of tantalizing information she can put to good use. Ready to leave before she gets caught, she gets careless as a figure lurks behind her. Too late, he carries off his prize, groping and spanking that sexy booty as she is taken over the shoulder.
Not long thereafter, she is tied up in a chair, her ample chest again commanding attention, but that"s what breast bondage is for, surely! The thief enters and teases her, handgags and squeezes her big breasts before and after stuffing her mouth and over the nose (OTN) gagging with a cloth tied tight. With her pretty muffled, he toys with her for a bit before leaving her to suffer. Several minutes later he comes back to check on her and gropes her a bit before taking a seat to read some suspicious papers while she struggles in the background. Clearly, he"s not worried she"ll escape or anything like that. He then comes over and handgags her over her gag and gives those tits another feel up. After a little bit, he carries her off over the shoulder, again subjecting her ass to some groping and spanking.
With her now seated, but not gagged, he manhandles her a bit before stuffing her mouth and OTN gagging her once more. More fondling and then she"s left to wonder what"s going to happen next. She doesn"t wait too long as he returns with some body oil. Clearly, he enjoys the sight of her bound and gagged, but maybe thinks a little shine couldn"t hurt! He applies it liberally over her huge boobs and then more on booty. Rendered topless, she sits and struggles a bit before being carried over the shoulder back to the chair. Looks like he has some long-term plans for her as she is clearly going nowhere. Perhaps he"s training her to be his assistant and after a lengthy series of bondage sessions, she may just acquiesce to his wishes, permanently!

Featuring: Payton Preslee
Size: 1.2 GB
Duration: 00:19:58 min
Resolution: 1920×1080
Format video: mp4
Preview: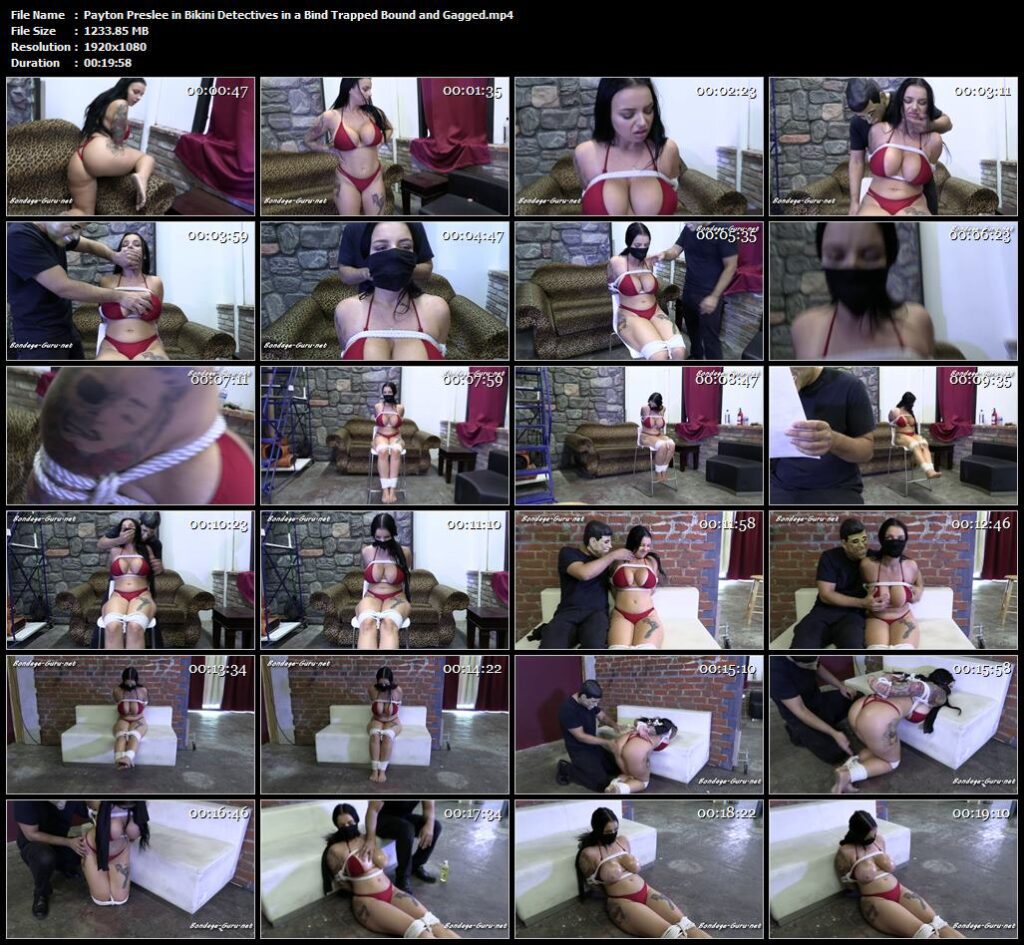 Download link:
Payton_Preslee_in_Bikini_Detectives_in_a_Bind_Trapped_Bound_and_Gagged.mp4