Superbound – Crystal Chase in The Abductionist Files: Taken for All She's Worth & More!
Superbound – Crystal Chase in The Abductionist Files: Taken for All She's Worth & More!
Curvy Crystal is a social media sexpot with a substantial influencing reach and she is currently spreading the word about her bikini wear line. She is rudely interrupted by a hooded hoodlum who harries her during one of her selfie sessions. Handgagged and dominated, she is instructed to transfer all of her cash to an offshore account, which she does as she"s got little choice in the matter. Her wardrobe malfunction goes unnoticed, though the villain is well aware and gropes her a bit. Not long thereafter she is a strappado position, bound so that her arms are yanked back and above, made worse when she tries to move forward. A simple tapegag is applied to keep her quiet and then another round of intrusive fondling with her big tits getting squeezed, pussy rubbed and ass spanked. Left to languish, she struggles with little success and endures the prerequisite personal space invading closeups. Her HUGE all-natural breasts shake back and forth and enthrall any viewer (not unlike the serpentine hair of Medusa!). The masked menace saunters back over and gives her another grope and then removes her bikini and enjoys the view. Not long thereafter, she sits on a couch and has her bikini bottoms shoved into her mouth and then a tight wraparound tapegag is applied. More fondling and her ankles are bound with a ton of rope to hamper her movement. The masked man finally leaves as she struggles her way off the couch and makes her way to the egg chair where she ensconces herself with a great deal of effort. There she struggles a bit more, her body cramped a bit, but all her sexy assets on full display!

Featuring: Crystal Chase
Size: 1.5 GB
Duration: 00:23:54 min
Resolution: 1920×1080
Format video: mp4
Preview: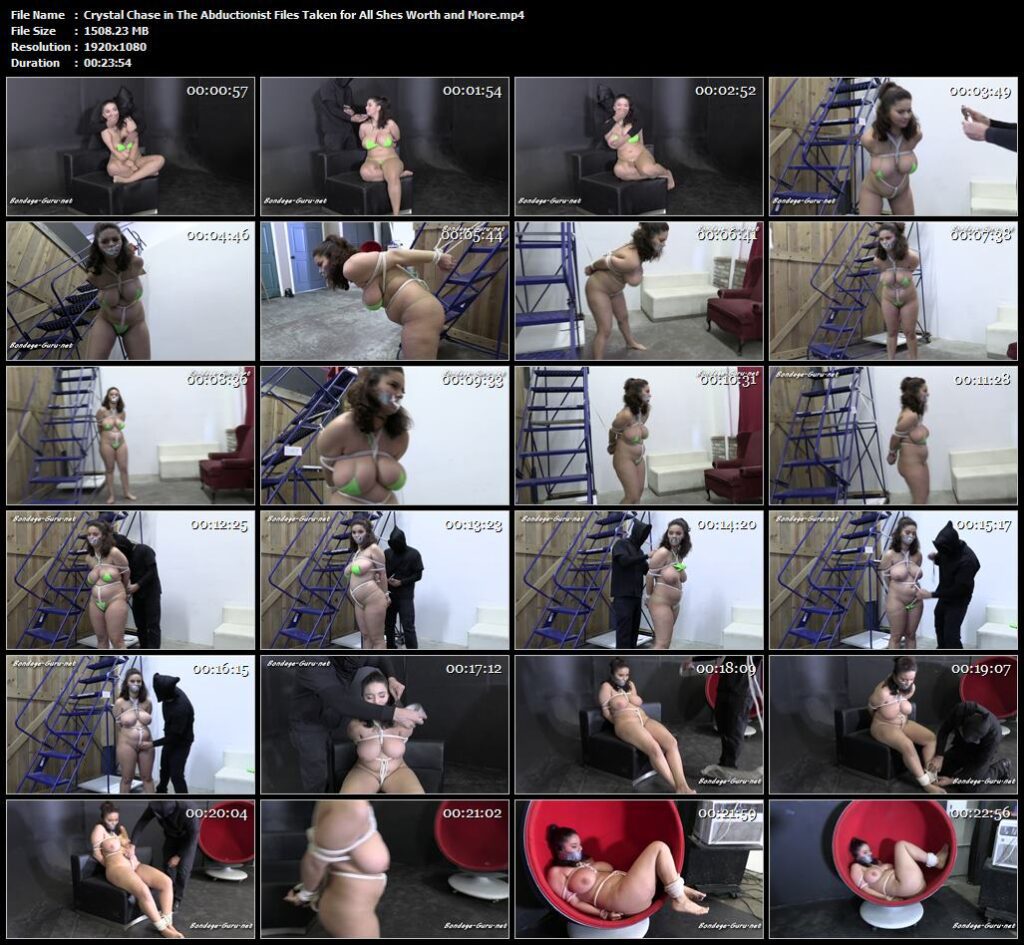 Download link:
Crystal_Chase_in_The_Abductionist_Files_Taken_for_All_Shes_Worth_and_More.mp4