Superbound – Ashlyn Peaks in Bondage Criminal Evaders: She Played Along & Liked It!
Superbound – Ashlyn Peaks in Bondage Criminal Evaders: She Played Along & Liked It!
Our criminal evader with a penchant for bondage begins another tale with a series of frantic knocks at a door, which opens to reveal an exotic super buxom bathing beauty! The masked man enters and handgags her as he negotiates with her explaining that if she cooperates, he'll just hideout in her place until his pursuers break off. She complies as he handcuffs her and that look of 'this is kinky' comes through. He keeps her handgagged and then incidentally touches her huge breasts (they're so big he'd have to give her a wide berth to avoid them!). Knowing that the male gaze usually goes to her chest rather than her pretty eyes, she let's this go on. What's more she appears to acquiesce with a flair for submission as the masked man takes advantage. He takes her along to the window and realizes his pursuers are coming, but then he resumes groping her hard, spanking her ass and then fingering her through her panties as he finds her g spot. She melts as he give she a taste of some innate submissive pleasure syndrome she never knew she had! Off they go to another hiding place as his pursuers do a house to house while they evade from them. Her bikini comes off as he feels up her nude flesh, fingering her from behind (his patented evader move!). Next, she is toyed with on the couch as she feels his excitement up against her and melts into 'sub-space'. Once the authorities have given up and left, he cuffs her hands behind a heavy side table so that she can't get away. After a handgagged fondling and explanation that he has to leave, much to her disappointment, she learns that she's going to be gagged. Medical tape is wrapped over her mouth and around her head until she's nicely silenced. Left this way, she struggles a bit while we get some salacious closeups that are boner inducing to say the least!

Featuring: Ashlyn Peaks
Size: 1.1 GB
Duration: 00:17:14 min
Resolution: 1920×1080
Format video: mp4
Preview: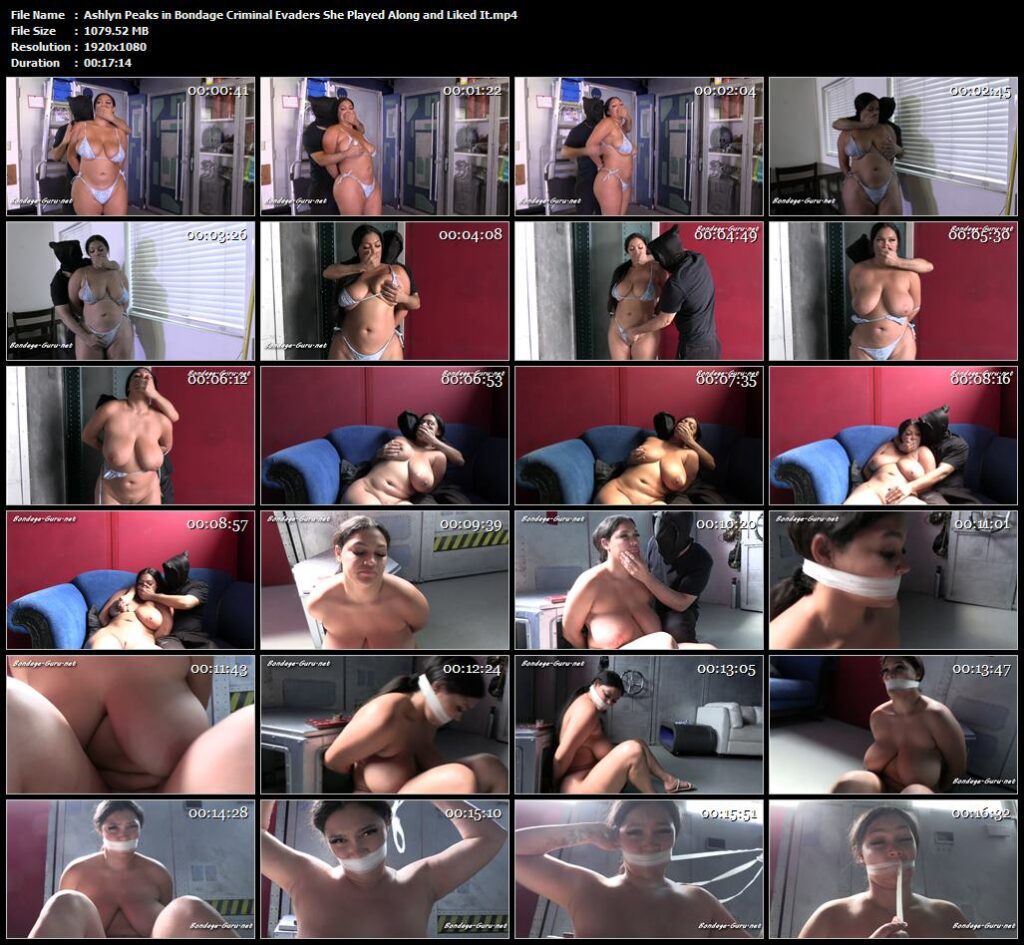 Download link:
Ashlyn_Peaks_in_Bondage_Criminal_Evaders_She_Played_Along_and_Liked_It.mp4