Superbound – Alexis Abbey in Lewd Supervillain Victories: Her Day Off Turned Her On!
Superbound – Alexis Abbey in Lewd Supervillain Victories: Her Day Off Turned Her On!
Alluring girl next door Alexis is a buxom superheroine who has seen better days. She complains that her part in an upcoming movie has been cut and she airs these complaints to her helper guy. He believes he knows how to cheer her up and suggests a sparring match. She informs him that her heightened super strength gives her an advantage, but he assures her that it'll be fine as he's been training himself! They do a rather melodramatic circling of each other and then get to it as she delivers a few kicks and a punch that sends him to the ground. As she moves to give him a hand to stand up, he pulls her down as they wrestle a little. She quickly realizes he's making his move as he's had the hots for her since he became her assistant. Okay with a little distraction, she lets him grope her, but then doesn't realize he's got another surprise for her!
Later, she finds herself stripped down to her underwear and bound to a mobile staircase. Feeling vulnerable, but still wondering where this is going, she doesn't simply break free. He approaches as she realizes that they're role-playing is taking on a more erotic turn. Coming in close, he rubs her crotch while kissing her neck as she succumbs to this most unexpected seduction. Her top is removed to reveal her big all-natural breasts which get sucked on as well. He watches her 'struggle', which she realizes is more of a kinky foreplay situation and goes along while he stares at her totally entranced. Suddenly he pounces on her simply uttering 'bat nipples' which she repeats (more out of confusion!) as he resumes pleasuring her. He licks and sucks on her nipples while reaching into her panties to finger her to orgasm. She smiles at the end as it is quite clear that this little foray into kinky role-playing really did make her feel better!

Featuring: Alexis Abbey
Size: 600.6 MB
Duration: 00:09:46 min
Resolution: 1920×1080
Format video: mp4
Preview: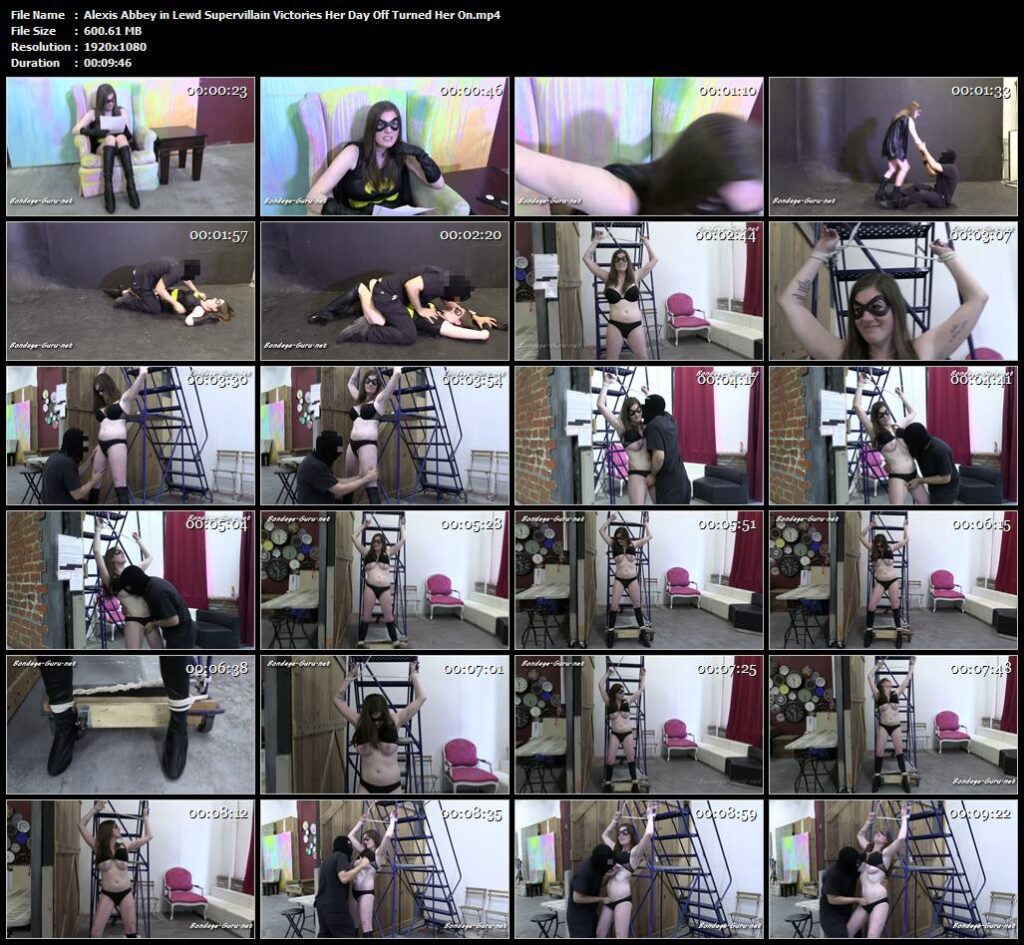 Download link:
Alexis_Abbey_in_Lewd_Supervillain_Victories_Her_Day_Off_Turned_Her_On.mp4