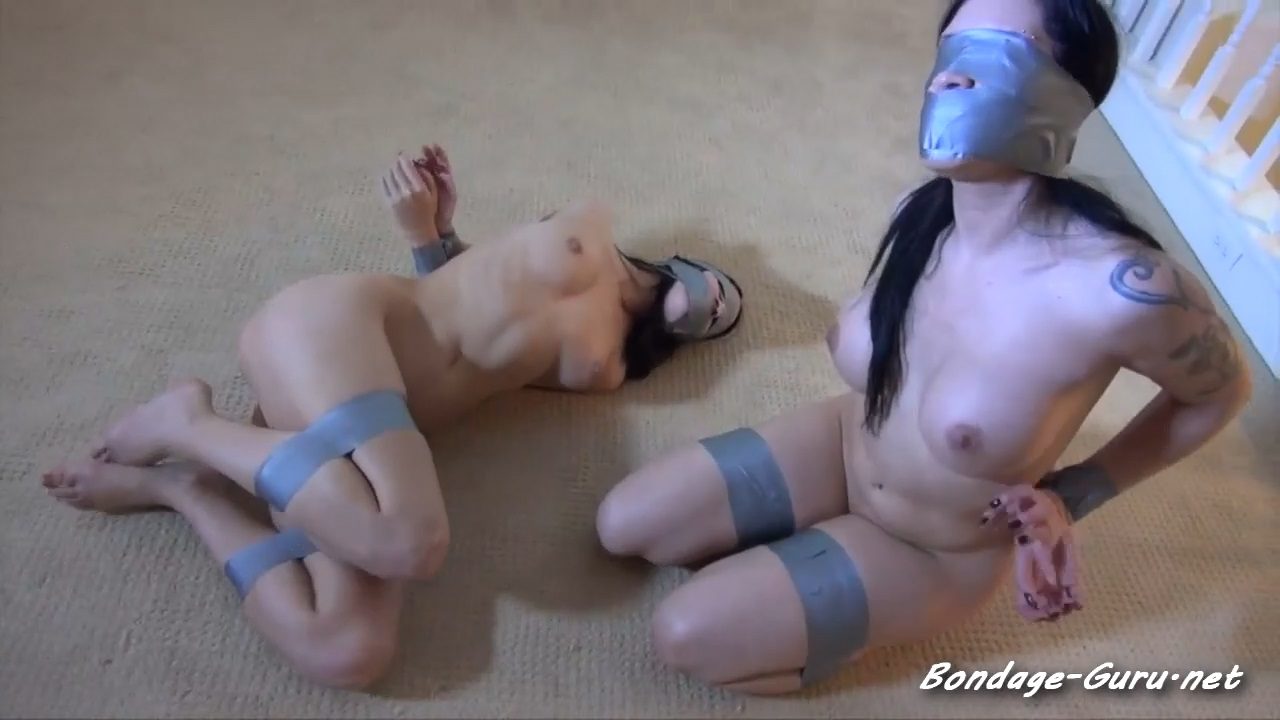 Superbound – Alex Coal & Cassandra Cain in Superbound Compilation-Dark Web Perils: Lured by a Dating App (NEBULOUSLY DISCOUNTED)
Superbound – Alex Coal & Cassandra Cain in Superbound Compilation-Dark Web Perils: Lured by a Dating App (NEBULOUSLY DISCOUNTED)
A doorbell rings and then two busty beauties walk in for a special speed dating event. Unbeknownst to each other, they're both users of a new dating app that hooks up young ladies with wealthy men for clandestine meetings. Also unknown to both ladies, the makers of the app track the users and select those who 'abuse' the app in some way (think of this as a non-lethal version of those movies involving something relating to a saw or something!). Turns out both Alex and Cassandra have been very naughty, using the app to make the lives of some very old men (and sometimes a woman!) very unpleasant. As they split up to see when this event is going to happen, they are watched. Suddenly, Cassandra is grabbed first, 'smothered' into 'submission' and dragged off! Next, Alex descends the stairs wondering what's going on when she's grabbed and also 'smothered'. Roughly an hour or so later, they find themselves bound with rope and wonder out loud what's going on. As if on cue, a creepy masked fellow walks in and clues them in on what's going on. Turns out, he's one of the co-founders of the app and these two hotties are in bondage because they've been found guilty of abusing said app. In a rather twisted form of so-called vigilante justice, the masked man tells them that they've been sold off to some creeps on the dark web as punishment. He assures them that things will be fine, but they're not convinced. Thus, both girls get handgagged, fondled, mouth-stuffed and wraparound tapegagged. After toying with them, the masked man leaves to make sure things will go smoothly for their transition into their new lives or something. Both lovely ladies struggle vigorously, writhing and moaning into their gags, sometimes gag talking to each other. The ropes are too tight and they can barely move, which makes staring at them easy enough as they are checked out thoroughly with lots of lingering personal space invading closeups as well as close examinations of all their sexy assets. Looks like they'll have to bide their time and see if a chance to escape will present itself!
Our hot and sexy buxom duo continue to struggle with their limbs immobilized and their mouths stuffed and tapegagged. Unfortunately for them, things get worse when their creepy captor returns. He figures it might be fun to strip them down to their underwear, fondle and spank them and then put them into even more restrictive bondage by hogtying them both! The ladies try to resist as his lascivious hands roam over the luscious bodies. When he goes out of the room, they resume their struggling with redoubled effort. Their sexy butts exposed are an alluring sight along with their ample cleavage. After quite a bit time of time has passed, Alex somehow miraculously gets her hands free! She then rushes to undo more ropes before moving to free Cassandra as the two gag talk a sense of urgency. Once they're both free enough to walk, they decide to ignore their gags and rush to the door only to run into the dark webmaster! Sound perturbed he pushes them back into the room until they're both seated on the bed. He informs them that more uncomfortable bondage is coming and they are going to find the next situation a bit more difficult to escape from!
For attempting to escape, hot busty beauties Alex and Cassandra have been stripped nude and frog-tied with tape, leaving them feeling quite exposed! Their captor, a demented dating app inventor, has used complex algorithms to ascertain who has been using the app for nefarious purposes. Alex and Cassandra aren't too happy about their punishment as they are going to end up bondage slaves for some foreign buyer off the 'Dark Web'! Their attempt to talk their way out of this situation ends up with each girl getting handgagged and fondled. Then their mouths are stuffed with panties and they get savagely wraparound tapegagged. More fondling as their tits are roughly manhandled and their asses are spanked and groped with their pussies suggestively rubbed for good measure. Their perverted captor then gets up and leaves them, confident that escape won't be so easy this time. This doesn't prevent them from trying as they roll around, often having to leave their legs wide open for some rather salacious viewing. Lots of closeups combined with full body viewings communicate a complete picture of their erotic appeal. As a last ditch effort to maybe draw someone's attention, they scoot their way over to the window as they bang on it while loudly 'mphhing' into their gags. Before someone notices, the masked man returns and isn't too happy that they keep defying him and promises to make them a little more helpless!
Things have gotten a bit more restrictive for buxom beauties Alex and Cassandra. They remain blindfolded, bound with tape in a frog-tie with their mouths stuffed with panties and wraparound tapegagged. The masked man feels them up, roughly grabbing their breasts, spanking and squeezing their asses and rubbing them between their thighs (as if they were some sort of flesh smorgasbord!). He informs them of their new owner(s) who will be coming by to pick them up, a prospect that further agitates them as they gag talk their disapproval. Left alone, they redouble their efforts to get free, rolling about, but now with their eyesight taken, they have even less of an ability to get the tape off somehow. Wriggling their sexy assets, they move about, often rubbing up against each other rather erotically. Some time later, a gruff vaguely foreign voice greets them. Their new 'owner' has arrived and reaches out to fondle them and approves of their hotness! They desperately struggle as he promises them more bondage for quite some time until they get acclimated to their new lifestyle somewhere in a distant land. If they ever escape, they will probably give up trying to exploit older men for money, let alone using dating apps!

Starring: Alex Coal, Cassandra Cain
Size: 1.41 GB
Duration: 00:46:09 min
Resolution: 1280×720
Format video: mp4
Preview: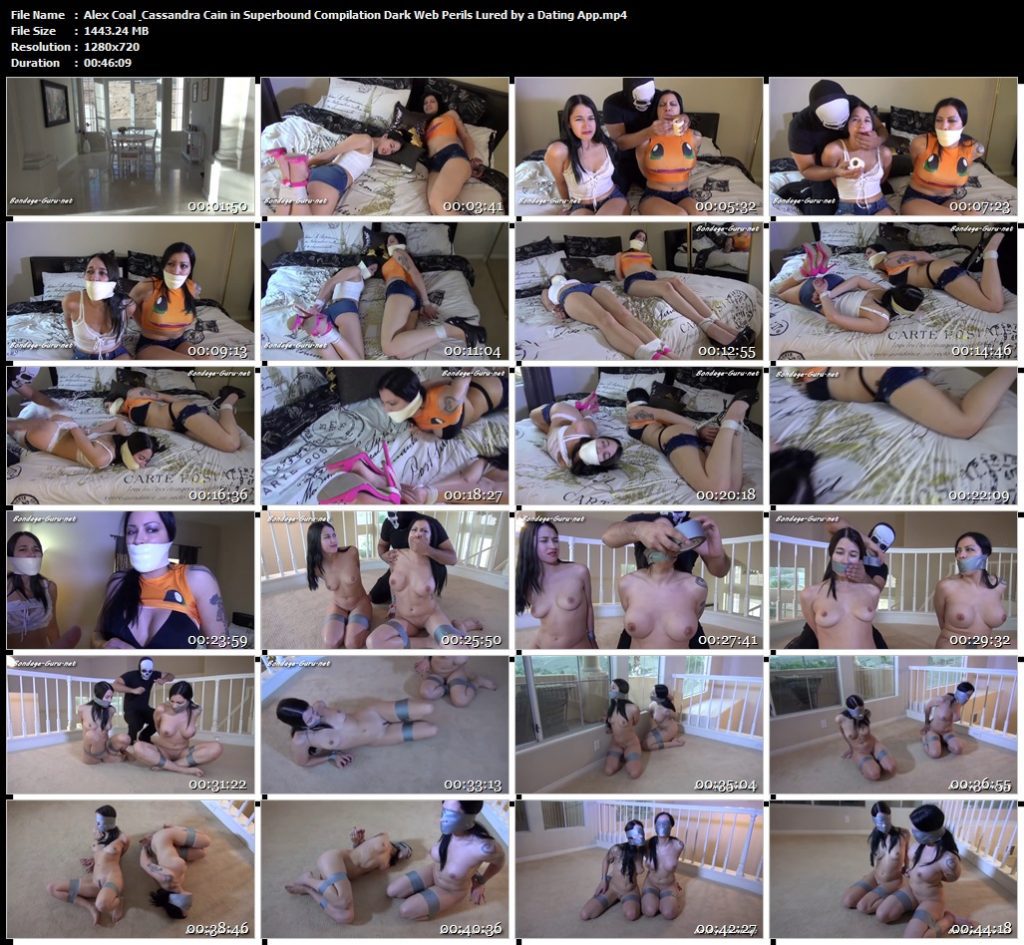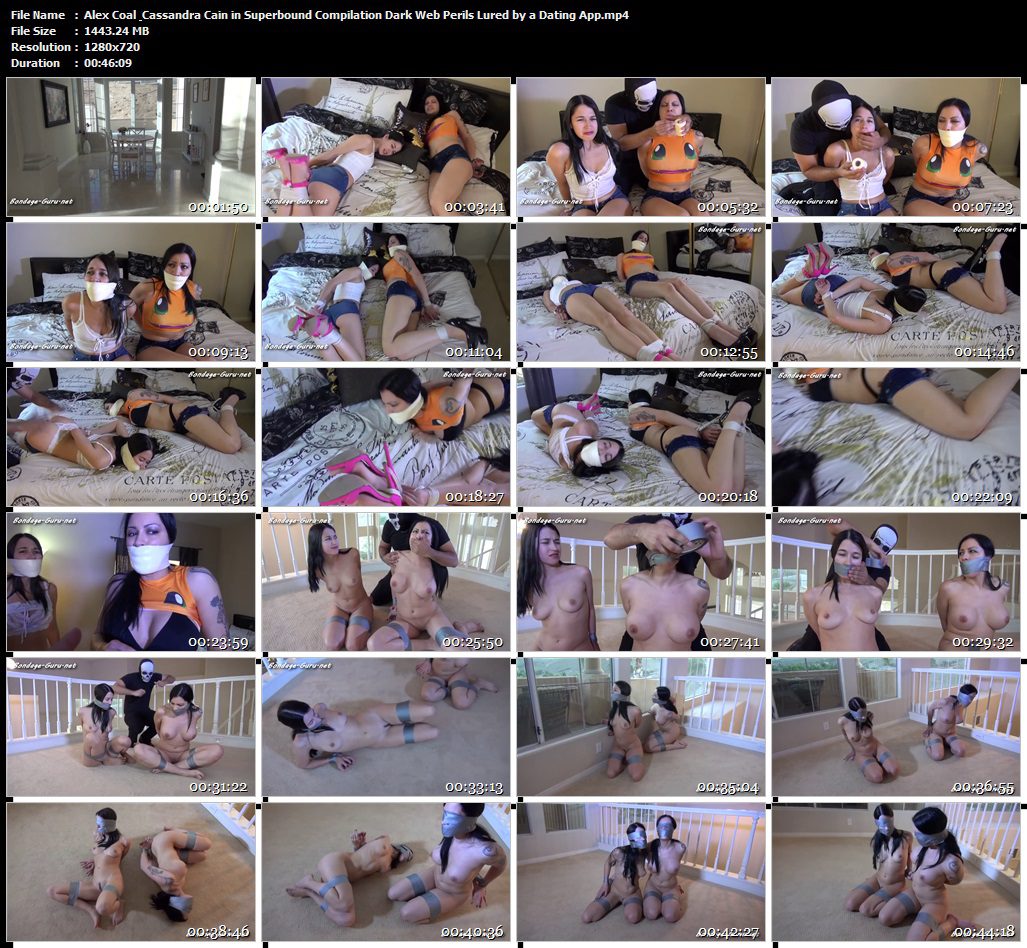 Download link:
Alex_Coal_&_Cassandra_Cain_in_Superbound_Compilation_Dark_Web_Perils_Lured_by_a_Dating_App.mp4