Star Nine – Candle Boxxx Arrested & Hogcuffed By Damon Pierce
Star Nine – Candle Boxxx Arrested & Hogcuffed By Damon Pierce
Officer Damon Pierce knocks on the door to arrest Candle Boxxx and she's shocked by the charges. She gets on her knees and places her hands in the air before putting them on her head as directed by the police man.
As he's putting the silver handcuffs on her wrists, she asks if it is necessary since she's cooperating submissively. Her long red fingernails struggle in the silver cuffs as she tries to get more comfortable. Meekly she asks if they can be in the front instead of yanking her arms back. Her request is denied.
Standing her up, he gropes her curvy body and removes her highly arched pumps to reveal her red toenails. Standing in one shoe, She apologizes about her sweaty feet and does nervous toe pointing as he's foot rubbing and shoe inspecting for contraband.
He has her sit in a chair as he inspects the house. As soon as he leaves the room, she searches the room in case her friends left something bad. Jangling her hinged handcuffs, she has her ass in the air looking under the furniture.
The cop comes back and finds her standing, so he adds leg shackles to her ankles. Embarrassed and frustrated to be treated as a common criminal, she stomps her white stilettos. Standing and pacing in shackles, her imagination spirals and she tries escaping through the front door.
When she's found mid-escape, he punishes her by putting her in a handcuff hogtie. The more she handcuff struggles, the more the metal digs into her flesh. Leaning over the chair doesn't help and she doesn't see the officer watching her cuffed struggles.
It's time to haul her off to jail, and he offers to remove the shackles if she will behave. Dejected, she starts her walk of shame, nervous and humiliated by what the neighbors will think!

Starring: Star Nine
Size: 720.4 MB
Duration: 00:11:40 min
Resolution: 1920×1080
Format video: mp4
Preview: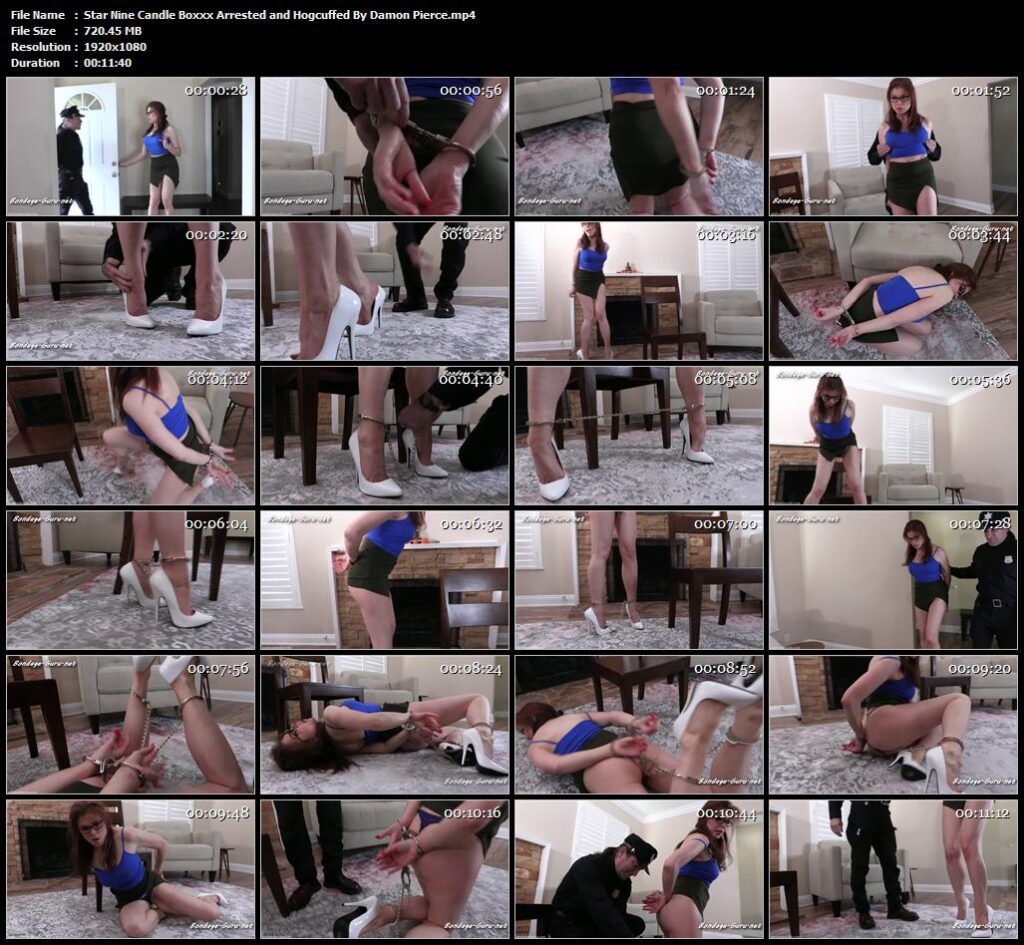 Download link:
Star_Nine_Candle_Boxxx_Arrested_and_Hogcuffed_By_Damon_Pierce.mp4