Sarah Brooke – Bound and gagged with rope tied up your pussy! If step-step-daddy could see you now!
Sarah Brooke – Bound and gagged with rope tied up your pussy! If step-step-daddy could see you now!
Sarah is related the his landlord and lives next door. It turned out Sarah had the hots for him and it was obvious from the start that she was after him because she was always flirting. But the man made a living working with female Fetish models. Sarah noticed young and beautiful women come and go and this made her extremely jealous. Wondering what this man was up to with all these girls, Sarah got herself dressed up sexy and went next door to confront him. Once there she noticed there were cameras and studio lights set up. There was also several coils of rope laying around. Seeing all of this, Sarah demanded to know what was going on. When he explained that he was a photographer, Sarah didn't believe him and insisted that he explain the rope. So he did. A short later, the man had Sarah tied up tight with rope. This had her furious and she demanded to be untied. She told him that she was going to report this to his landlord and that he would soon be evicted. Tired of listening to her, the man stuffed and taped a gag in her mouth. Then as she was struggling bound and gagged, he pulled her dress top and bra down to expose her big boobs. When he started shooting photos of her like this, Sarah tried to plead with him not to show them to her everyone. The man started to make Sarah do humiliating things like stand up hop her way over to the table. There he made her bend over to give him a better view of her ass. For some reason, this really excited Sarah and she was getting very turned on. At this point she didn't care what the man did to her as long as it ended with him pulling her panties down for some real fun. But when he tied a piece of rope tightly up her crotch she thought to herself, "Wow! This is almost as good!" It didn't take her long before she worked herself up to her first bound orgasm.

Featuring: Sarah Brooke
Size: 697.6 MB
Duration: 00:14:10 min
Resolution: 1920×1080
Format video: mp4
Preview: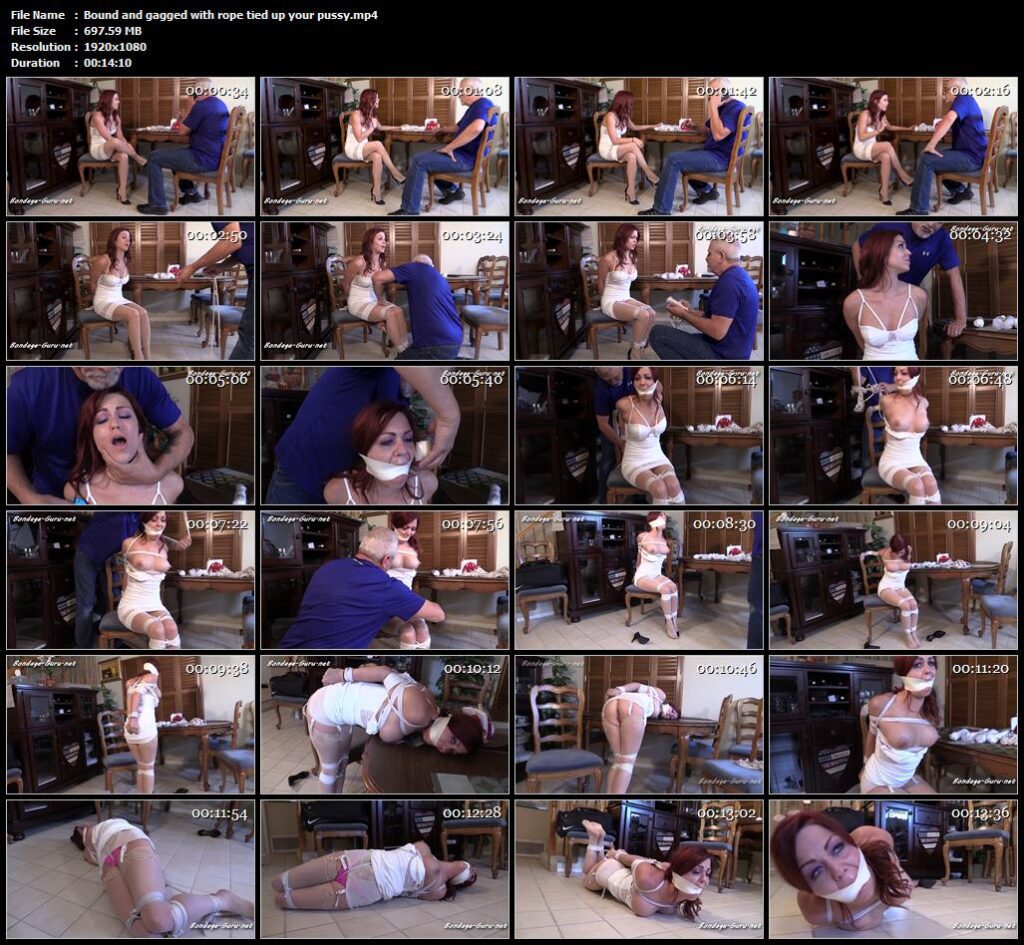 Download link:
Bound_and_gagged_with_rope_tied_up_your_pussy.mp4