Rachel Adams – Alba's Web – Alba Loves Bondage
Rachel Adams – Alba's Web – Alba Loves Bondage
Rachel is at home relaxing in her living room, she has her headphones on and she is listening to some music… She doesn't realize someone pops into her place, hand-gags her and tells her not to move. The man stars tying Rachel on screen, Rachel asks what is happening…
Next we see Rachel tied up with a chest rope, lots of ropes on her legs. On screen the bad guy ball gags her and leaves her struggling.
Rachel struggles, first on the sofa for a little bit, then on the floor. Rachel tries to escape, she manages to reach her phone and she tries to call someone using her nose, but she can't, then she manages to reach the door, she opens it and she tries to escape, but when she is out, the bad guy comes back and takes her inside again.
Rachel is now hogtied on the floor (elbow touching hogtie) she is barefoot, her feet are tied up too, and she has a nice tape wrap around gag. The villain pulls down her jeans to show her sexy butt and he spanks her a little bit. He tells Rachel he has a message for her: he takes his phone, and he plays an audio message from Italian bondage model Alba Zevon so only now Rachel realizes why she is in that unhappy situation: Alba explains Rachel that she hired someone to bound and gag her because she is still upset Rachel left Italy to go back to US. If Rachel wants to be free, she must do what the guy tells her to. Rachel will be free only if she accepts to fly with him to Italy to Alba! The villain tells Rachel that he will give her some times to think about it, and he leaves the room leaving Rachel desperately struggling in hogtie..

Featuring: Rachel Adams
Size: 1.5 GB
Duration: 00:20:24 min
Resolution: 1920×1080
Format video: mp4
Preview: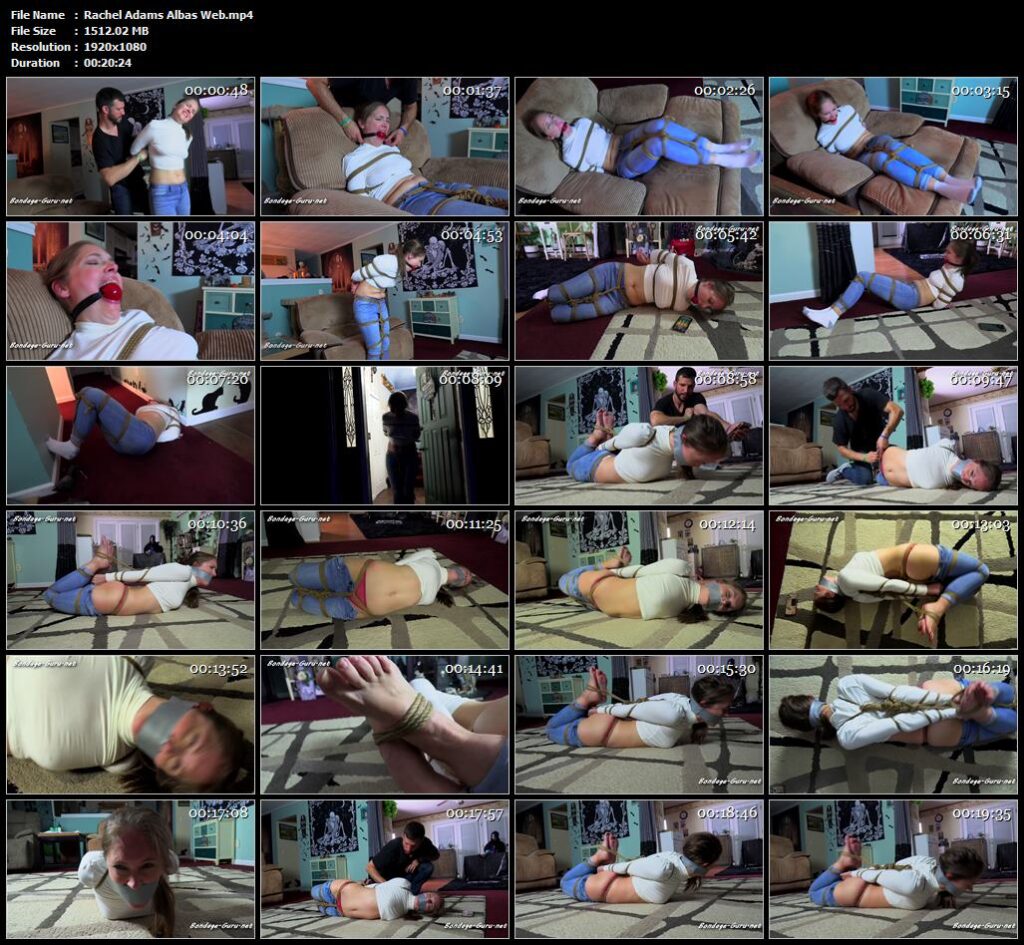 Download link:
Rachel_Adams_Albas_Web.mp4