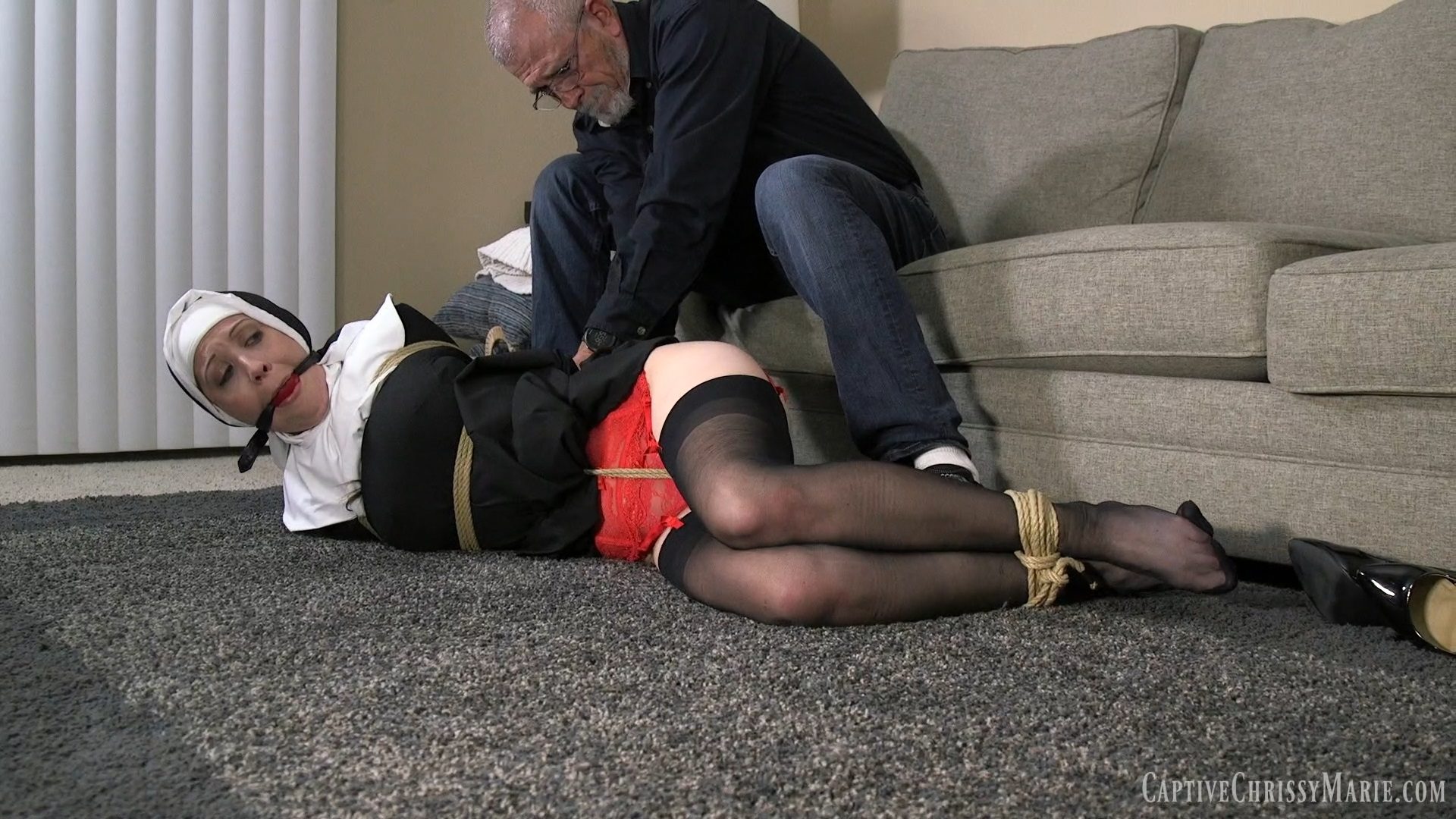 Naughty Nun Bound To Repent – Captive Chrissy Marie
Naughty Nun Bound To Repent – Captive Chrissy Marie
Sister Chrissy has been one naughty nun! She thinks no one is watching so she lights up a cigarette, but she ends up getting caught in the act! When Father catches her smoking she first tries to deny it, but then asks him "what are you going to do, flog me again?" He tells that she is right he is going to flog her so she can repent for her sins. When he tells her to assume the position he notices that Sister Chrissy appears a bit too excited about receiving her punishment. That's when Father realizes that she has been being extra naughty because she actually likes when he punishes her with the flogger! He knows that she isn't going to repent if she's enjoying herself so he will have to try out a different kind of punishment.one that involves a lot of rope!
Sister Chrissy is surprised and not sure what to expect as he begins tying her wrists behind her back. When he goes to tie her ankles together he finds that she is wearing high heels and stockings! He asks if she is wearing pantyhose and the shameful look on her face tells him she's guilty! He looks further up her skirt to find she is wearing sexy red panties and a garter too! Definitely inappropriate undergarments for a nun! He binds her ankles tight and she asks "What would the Mother Superior think about you having me all tied up in here?" He assures her that Mother Superior will never find out, especially because he intends to keep her quiet! He finds a big red ball gag and straps it deep into her mouth!
Sister Chrissy wasn't expecting to receive such an unpleasant punishment! Now that she is gagged he continues to tie her up, adding more rope around her thighs and then ties her elbows together for added torture! "Not so fun after all is it?" he says as he leaves her struggling while he goes to find more rope. He isn't done with Sister Chrissy yet! When he returns he unties her legs (off screen) and exposes her panties, garter and stockings, adding a crotch rope for an extra humiliating touch! Finally he binds her into a strict hogtie and tells her she is going to stay there bound and gagged like that all night! After a night of hopelessly struggling in strict bondage she will surely have repented for her sins, unless this naughty nun ends up enjoying that too!

Starring: Chrissy Marie
Size: 714.41 MB
Duration: 00:16:20 min
Resolution: 1920×1080
Format video: mp4
Preview:


Download link:
Naughty_Nun_Bound_To_Repent.mp4 – 714.41 MB