Mummified by the Enraged Electrician
Chrissy was already having a bad day but had a big date planned for later tonight and was hoping that would cheer her up. However whe she was getting ready she managed to blow a fuse upstairs and now she can't use her bathroom to finish getting ready! She called an emergency electrician and wait impatiently on him to fix the problem. She isn't too happy with him when he comes back to tell her that he figured out the problem but it's going to take a few hours to fix it! She insists he has to fix it quicker than that because she has to leave for her date in an hour, but when he tells her there is nothing he can do she just get's even more angry and condenscending toward the electrician. She tells him to just do his job as quick as he can and tries to walk away, but the truth is, he really can't do his job with her bitching at him the whole time! He grabs her and clamps and white cloth over her mouth and nose as her eyes widen in shock! She struggles violently but can't break free from his grasp and before long her body falls limp into his arms.
We fade in to find the electrician has Chrissy all wrapped up head to toe in electrical tape, her breasts bulging out in order to humiliate her for her arrogance towards him. She wake up confused as to why she feels so groggy, and then why she can't move. She opens her eyes to see her bound predicament and the electrician standing right over her. She asks him what he has done to her, there is no way he will get away this, he will surely lose his job if he doesn't let her go right now! He just laughs and squeezes her swollen breasts as she struggles then stuffs her mouth full with white cloth before taping more of his extra sticky electrical tape around her mouth and head several times! She is gagged so tightly now that he can hardly hear her angry bitching, just perfect so that he can finish his work in peace! On second thought, he has some other business he would rather take care, considering there is no need to rush on this job now! He leaves her there completely bound and gagged in all of his electrical tape and she has no idea how she is going to free herself from this nightmare!
She struggles hard against the tape but it is very strong and she knows she won't be able to escape on her own. Eventually she manages to work her way to her knees and notices her phone on the couch, but her hands are bound so tightly behind her back that she can't possibly reach the phone to dial and trying to use her nose only knocks it further out of reach! She knows the chances of them understanding her through her tightly packed and gagged mouth were not very good either! Her only other hope is to try to hop outside to find help, even in her humiliating position. With all her effort she finally makes it to her high heeled feet, but frustratingly only manages to hop a few times before she falls. Frantically gag talking to herself she is unable to think of another plan, feeling really hopeless now as she squirms and mmppphhss around on the floor in her electrical tape bound torture!

Starring: Chrissy Marie
Size: 626.76 Mb
Duration: 00:12:35 min
Resolution: 1920×1080
Format video: mp4
Preview: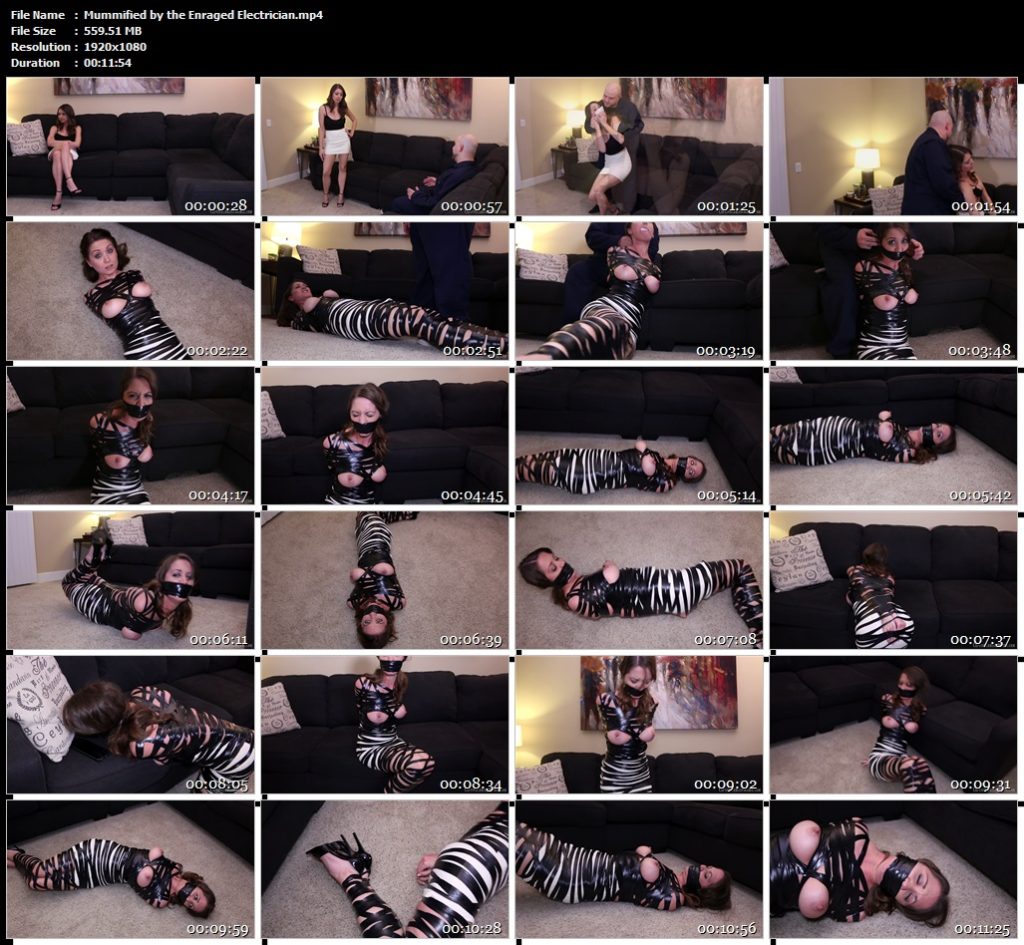 Download link:
https://wayshare.cc/1y41jwo0o6pu/Mummified_by_the_Enraged_Electrician.mp4.html