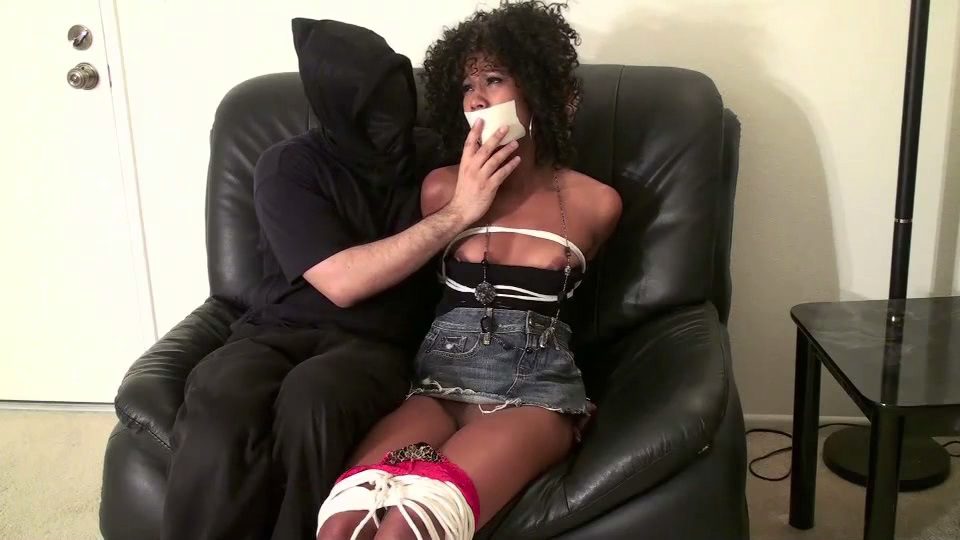 Misty Stone in Superbound Retro Compilation: Escort in Bondage – Superbound
A knock on the door prompts a hand to reach out and let in gorgeous ebony babe Misty, a high-priced escort willing to do lots of things for the right price. A bit too focused on the transactional aspect, she barely notices that her john is wearing a mask, but does eventually ask and gets the contrived response that he's had an accident and wears a mask because he's shy! He looks her over and likes what he sees and gets handsy in a hurry. While she's ready for anything she does require payment first and when she cries out where's my money she is viciously handgagged! Realizing that either this guy lured her into a trap or she came to the wrong address during a burglary, she finds herself unable to escape his evil clutches. Handcuffs are quickly slapped onto her wrists as she begs to be set free. She endures many minutes of fondling as he squeezes her perky tits and sexy ass that is also spanked both while standing and on the couch where she is dragged and set down. The masked man grabs some tape and plants his arm over her mouth so that she is still gagged! while he cuts a piece of tape to apply to her sexy full lips. He obsessively presses the tape down on her mouth to make sure it stays on while she glares at him with a look of fear mixed with anger. Some sporadic spirited resistance wells up from time to time from Misty, but she is easily controlled and after several more minutes of erotic molesting of her sexy body she ends up on the ground. Once there her tapegag is eventually removed and then she is smothered into submission.
After some time has passed we see Misty bound with rope constraining her legs and upper body. She makes another plea to be set free, but is handgagged and then gets gagged with a heightened strictness factor. Her panties are shoved into her mouth after a little nose pinching persuasion and then microfoam tape is pressed down over her pouting lips. Not satisfied with this he grabs a bandage and wraps it over her gagged mouth and around her head several times until she can barely utter a peep. He keeps fondling her and then leaves to collect whatever ill-gotten gains he's acquired while our sexy bondagette struggles with a frenzy. Eventually, she inches towards the door, but is caught when the masked man returns to check on her. Feeling the need to punish her, he strips her nude and puts his hands ALL OVER her sexy body. The masked miscreant then pulls her to her feet and grabs some of that sweet ass and spanks it a bit before picking her up and carrying her back to the couch. To her surprise he mercifully removes her gag, but applies some hand over mouth gagging to silence her continuing requests to be set free. Clearly torn between wanting to stay and play with his captive and his need to escape before he's caught he moves to smother poor Misty back into submission. He plays with her a little longer and smothers her again (in closeup POV) to make sure she remains out of it. Once she's pacified he makes a hasty exit, leaving her to explain to the owner what she's doing there and why she's all tied up!

Starring: Misty Stone
Size: 830.74 Mb
Duration: 00:29:39 min
Resolution: 960×540
Format video: mp4
Preview:


Download link:
https://wayshare.cc/1jwovd7p6aml/Escort_in_Bondage.wmv.html