Maxie & Kellie in: Thrilling Army Base Banditry: Two Extremely Gagged & Pig-Trussed Sirens Found Raging @ the Scene!
Maxie & Kellie in: Thrilling Army Base Banditry: Two Extremely Gagged & Pig-Trussed Sirens Found Raging @ the Scene!
In this truly intense 'gagging on gags', total gag meltdown – bit of a mouthful there, just like the ladies are about to endure – incredible amazon Maxie writhes tightly trussed like a mischievous hog, grunting through a face packed with handkerchiefs and cloths, as does the one and only Miss O'Brian, similarly indisposed and going plain crazy at her oppressive restraining. Looks like this is going to be another explosion of epic lady-bind fun!
We commence in the office of military cadet Maxie, who believes she is the bees knees, sitting there with her remarkable, muscular thighs squeezed crossed, in her tight little uniform, beautiful dark mane in a high pony tail, sexy stilettos twisting and squeaking as she moves. She's poring over some top secret research notes she's been charged with minding. There are raiders out there looking to acquire these for nefarious gain, and it' Cadet Rhoades's job to ensure they are not stolen. She's very sure of her abilities to protect, right up until she finds something cold and hard being pressed into her back.
Blonde milf and all-round sex-machine, curvaceous harlot Kellie O'Brian in tiny dress and stockings is a raider indeed, and she soon has the surprised lady guard marched upstairs. Kellie finds an en suite bathroom in the private's quarters and soon has the amazon beauty all tied up and gagged extremely tightly with a thick white rag. Maxie glares at her while Kellie feels her up and then shuts her inside, making off with the notes but searching for more while he has the only on duty guard bound up and out of the way. But Kellie has more company today than a lone army babe.
Returning later to find the gagged and tied Maxie has booted her way into an open door situation, Kellie is about to tie her ups some more when a meaty paw is swiped over her gob. Overpowered, she is soon being bound hand and foot (looks awesome I her stickings, oh yea) while the incapacitated Maxie looks on bemused in the background. Both ladies are tied up a bit more, with Kellie too now tightly over the mouth gagged with red cloth!
The bound and gagged women roll around all over the floor, eventually getting in back to back and experimenting with one another's wrist bindings. Before they get too far, the raider is back, very content that he has recovered more documents – a backup, if you will. Gagging both ladies extra hard with thick wads of packing and truly brutally tied on cloth cleave gags, he pigbinds both squirmers and assaults their jumbo tits for a time before leaving them where he found them. The angrily gag rant as he shuts them away!
With Kellie, the original source of Maxie's tight detention, all hapless alongside her, the girls have no love lost and in fact no longer work together to get free. Just as well for them. Those ropes merely seem to tighten the more they struggle. And their gags. Man, they are repeatedly gagging on them and their eyes bulge under the pressure of the packing and cloth bound around their mouths and heads. They are clearly in need of a damned good rescuing. Would YOU do it? Rescue them? They'll no doubt have quite the tale to tell – especially the tables-turned-upon lady thief, Kellie. Meanwhile, the girls are writhing around and mumbling into their awe-inspiring gags. This dude got 'em both GOOD! Let's hope that Maxie doesn't end up in the stockade for this laps in security, but let's do hope that O'Brian spends some time in jail at the end of this – if only to see the saucy, curvy minx handcuffed.

Starring: Maxie Rhoades, Kellie Obrian
Size: 1.02 GB
Duration: 00:27:28 min
Resolution: 1280×720
Format video: mp4
Preview: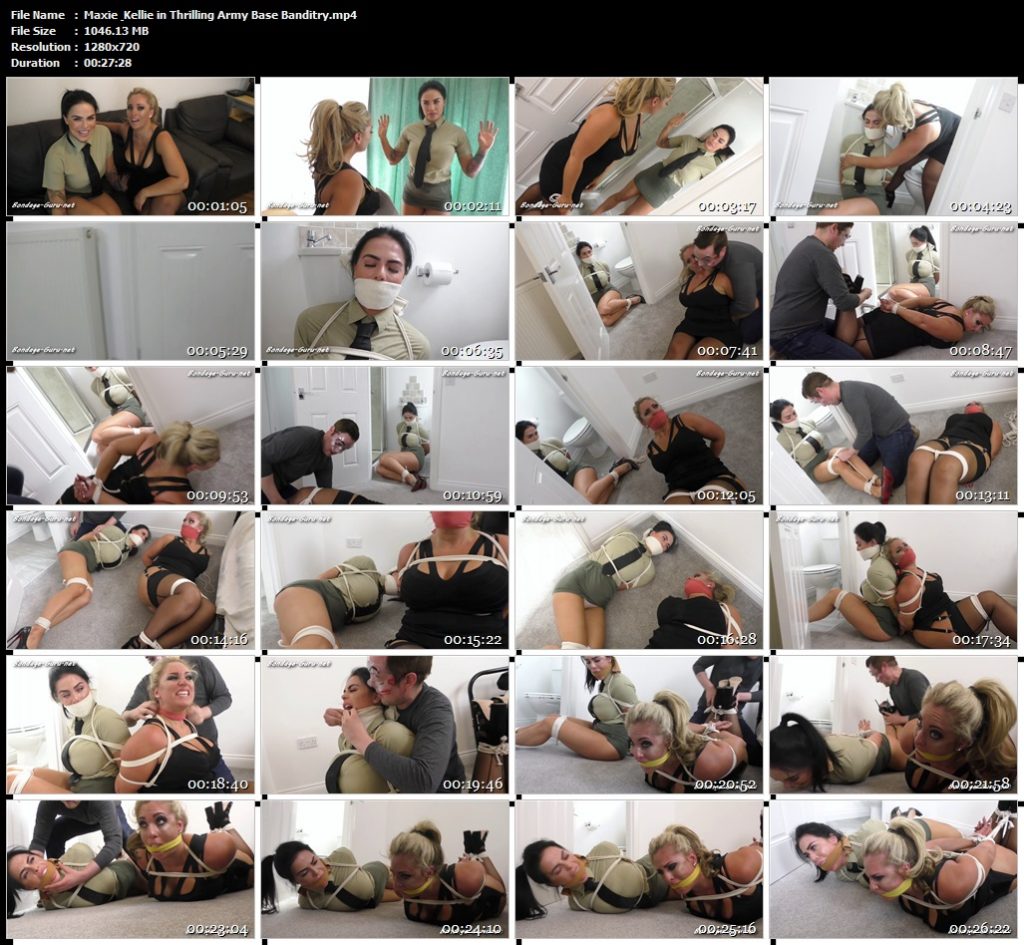 Download link:
Maxie_&_Kellie_in_Thrilling_Army_Base_Banditry.mp4