Layla Bondage Addiction – Mia and Laura – Lap dancers challenge
Layla Bondage Addiction – Mia and Laura – Lap dancers challenge
A cut that favors much more closeup camera looks of Laura clip, 90% of the footage is new and taken from different cameras than the Wide angle cut. Mia and Lauretta are both strippers working at a club. The opening is shot POV, with both girls talking to the camera. Lauretta and Mia are both wearing skimpy tops and bottoms and high stripper heels.
Mia: Oh, hello there! It's so good to see you! I know, I usually don't work on Wednesdays, but one of the girls called in sick, so here I am! I bet you are going to need a lot of lap dances tonight! That's good, because I really could use some tips.
Lauretta enters and sees him. She is excited and flirty.
Lauretta: Oh, there you are! I was wondering when you were going to come in! You'd better not buy any lap dances from any other girl tonight! You're all mine!
Mia: Hey, I was talking to him, do you know him too?
Lauretta: He is one of my best customers! Every Wednesday night! Do you know him?
Mia: He is one of MY best customers! He comes in every Thursday night! You keep your hands off of him!
Lauretta: Don't tell me what to do! Besides, he likes me better.
Mia: No, he likes me better!
Lauretta: You know how much you like my moves.
Mia: Your moves are lame. My moves will excite him more.
Lauretta: Your moves are terrible. So, how will we solve this? A contest? What kind of a contest? That sounds interesting.
Mia: Yes, I'm in. Let's go to the back room.
Mia and Lauretta are now tied to chairs. Their hands are tied behind their backs, and they have chest harnesses tying them to the back of the chairs. Their legs are spread apart and their ankles are tied to the legs of the chairs.
Louis: Okay ladies, the first one to get untied will get the prize money!
Lauretta: This will be so easy! I will be out of here in no time!
Mia: That's what you think! You haven't seen my skills.
Lauretta: I hope for your that you're better at escaping than lap dancing.
Mia: You are so rude! I will get out first and then I will leave you tied up here all night long!
Lauretta: Hah, there is no way you will escape before me!
Louis: Girls, you are arguing too much and you are both being much too loud! I'm going to have to gag you.
Lauretta: Oh no, we'll be good! You don't have to gag us!
Mia: She is the one who is being loud, not me! Just gag her, you don't need to gag me!
Louis: You both need gags! (He ball gags them, Lauretta first, then Mia.) Okay, now I will leave you to your struggles! Good luck!
We watch the girls struggle. They gag talk and continue to argue with each other: "I'm not going to help you," "I don't want your help anyway." The ball gags make them drool. They are not able to get loose from their chairties. After several minutes, Louis comes back into the room.
Louis: Well girls, have you made any progress? (They both nod, Lauretta gag-talks, "I'm almost loose!" Mia gag-talks, "I'm so close, I need 2 more minutes!") You are not even close to getting loose! I'm very disappointed in both of you. Let's move on to part 2, the hogtie. (Mia and Lauretta groan.)
The girls are now hogtied on the floor. They have ropes above their knees, as well as their chest harnesses. They are ungagged.
Louis: You may have to work together in order to get loose.
Mia: I am not going to help her! I will be able to get loose on my own!
Lauretta: I think you will be begging for my help.
Mia: I will not beg you, especially after you try to steal my best customer!
Lauretta: He's MY customer! You're stealing him from me!
Louis: Girls, girls! I can see you both need to be gagged again.
Lauretta: Please gag her first, I cannot stand listening to her!
Mia: No, gag her first, she is making my head hurt!
Louis: I gagged Lauretta first last time, now it's your turn to go first, Mia. (He stuffs a cloth in Mia's mouth and wraps tape around her head. Lauretta sticks her tongue out as Mia gets gagged)
Lauretta: That's so much better, I don't have to listen to her. (Mia mmmppphhhs at Lauretta)
Louis: And now it's your turn. (He stuffs a cloth in Lauretta's mouth and wraps tape around her head.) Have fun struggling girls! Good luck!
Mia and Lauretta struggle on the floor. They roll around, but are not able to make any progress in getting loose. After several minutes, Mia gag-talks "I can't get out, can you?" Lauretta gag-talks "No, I can't get loose." Mia gag-talks "Should we help each other?" Lauretta gag-talks "Yes." They try to help each other with the knots, but they still aren't able to get untied. After a few minutes Louis comes back.
Louis: You're still not free, but at least you're finally helping each other. Do you girls think you can be friends now? (Mia and Lauretta both mmmppphhh and nod yes) Good girls. Now I will untie you and you can both give me lap dances! (The girls both nod yes) The end.

Featuring: Mia, Laura
Size: 1.5 GB
Duration: 00:25:50 min
Resolution: 1920×1080
Format video: mp4
Preview: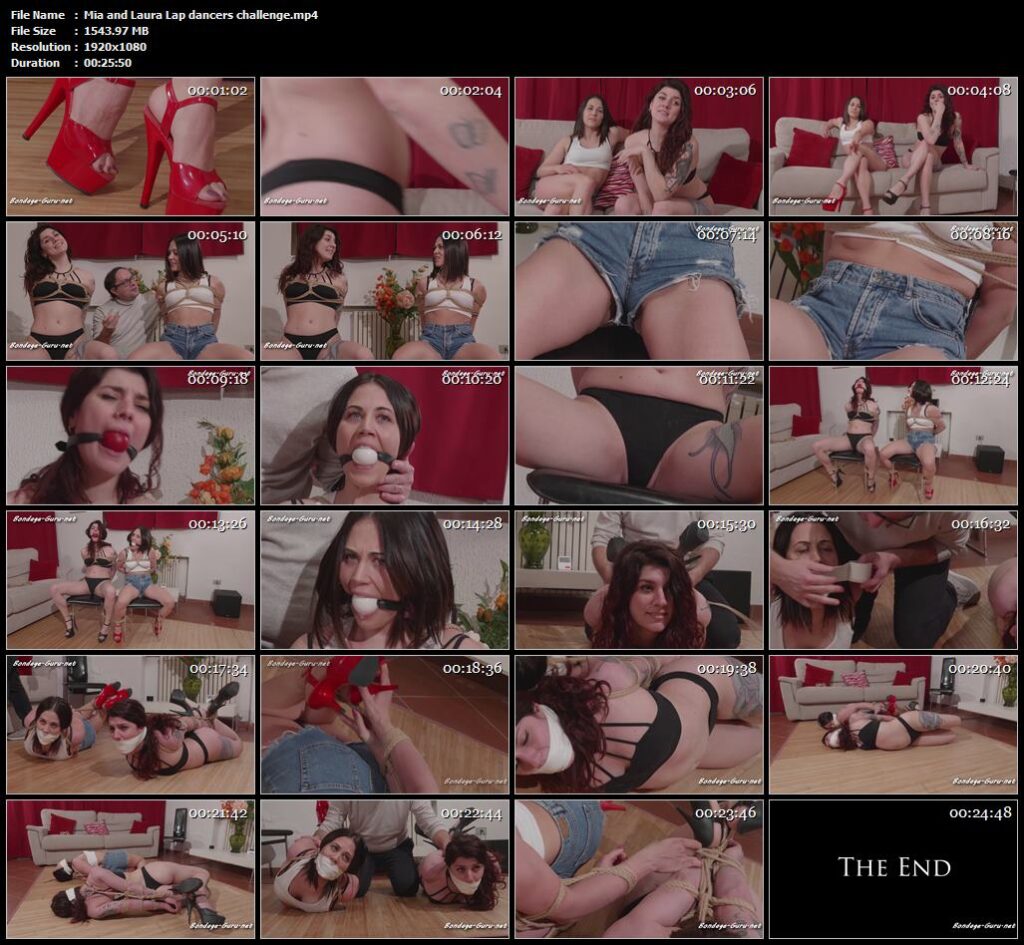 Download link:
Mia_and_Laura_Lap_dancers_challenge.mp4