Latina Bondage – Latina in: Yoga Outfit Bondage with Huge Purple Ballgag + Hogtie!
Latina Bondage – Latina in: Yoga Outfit Bondage with Huge Purple Ballgag + Hogtie!
Gorgeous DOMINATRIX "QueenLatinaUK" is doing yoga in her beautiful gym outfit, and she is very good at it! But what she doesn't realize is that there is a stalker that will soon reach her door!
Latina hears a knock on the door, she opens the door and sees her neighbor who used to stalk her a lot, and he got a HUGE PURPLE GAG and a lot of PURPLE ROPE as well as some red rope.
Next, we see beautiful Latina getting tied up by her stalker, her wrists are tied super tight and she can't escape her faith to be tied up even more! The intruder says he must tie her up because she is so mean to him, and he must teach her a lesson now. She says she knows who the the intruder is and enjoys being tied up! Now it turns out she is very into it!
He ties her wrists, with red rope, ties her chest with PURPLE ROPE HARNESS, and ties her legs with red rope! Her beautiful feet get tickled a lot. She laughs and screams but can't escape this tickling predicament! And after tickling her a lot he brings more rope and ties her legs even MORE! She says that the intruder has great skills at tying her up, and now she is quite playful with the intruder…
Next we see the intruder to bring out a huge purple ballgag! He says "You're making a lot of noise, guess what I need to do?" And now the HUGE 55mm PURPLE BALLGAG goes into her beautiful mouth, filling it completely! Then She is left to struggle and drool around the huge PURPLE GAG!
She is rolling around a lot, trying to escape but she is stuck! This huge PURPLE GAG and tight PURPLE ROPE is not coming off anytime soon unless it's decided by the intruder!
Next scene we see the intruder putting her into a HOGTIE! She is very playful saying "Oh it actually helps me stretch!" She shows the intruder just how much she can stretch and how flexible she is! And then she gets GAGGED with the huge PURPLE GAG again! Now she is rolling around HOGTIED and DROOLING thru a HUGE PURPLE BALLGAG!

Featuring: LATINA
Size: 770.9 MB
Duration: 00:15:32 min
Resolution: 1920×1080
Format video: mp4
Preview: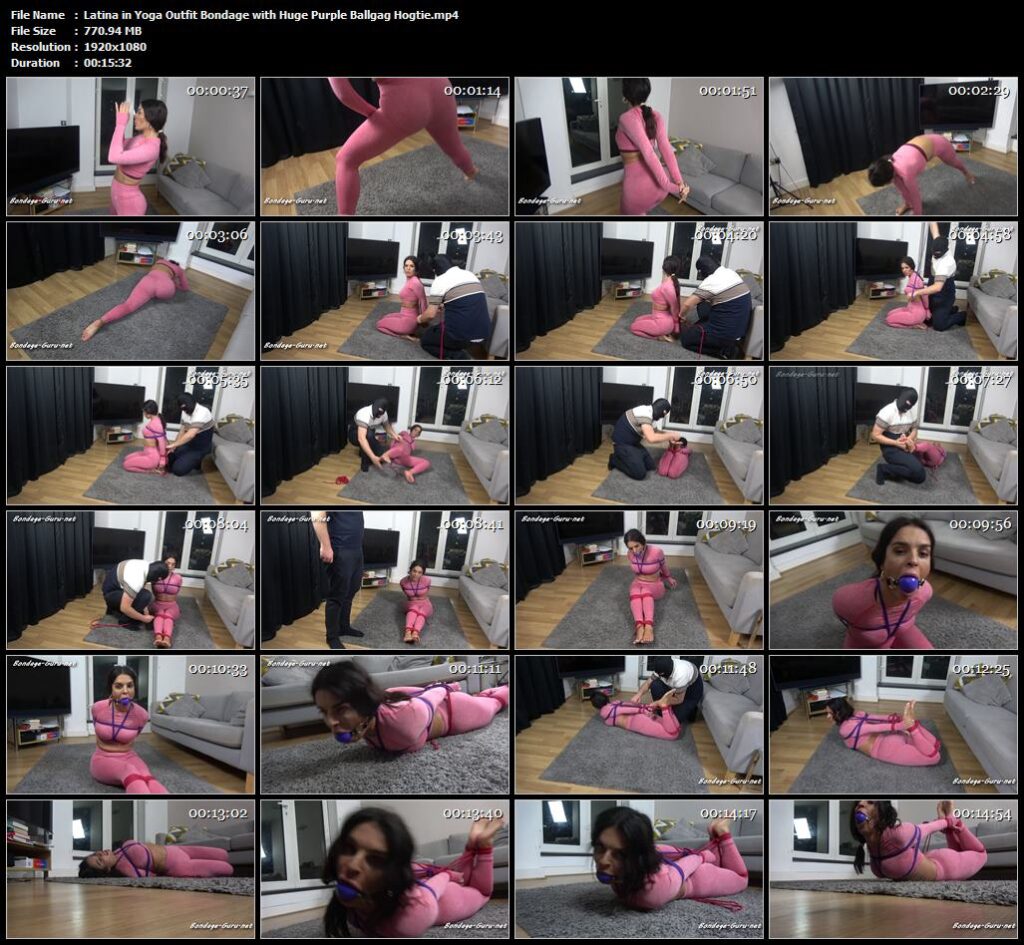 Download link:
Latina_in_Yoga_Outfit_Bondage_with_Huge_Purple_Ballgag_Hogtie.mp4