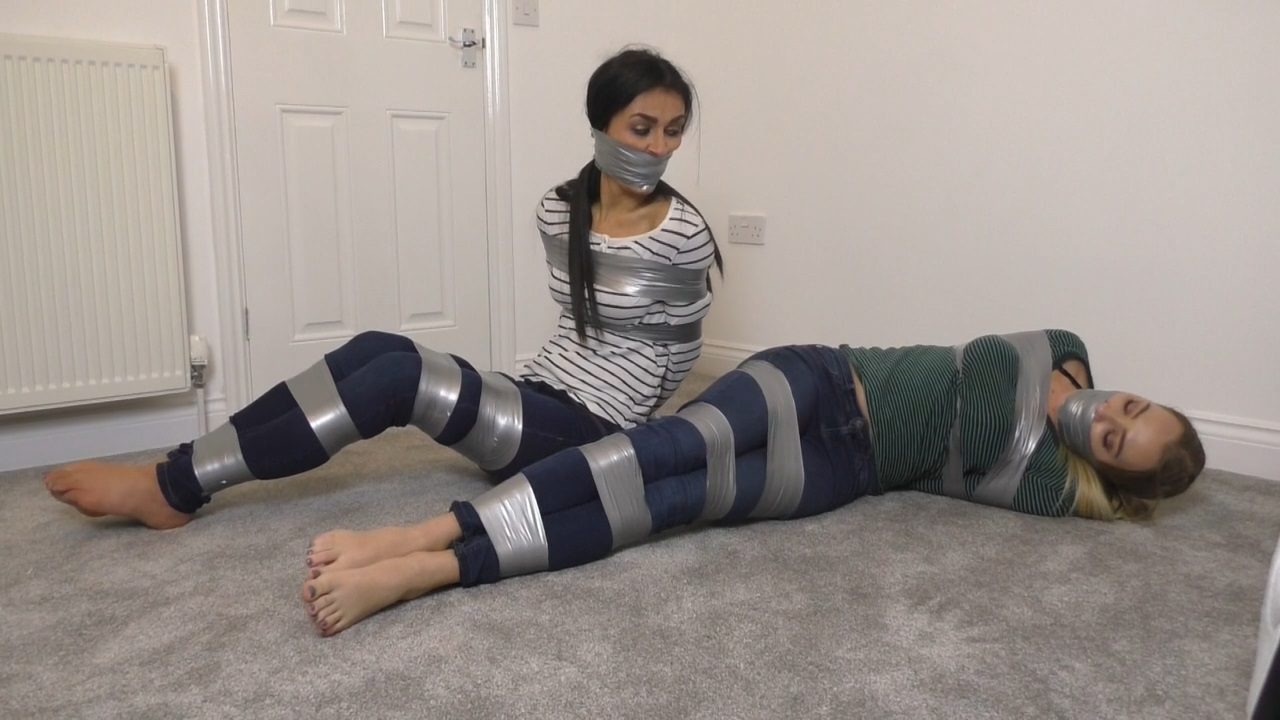 Jade & Klara in: Bound & Gagged Times Above the Vampire's Vault Bar & Grill: What's That Thumping Noise Coming Down Through the Ceiling?? (Full Adventure)
Jade & Klara in: Bound & Gagged Times Above the Vampire's Vault Bar & Grill: What's That Thumping Noise Coming Down Through the Ceiling?? (Full Adventure)
Two very beautiful girls enter second floor of a popular downtown hangout (see above, so we don't have to copy and paste it again) and are immediately in danger. The proprietor, a Mr Red FernTree (really) cannot afford for any meddlers on his patch. These two spell trouble, and he needs to keep them subdued and unable to make a fuss. For Red is a smuggler who uses the bar and grill as a convenient cover for all of the other crazy filth that goes on here.
Having had a good snoop around, Klara has gotten separated from Jade, and goes to look for her. Coming to look for KLARA is the masked Red, and does he ever get her too! INTENSE handgagging and offward-carting for the struggling blonde hottie, who repeatedly tries to call out for her pal from behind a thick wall of hand. Mmmmnnnpphhhh! And guess what happens to the stunning, tall, glossy-maned Jade when she comes on the look for her pal.
Now, the girls are herded into a disused room to be restrained. Here the girls, well out of it and face down on the deck and tightly bound hand and foot with strong silver sticky tape. In order to silence them (coming round now, the feisty bitches) he wrenches off their sneakers and rips off both socks, off of both chicks, which he roughly conveys into their mouths before viciously binding up theirlower faces and heads with a load more.
Bound and gagged, the interloping bimbos are outraged. The lovely Klara, watching her pal get gagged, still had a lot of mouth back there, encouraging her to FIGHT! Alas, it was one which she lost. The barefoot, jeans-clad beauties are left writhing around, locked in this room above the main bar. Bare feet twitching with the stress of this major form of containment, the hidden sleuths twist and surge, attempting, repeatedly, to speak.
Those gags have seriously dialled down the volume and the two captives sound ridiculous to one another (and to us, but we love it), mumbling away helplessly. Rage soon replaces dismay. How DARE he bind them up like this, all parceled and secure. Now, here they are, writhing around unable to move in any meaningful way or discuss their options on a way out, the mmmmmpppphhhhing detainees must await what's next. Soon enough, they are told…
Considering how hot they both are, Red believes one of his main overseas clients (smugglers, especially evil ones, have all the good contacts.). For now, the wriggling, gagged and bound hotties are taped up the way we want them to be. In casual yet extremely sexy clothes, soles scrunching and gag mumbling. Very intent they both are on making themselves heard.
With mouths filled with their own socks, not much in the way of decipherable proclamations come our way, but it's intensely hot to hear them. While the overpowered and stashed girls continue to thrash around helplessly, thumping their beautiful bare feet into the deck in a vain attempt to summon help! it's clear they are trying to be heard down in the bar below. But, if we can barely hear them from another room in the house, they have no hope of rescue from all the glad-handers down there.
Looks like our hapless duo will be taking that plane ride later, unless they can get a little more creative. Let's hope that they do, right? But for now, we are surely too busy trying to stop our jaws from gaping at just how special those huge silver gags clinging to their faces and heads are. No tighter will you find these silver tape wraps. These chicks are getting crazy up there too. Sure hope they find a way to get free before their little trip! As ever, Jade and Klara WILL thrill you as they strain and twist for their liberty all trussed up with the toughest tape around, while taking gag-inducing double socks stuffs to cap it all off. Amazing.

Starring: Jade, Klara
Size: 1.01 GB
Duration: 00:19:12 min
Resolution: 1280×720
Format video: mp4
Preview:


Download link:
Bound_and_Gagged_Times_Above_the_Vampires_Vault_Bar.mp4 – 1.01 GB