Girl Next Door Bondage – Who said you could stuff your wife's great big panties in my mouthmmpph!
Girl Next Door Bondage – Who said you could stuff your wife's great big panties in my mouthmmpph!
He was down in his basement looking for something when the neighbor girl Sahrye came to visit.. She told him that she was bored and wanted to hang out with him. When Sahrye started to touch things, he told her that maybe she should go home. Then she found some plastic zip ties and started asking what they were for. When she didn't like his explanation, she told him that she wanted to be tied up with them. "No way, your step-mother wouldn't like that!" he told her. He also added that his wife would also be upset if she found out. But Sahrye was insistent and threatened to cause him problems if he didn't play along. So he grabbed her and zip tied her hands behind her back. But he didn't stop there. He brought more zip ties and soon had Sahrye tightly trussed up with plastic zip ties. At first she complained that they were too tight. But the feeling of being helpless soon over came the pain and now she was turned on. Then hoping to get herself gagged, Sahrye told her neighbor that she liked to scream when she was turned on. "What are you going to do about that?" she asked. But when he brought out an extra large pair of panties and wadded them up, Sahrye protested the idea of having his wife's great big panties stuffed in her mouth. She didn't have a choice. He stuffed her mouth full and then wrapped tape around her face and between her teeth to gag her. Sahrye was now in a panic. Not only was she in pain, but now she couldn't say anything about if. She tried, but with her mouth packed full and taped tight, she was close to choking on the very large wad of panties. After leaving Sahrye alone to struggle bound and gagged for a while, the man returned. Thinking she had had enough, he asked her if she wanted to be let go. Through the gag, she told him "NO!". So he figured that maybe he needed to make things a little more rough for her. She put another pair of panties over her mouth and wrapped more tape. He then lifted her skirt and gave her a couple of good hard slaps on her ass through her panties and pantyhose This didn't seem to bother Sahrye. In fact, it turned her on even more.

Featuring: Sahrye
Size: 694.9 MB
Duration: 00:16:20 min
Resolution: 1280×720
Format video: mp4
Preview: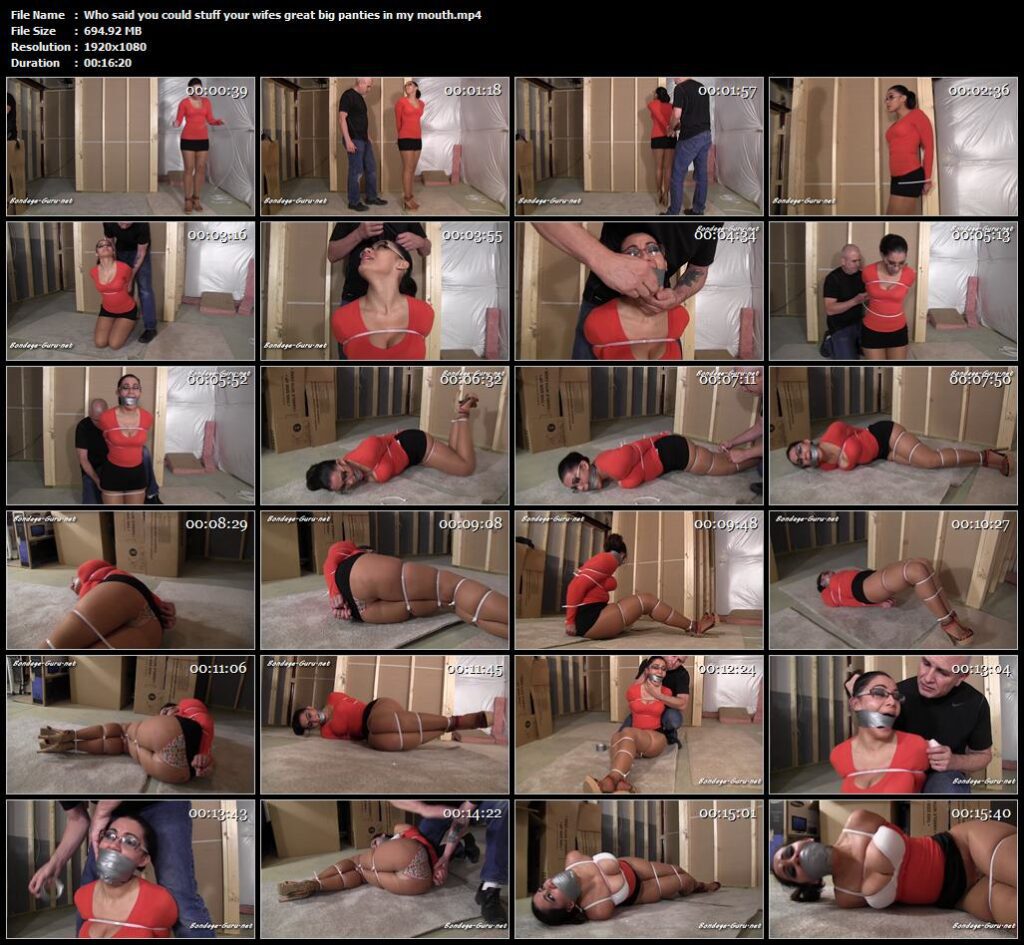 Download link:
Who_said_you_could_stuff_your_wifes_great_big_panties_in_my_mouth.mp4