Girl Next Door Bondage – Vicious Vamp-Do you really think I am going to let you tie me up!
Girl Next Door Bondage – Vicious Vamp-Do you really think I am going to let you tie me up!
Michelle is babysitting when the young man she is watching tells her that he wants to tie her up. Michelle tells him that she has a better idea. She tells him that she will tie him up and if he can get loose in 30 minutes, she will let him tie her up. When he agrees, Michelle thinks that this is going to be simple. Because having been a Girl Scout, she is very good with ropes and knots and there is no way he will ever get loose. What she didn't count on is him cheating because after she leaves him, it only takes a short while for him to get loose. Michelle is astonished and cannot believe he was able to do this. But a deal is a deal and it was now her turn to get tied up. Once she found herself trussed up tight with rope, she realized that this guy was really good at this and there was no way she was getting loose. Then after 30 minutes she told him that there was a time limit and now she demanded to be untied. But he let her know that there was no time limit. Then when she started getting too demanding, he decided it was time to shut her up. "Those are your mother's panties! What are you doing with them!" she demanded to know as she saw him wadding up a pair of white briefs. She soon found out as the next thing she knew, her mouth was stuffed with the panties and taped up to gag her.. Now Michelle struggled frantically to get loose. Then things got really bad as her pants starts to come down. But that wasn't all because apparently, she didn't tie the strap of her blouse tight enough behind her next and it soon came loose. Unfortunately, she didn't figure this out until she looked down and saw her great big tits bouncing about in full view.

Starring: Michelle(Vicious Vamp)
Size: 588.0 MB
Duration: 00:14:15 min
Resolution: 1920×1080
Format video: mp4
Preview: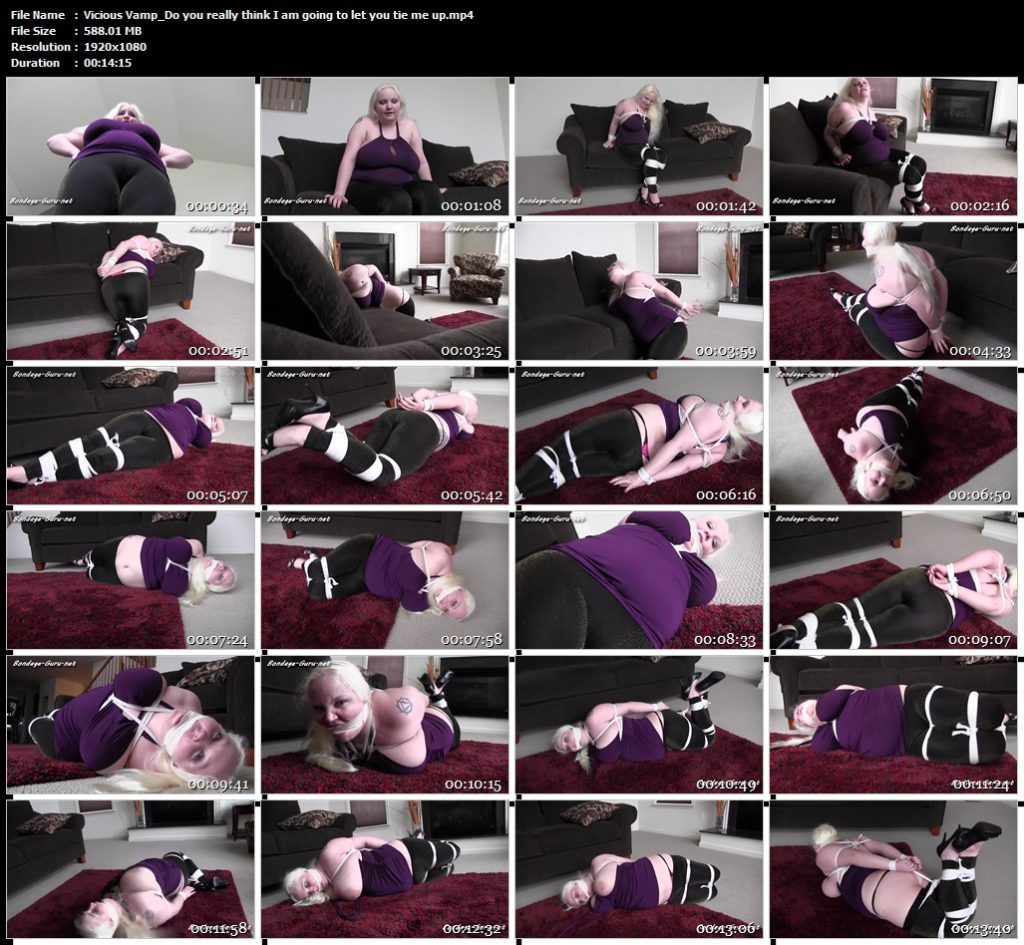 Download link:
Vicious_Vamp_Do_you_really_think_I_am_going_to_let_you_tie_me_up.mp4