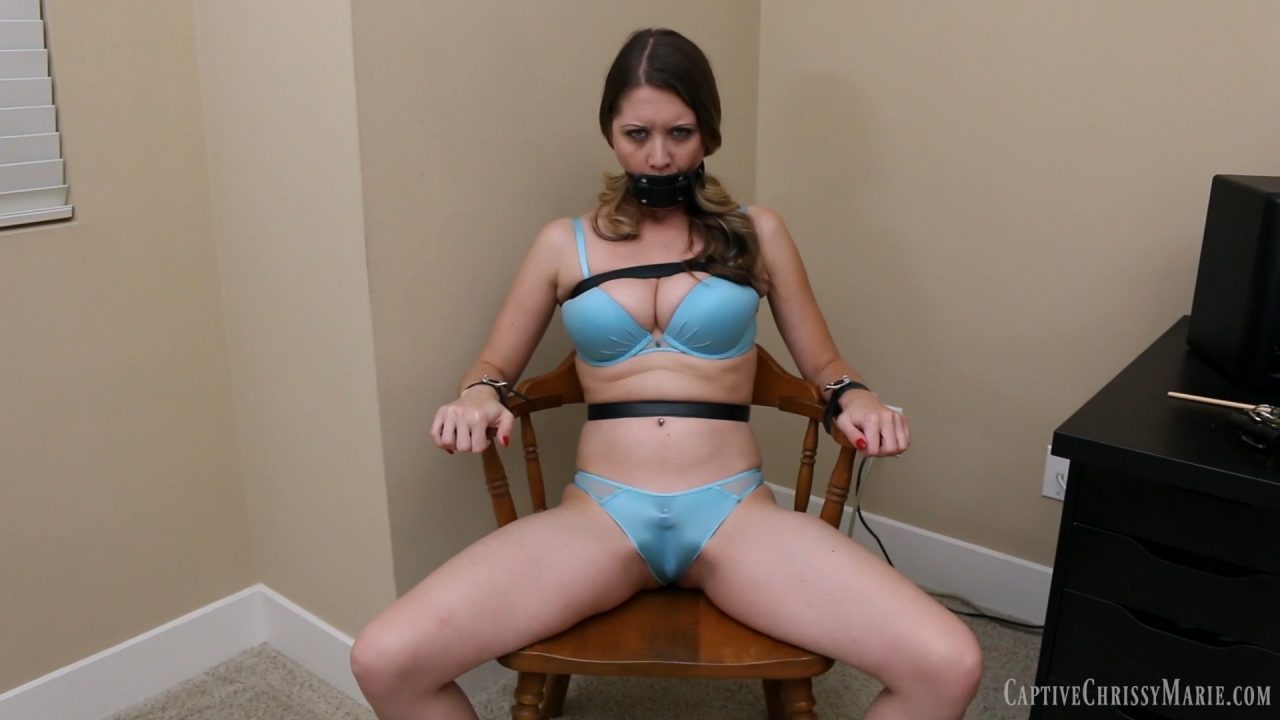 GagMe Inc. Research & Development – Captive Chrissy Marie
GagMe Inc. Research & Development – Captive Chrissy Marie
Chrissy Marie works for a very successful bondage production company that manufactures state of the art bondage devices, gags, and other gadgets used for both magic tricks and in the bedroom. The company is called GagMe Inc. and has some rather unusual rules and regulations. Our story takes place deep in the Research and Development lab of this fantasy company. Chrissy is the head of the R&D lab and is responsible for coming up with new eccentric ideas for gags and bondage equipment. All the ladies at GagMe Inc. dress in lingerie and must wear cleave gags or OTM gags as part of their uniforms. Today Chrissy is wearing her lab outfit, which turns out to be a sexy nurse outfit with white high heels. She wears thick-rim glasses that one would expect a nerdy but also sexy scientist to wear. She also has her GagMe Inc. official white cleave gag on. She is hard at work, making a few adjustments to a ballgag. She then notices the POV has entered the room. She stands up and comes around to front of her desk, giving him a flirtatious greeting with her gag still on.
"Hello! I certainly didn't expect you down here. May I?" she asks, then removes her gag and glasses. "Thank you, my name is Dr. Chrissy, I'm the new director of Research and Development. It's nice to meet you. You're the head of marketing right? As you can see I've cleaned things up a bit since you fired the last girl. Is there anything in particular you wanted to see?" She asks as she bends over a little and unzips adjust the top of her outfit to show off more cleavage. She then collects herself and carries on. "Sorry everything around here is such a mess. Ah, I bet you wanted to talk about the new proto-type gag, GAG66, that we are working on. The one with the auto-lock mechanism. I'm happy to show you how it works and how to disable the locking system. Another one of my great inventions, auto gag locks, so exciting!" Chrissy picks up a ball gag and begins to put it on. However, there is a quick screen flash so that the gag can be put on tightly and effectively. Once she is properly gagged she mmph's and gag talks, pointing to all the made-up features that she wants him to know that she worked so hard on. We obviously cannot understand a word she is saying, we just like looking at her. Then Chrissy goes for the buckle to show him how to disarm the auto lock feature, and to her surprise, itt does not release! She tries once more and thinks it is very strange. She nervously indicates to the POV that's she'll be right back, nothing to worry about!
Chrissy walks into her office to look for the master key and in the process she trips over a set of leg irons. When she looks down she sees that somehow the shackles latched onto her legs and are now secured! She is astonished but doesn't have time to worry about it now. She has to find the master key for the massive ball gag locked in her mouth. In the process of searching she finds a pair handcuffs and as she fumbles with them they also magically latch onto her wrists! Talk about some terrible but comical luck! Chrissy is stunned, how could this get any worse! She finds her phone tries to gag talk on the phone for help and becomes increasingly frustrated that her assistant cannot understand her. Just before she is ready to cry about it all, she finds the key in a nearby drawer. There is a brief reprieve before she remembers she's kept the boss waiting, so the takes the key with her and shuffles her shackled feet back down to the R&D lab. Upon arrival Chrissy mmph's a few explanations before handing him the key to release her. She gives him a few pleading looks, trying to get him to help her out. He agrees to remove her gag and does so, however she remains bound in the cuffs and shackles. "Well that was incredibly unfortunate, it appears that one and ONLY that one, is malfunctioning" Chrissy says. She then notices him slowly backing away from her. "Where are you going? Wait, did you just tell my assistant to put that gag in my mouth?! No, Erica, do not put that gag in my mouth! Do not gag me!" In a flash Chrissy is now ball gagged again, this time with a white ball gag. She protests and struggles to get free. He then pushes her back onto her chair and goes to leave as she begs him to wait and not leave her bound and gagged, but she has no such luck today!
In the next scene Chrissy is now in her bedroom wearing a blue bra and thong lingerie set and a satin robe. She is wrapping up her apology about not meeting production deadlines and thanking him for eventually untying her. She stops and becomes excited when she sees that the he notices something. "I see you're interested in my latest invention. I'm VERY proud of that device. Get this, it shoots.Self. Tying. Rope! Just point this device at the girl you wish to wrap up and press the button! Here, I'll show you how it works." Chrissy removes her robe and crawls up on the bed. She then notices him playing with the remote "Um.What are you doing? Wait, don't push tha-". Suddenly, Chrissy is entangles in a bunch of ropes and in a flash she is tightly trussed up in the rope. Her wrists and arms are behind her back, legs, knees tied together and a SUPER tight crotch rope also magically appeared. She struggles to get free, but the ropes only become tighter as she does so. "Why did you do that?! This is so tight! I feel like it's actually getting tighter around my panties. Push the blue button, it releases the knots.no the other one. No, that button makes the crotch rope vibrate!" Naturally, the POV pushes that other button! Chrissy lets out a few moans of pleasure as it is implied the ropes have a special vibration feature. While trying to resist her climaxing urges she tries one more time to reason with him. "No.that was not.it. Mmm.. Please, just push the blue button. Please no, that's not the right one either, that's the gag feature!" Another screen flash and Chrissy is now well tape gagged with a few pieces of duct tape straight across her mouth and pressed down firmly. She struggles sensually while increasingly mmph'ing with pleasure from the vibrating ropes. She looks longingly at the POV with desire, begging with her eyes for him to touch her and make love to her. But he has a meeting to get to. As Chrissy realizes he is going to leave her like this her eyes get wide in disbelief and she begs him to release her before he goes, but again there is no such luck for Chrissy! She is left helplessly bound and mmmppphhhing in perilous pleasure!
It's now later in the evening and Chrissy has just finally untied herself from her previous predicament. She is cranky and tired from hours of vibrating torture. She enters her dimly lit office still wearing the same blue bra and panty set. She begins typing on a computer and talking to herself "Ugh, I have SO much work to do now. An entire day's worth of work, gone. I just need to make sure those shipments of the auto lock gags didn't go out." After just a few seconds of searching on the computer, Chrissy is stunned by what she discovers. She begins pacing around the room in distress. "Oh my goodness! This can't be right! While I was bound and gagged, someone authorized them all to be shipped?! This can't be happening! Who could have done this!? Ugh, I need to sit down" She then sits in a wooden chair in the corner without seeing the big WARNING sign on it. She rest her arms on the arm rests and leans her head back, taking a deep breath then after a quick flash she finds herself tightly bound to the chair with leather straps! She is shocked and surprised yet again! She immediately begins to struggle to get free. "Oh no! You've got to be kidding me! Didn't we get rid of this thing?! Help!" Suddenly, a light turns on. The POV has returned. "Oh thank god, it's you. Please help, someone has shipped out the prototypes! We need to talk to the legal department right away!" Instead of freeing her from the tight straps he moves in close and dangles the Penis Gag in front of her mockingly. "It was you wasn't it! But why? What do you want with me?! Why would you want so many women out there to be gagged? I guess I just answered my own question.didn't I?" He moves in closer and she really gets worried now. "Oh, please don't gag me! Not with that prototype, there's no master key for it. Please." In another flash Chrissy is gagged with the locking penis panel gag. She angrily struggles and curses at the PV. Then he pulls out a small vibrator and turns it on in front of her. Chrissy looks at him nervously with wide eyes as he approaches her and places the vibrator inside her panties. He then enjoys her sensual struggles as she tries to fight climaxing. She becomes increasingly turned on as she loses the will to fight the pleasure of the vibrator. As her struggles wind down, she looks up at the POV and nods her head, admitting defeat.
In the final scene Chrissy is no longer bound and gagged but she is clearly exhausted. She has her white cleave gag from the beginning of the video around her neck. "There, I signed off on the waiver, but now you have to get the legal department to sign off on it. Good Luck! Can I go now?" Chrissy puts the cleave gag back into her mouth and pulls it tight between her teeth. She sits back in the chair and crosses her arms, looking at the POV with disdain as he gets up to leave. The end.

Starring: Chrissy Marie
Size: 655.33 MB
Duration: 00:15:00 min
Resolution: 1920×1080
Format video: mp4
Preview:


Download link: