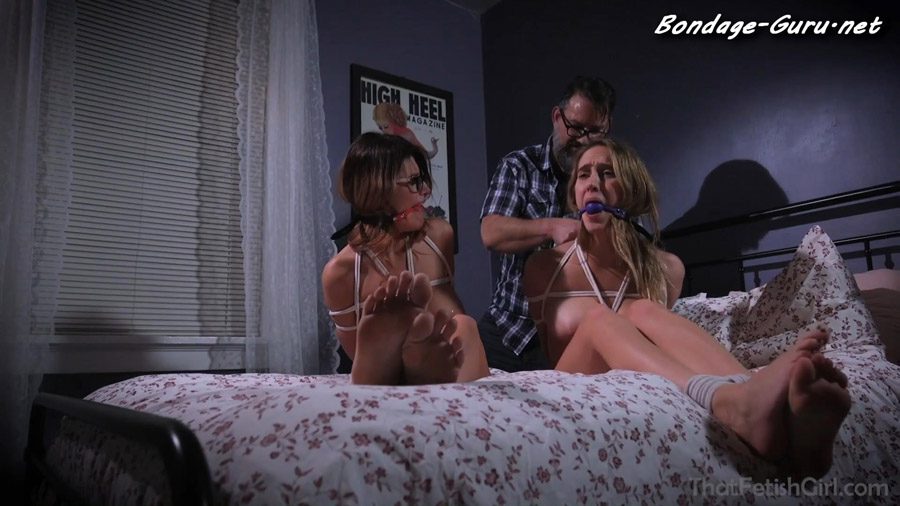 Cock Teasing Backfires – That Bondage Girl – Cadence Lux, Michele James
Cock Teasing Backfires – That Bondage Girl – Cadence Lux, Michele James
Cadence and Michele are staying at Michele's uncle's house for a week while they are in town for college orientation. He welcomes them and tells them where the guest room is, all while being a little to handsy and creepy. They head up the stairs to unpack and can feel him watching their asses as they do.
Later as they change clothes in the guest room, Cadence brings up what a creep the uncle is and Michele agrees. She says she understands why her Aunt divorced him and suggests maybe they get a hotel instead. Cadence reminds her that they are both broke college girls and the reason they're there in the first place is because it's free. Besides, she says, he's probably harmless. In fact, maybe they should have a little fun with him. She says maybe they should put on a little show for him and give him a nice tease and then, when he gets all excited, they will shoot him down to teach him a lesson about being a creep.
That evening, the uncle is sitting on the couch watching tv when Cadence comes down the stairs wearing a very skimpy outfit. She sits down on the couch a little too close to him and starts leafing through a magazine that was sitting on the chair arm. After a minute she sets it down in frustration and sighs that she's bored.She asks what he's watching in a flirty way while being very touchy with him. Michele enters, also dressed super skimpy. She sits on the other side of him and leans over to grab the magazine from Cadence, sticking her tits in his face in the process. She also complains about being bored. Cadence gets a devious look on her face and Cadence climbs over the uncle's lap and starts making out with Michele with her ass in his face. The creep is clearly getting turned on and they turn to him and giggle. They very seductively ask if he'd like to join in and help them with their boredom and he enthusiastically agrees, grabbing Cadence's ass and preparing to dive in when they stop him and push him away. Suddenly they change moods entirely, telling him they were just kidding and chastising him for ever thinking they'd be interested in him and say that it's what he gets for leering at young girls like a pervert. The girls are feeling very smug with themselves for pulling one over on the old creep when suddenly he grabs them both roughly. He covers both of their mouths with his hands and tells them they don't know who they are messing with and the trouble they've caused for themselves.
Cadence and Michele slowly wake up in bed, they are naked and their wrists and ankles are tied up and they are ball gagged. As they realize what has happened they start to struggle and freak out and the old creep enters. He taunts them and gropes them a bit before grabbing more rope and tying up their chests. He tells them they are going to give him a real show now, not that fake stuff and he takes out Michele's ball gag and positions her between Cadence's legs. He holds her by the hair and forces her to lick her pussy. He does this until Cadence comes and then puts Michele's gag back in before removing Cadence's and giving her the same treatment, forcing her to lick Michele's pussy. After he's made them both cum he re gags Cadence and ties them together facing each other by tying their chest harnesses together. He then ties them into a double crotch rope and leaves them to struggle.

Starring: Cadence Lux, Michele James
Size: 1.28 GB
Duration: 00:21:36 min
Resolution: 1920×1080
Format video: mp4
Preview:


Download link:
Cock_Teasing_Backfires.mp4