Cinched and Secured – Lil Missy UK – Where are the DIamonds?
Cinched and Secured – Lil Missy UK – Where are the DIamonds?
Lil Missy has had a very long day and only wants to relax in her hotel room. Unfortunately for her, someone has other plans! Missy slowly strips out of her business clothes, never realizing she is about to be surprised by a very unwelcome visitor! Suddenly, the man appears before her, demanding to know the location of the diamonds she has been carrying. She tries to explain that she knows nothing about any diamonds, but the man refuses to believe her, commanding her to pack her mouth full of cloth and then self gag herself with a very tight cleave! Now that she cannot cry out for help, he binds her to make her a little more enthusiastic when it comes to answering his questions. She still refuses and so he repacks her mouth, ties the cleave gag back even more tightly and leaves the bound beauty to struggle until she is willing to talk! Lil Missy isn't about to give up however! After as frenzied series of struggles and cries for help, she realizes she'll get no assistance and cannot even be heard beyond the walls of her room, so she awkwardly makes her way to her feet and begins to hop to the nearest phone! She uses her feet to remove the handset from the old landline, but in her struggles to make herself heard to the party on the other end, she knocks the received to the floor!!! Before she can retrieve it, her assailant returns! Displeased to find his captive has been so mobile, he swiftly hogties her to ensure she won't be going anywhere anymore! He removes her gag and Lil Missy, desperate for the ordeal to end, finally tells him where the diamonds are. Of course, the man is not going to take her word for it! He re-packs her mouth, and ties a very tight OTM gag over her pretty face! He tells her he will be back for her just as soon as he learns whether she has been truthful! Now terrified, Missy rolls and thrashes, knowing she is in great danger, when she hears the housekeeping staff at the door! Can she alert them to her plight??

Starring: Lil Missy UK
Size: 615.9 MB
Duration: 00:16:36 min
Resolution: 1920×1080
Format video: mp4
Preview: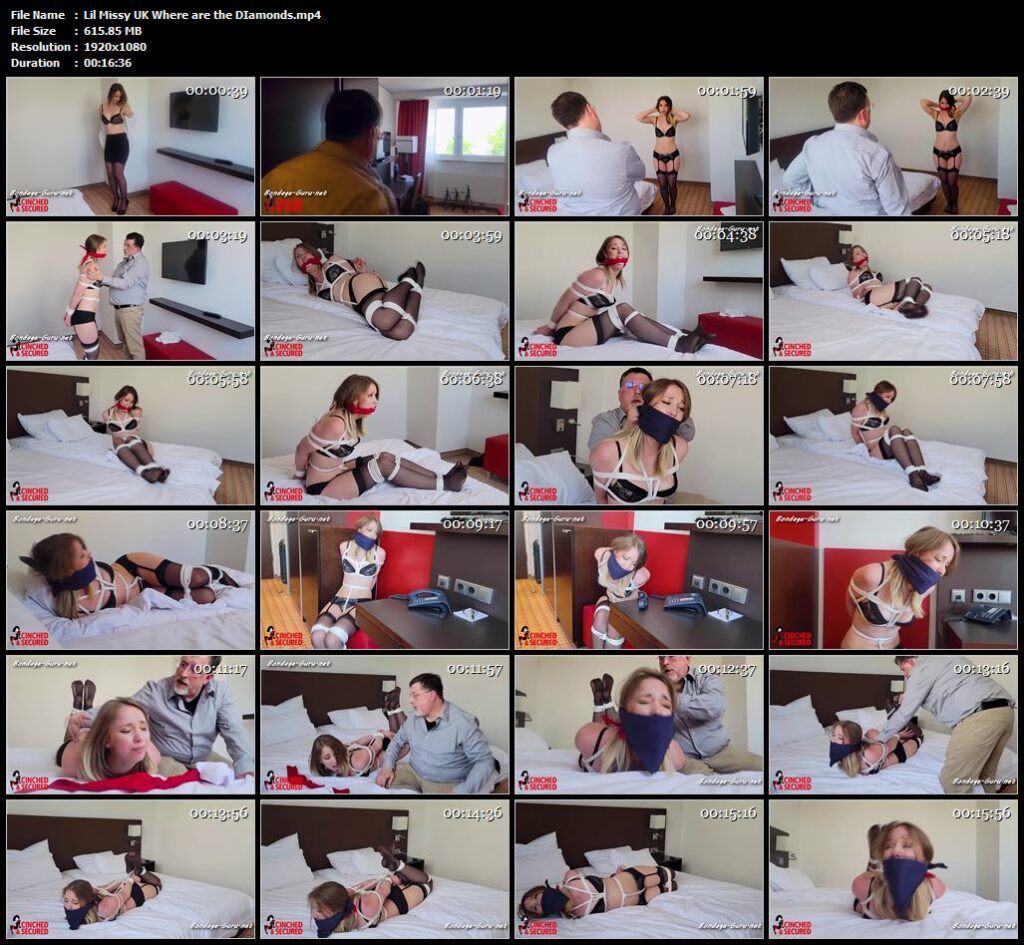 Download link:
Lil_Missy_UK_Where_are_the_DIamonds.mp4