Cinched and Secured – Kitty Kilmore – Too Many Gags!!
Cinched and Secured – Kitty Kilmore – Too Many Gags!!
Kitty loved to play pranks on her neighbor, and never expected to get caught, but then, life is full of surprises, isn't it? Now that the neighbor has her tied tightly to a chair, he decides she needs to learn a lesson about how young ladies should be seen and not heard! To drive home the point, he gags the poor protesting girl to within an inch of her life! Starting with a simple ball gag, he swaps that for a stuffed cleave gag, made effective with a squishy ball crammed into her yapping mouth! When she defies him by working the gag loose and spitting the ball at him, he really goes to town! He stuffs the rag that cleaved her mouth deeply into her face hole, then cleaves her with electrical tape and then seals the whole mass with a wrap around gag made of clear tape!! From there, he uses wrap gags made of medical bandage, cloth OTM gags, panty gags, pantyhose gags and tape gags, and he doesn't bother to remove a single layer before beginning the next! At one point, he even gags her with her own sports bra!! By the time he's finished, Kitty is definitely silent, miserable and contrite, not that it's going to do her any good! The neighbor has decided that her gurgling, snuffling sounds of defeat are music to his ears!

Starring: Kitty Kilmore
Size: 885.8 MB
Duration: 00:24:01 min
Resolution: 1920×1080
Format video: mp4
Preview: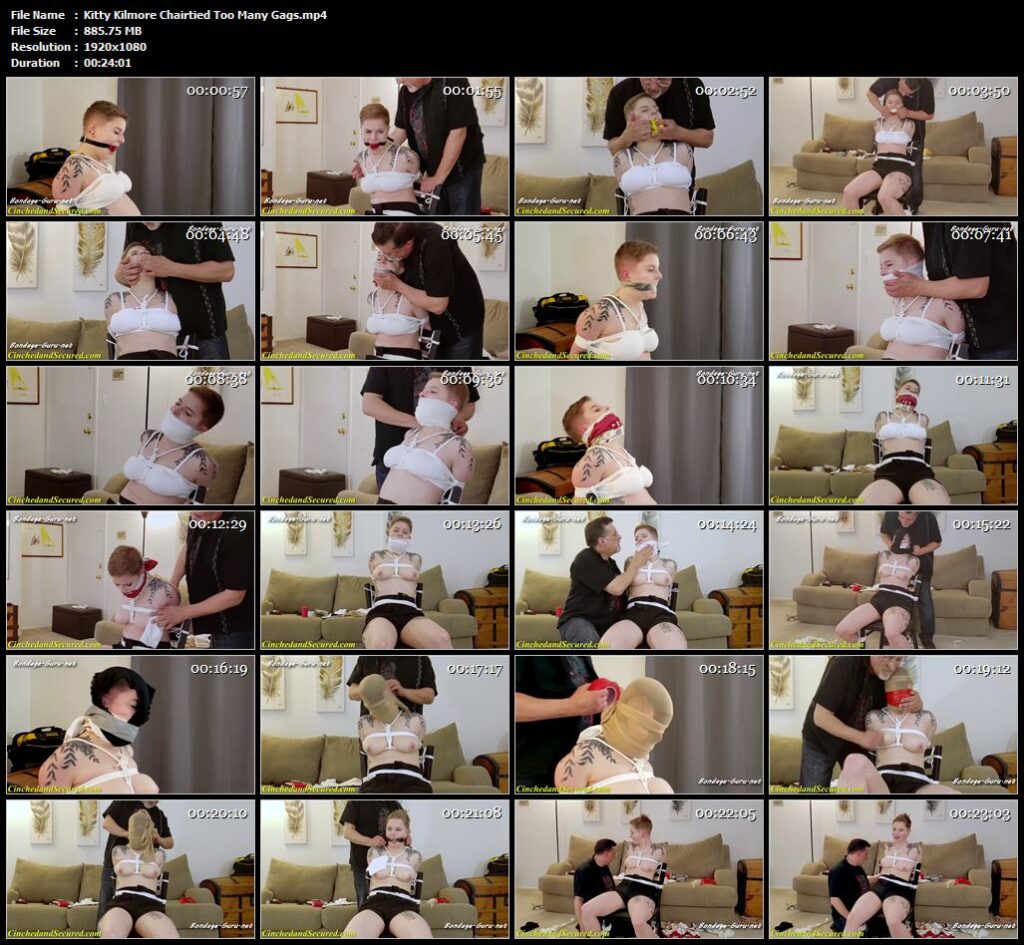 Download link:
Kitty_Kilmore_Chairtied_Too_Many_Gags.mp4