Cinched and Secured – Ava Nyx – No Party For You!
Cinched and Secured – Ava Nyx – No Party For You!
Ava and I had an agreement: She was going to spend the night at home and she was going to go to bed at a reasonable hour. Instead, she tells me she plans to go out to a dungeon party and play until the very wee hours! Despite my reminders that she is to stay at home, she argues and argues, finally telling me there is no way I can stop her from going out. THAT was the FIRST thing she was wrong about! Soon, the defiant finds herself stripped completely nude, ball gagged and tightly bound with rope! NOW let's see her go anywhere! She struggles, whines, drools, moans, thrashes and none of it does any good! She's helpless, and the crotch rope between her legs is a decidedly uncomfortable reminder of just who is the boss around here. I do have to give her credit for one thing: a dungeon party sounds like a good way to spend the night, so I decide to go and leave her home for the night, bound and gagged and helpless! To ensure she doesn't hurt herself with her energetic struggling, I tie her into a tight little ball, her legs folded against her chest, and leave her stuck on the sofa! Unable to move, she lays there in misery as I head out for the night. I don't really understand why she is so upset. After all, I'll untie her when I get back….many hours from now!

Featuring: Ava Nyx
Size: 621.2 MB
Duration: 00:15:58 min
Resolution: 1920×1080
Format video: mp4
Preview: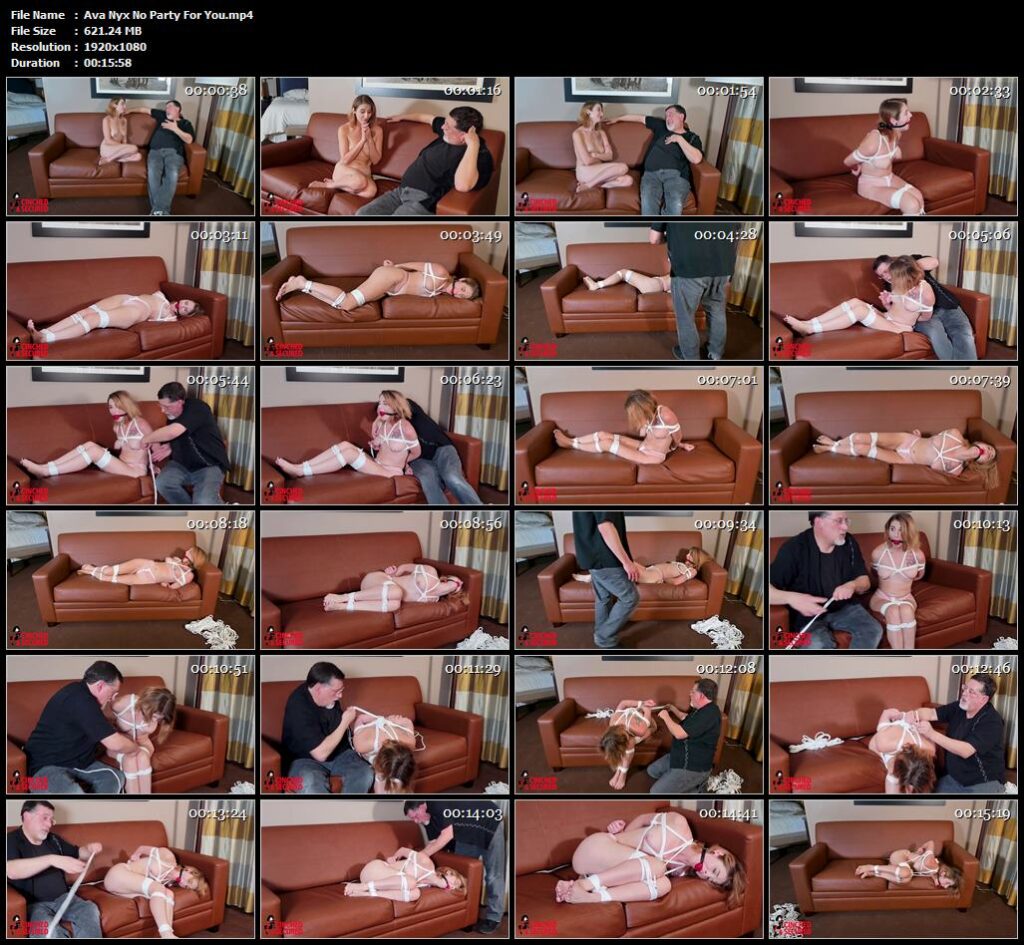 Download link:
Ava_Nyx_No_Party_For_You.mp4