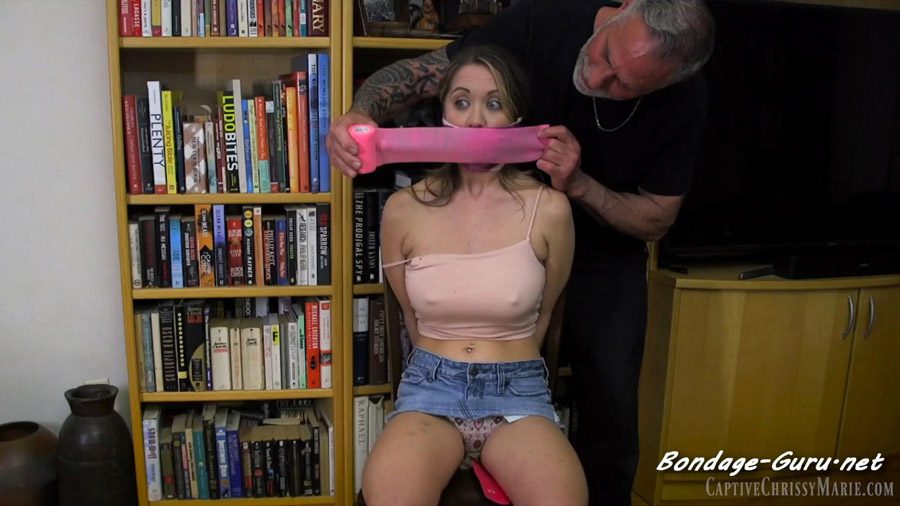 Chrissy's Massively Mouth Packed Gag Test HD – Captive Chrissy Marie
Chrissy's Massively Mouth Packed Gag Test HD – Captive Chrissy Marie
Dressed in a tight tank top and short denim miniskirt, Chrissy is ready for some kinky fun. She's always willing to be tied up but this time she has her heart set on testing herself with some truly mouth filling gags. Oakman is happy to oblige and before she knows it she's tied to a chair and ready to be packed to the brim!
Chrissy's first gag acts as a bit of a warmup stretch, with a pair of her panties stuffed into one of her socks and packed into her mouth before being tightly cleaved between her teeth with a white cloth. The gag is removed after she tries to talk through it for a short time and she's ready for a 2nd.She thinks the stuffing for the first gag was probably big enough but Oakman brings out a pile of nylons to show her she can go bigger. After he rolls a few nylons into tightly wound balls before stuffing them in her cheeks, Chrissy gets impatient and tells him to quit rolling them and just stuff them in already and he does just that, cutting off any more comments from her. Her mouth looks pretty full after 4 or so nylons but somehow Oakman manages to cram in a total of 8 before using a tightly strapped body bag gag to hold them in place.
After her mouth is emptied of all those nylons Chrissy is ready for gag 3, which begins with 4 colorful sponge balls packed into her mouth. She's stuffed so full the balls are about to burst out so Oakman quickly grabs a roll of thin purple vet wrap and begins winding it between her teeth. Chrissy urges him to wrap it tighter but soon regrets it when he grabs a green roll and continues wrapping, making for a super tight cleave. Gag 4 starts with 7 long, thin strips of cloth stuffed into Chrissy's mouth one by one. A knotted bandana cleave is then tightly tied between her teeth, followed by a white cloth cleave over that, and finally a white cloth OTM gag. It's definitely hard to understand Chrissy under all those layers! Chrissy begins to wonder how much more she can take when Oakman brings out a handful of small rolls of gauze for her 5th gag. 4 rolls make their way into Chrissy's mouth before thin masking tape is wrapped around her head and between her teeth. A short time later, Oakman somehow manages to find just enough room for one more roll of gauze and then decides to wrap even more masking tape around her head until it completely covers her lower face.
Chrissy definitely wants to stop after having all that tape on her face but Oakman is feeling like he's just hitting his stride so Chrissy begrudgingly agrees to do one more gag. Gag 6 features a variety of stuffing: a sponge disc in each cheek, followed by 2 nylons and a red ball. Blue electrical tape is then wrapped around her head over the center of the ball to hold everything in but turns out Oakman was lying and wants to do a 7th and final gag, for real this time. Chrissy isn't happy but doesn't have much of a choice, bound to a chair as she is. So she allows 3 polka dotted pocket squares to be shoved in her mouth and then the layering begins! 7 strips of red KT tape cover her lower face, followed by microfoam tape wrapped around her head. Next, purple bondage tape is wound over the microfoam. Still not done, Oakman adds pink vet wrap to finish off her heavy gag. Happy with how she sounds he leaves her helplessly struggling as she desperately attempts to plead with him to remove her massively mouth packed triple layered gag!
*Includes a bonus behind the scenes at the end of Chrissy removing the final gag

Starring: Chrissy Marie
Size: 1.3 GB
Duration: 00:48:44 min
Resolution: 1920×1080
Format video: mp4
Preview: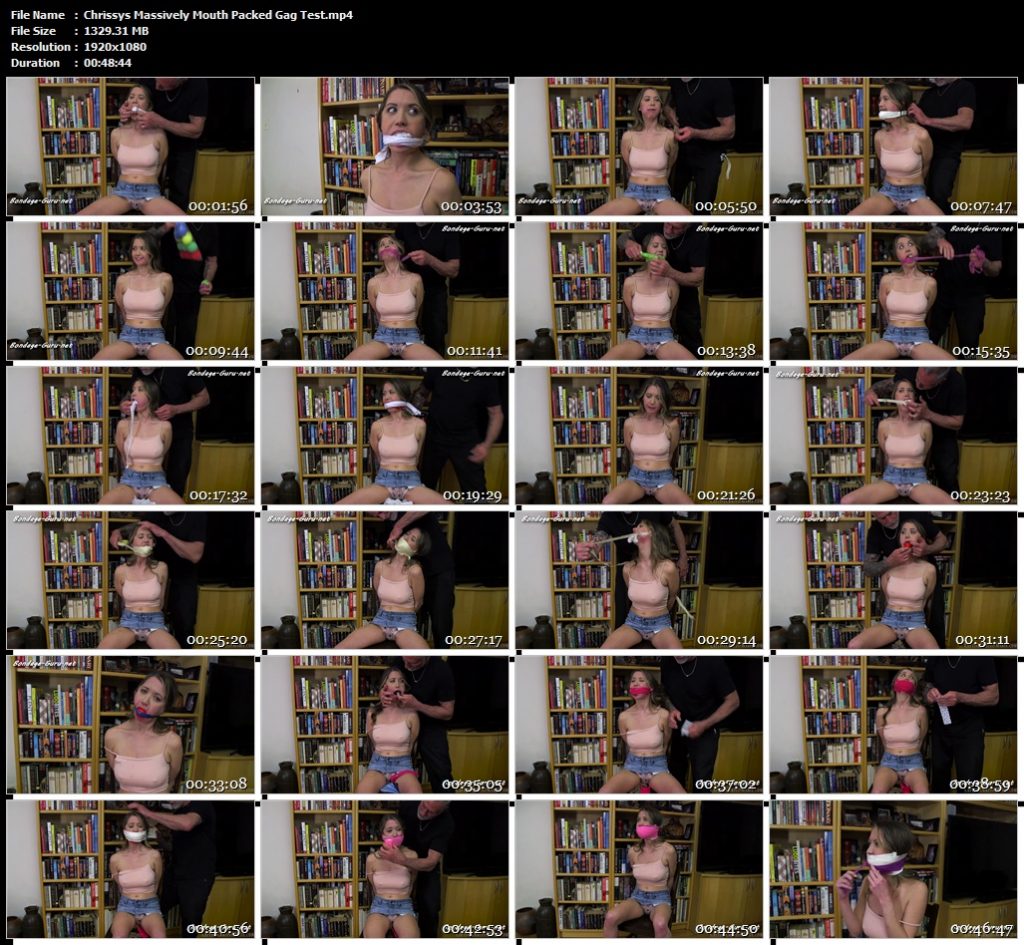 Download link: