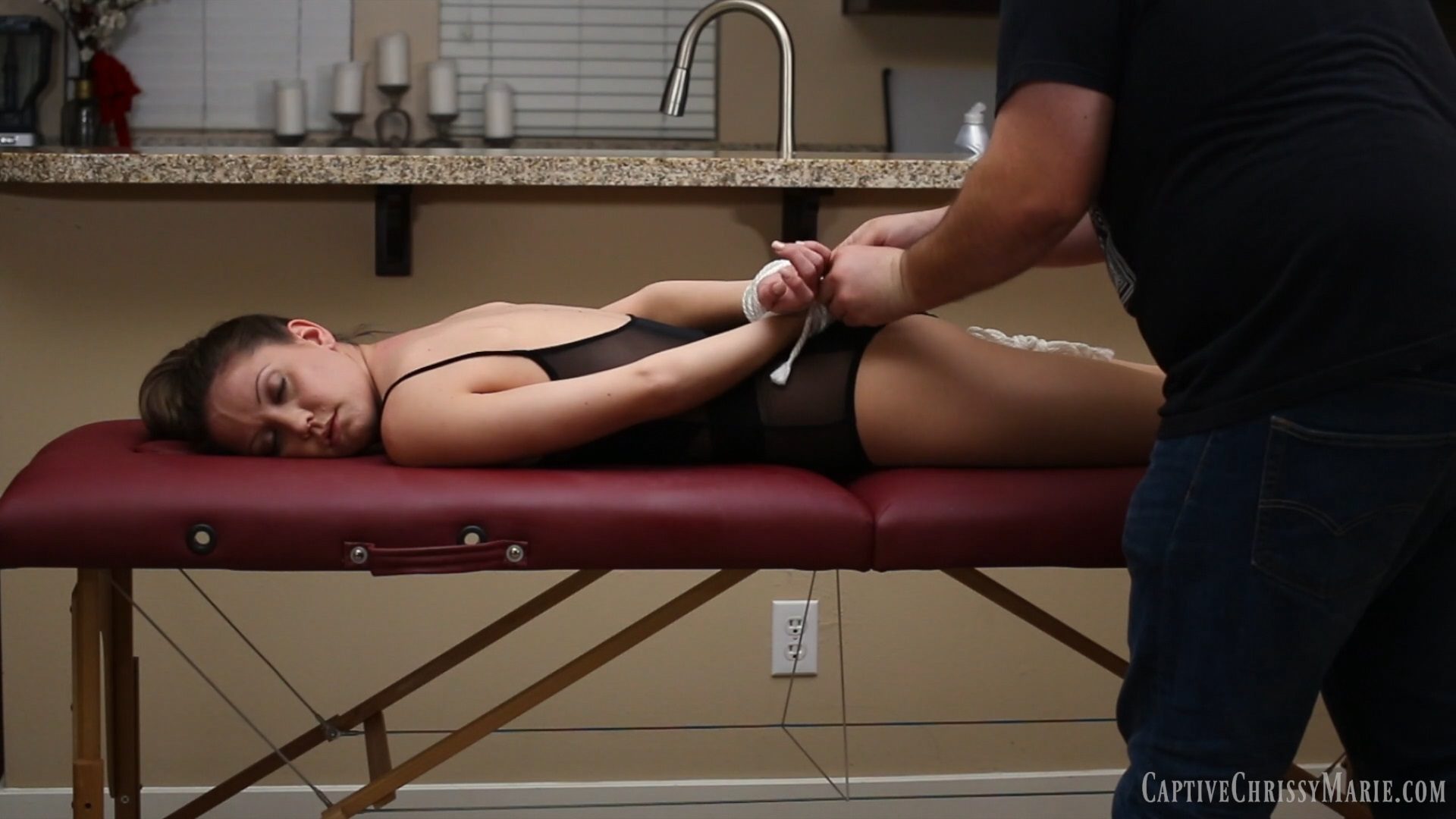 Chrissy & The Hacienda Special Steam HD – Captive Chrissy Marie
Chrissy is playing a super heroine who is undercover at a spa. She is wearing a black one piece bathing suit, tan pantyhose and black high heels as she relaxes on a bench in the sauna. All of a sudden a mysterious steam starts to fill the room and she quickly starts to feel dazed and confused. She knows something is amiss and stands up and attempts to spin change into wonder woman but she breathed in too much steam and she is too dizzy and sleepy now. She falls back onto the bench and her eyes flutter closed as she slowly succumbs to the special steam. Once the steam clears the bad guy enters to check her out. He then applies a cloth over her mouth and nose just to make sure she's out. He scoops her limp body up and over his shoulder, holding her there for a while as he rubs her silky nylons and smacks her ass then carries her out of the room.
In another room he carefully deposits her onto a massage table and flips her so she is laying face down on the table. He then ties her wrists crossed behind her back and ties her ankles together. Once secured he gives her a POV injection in the ass. This substance is a truth serum and he begins to interrogate her POV. "Who are you and what are you doing here?" The bad guys asks her as she comes to. In a very sleepy and groggy voice she responds "I am Diana Prince. I'm an IADC government agent. I was sent here to gather evidence about Russian espionage." Now that he has the information he needed he cleave gags her and gives her the cloth one last time. Once she is completely out he checks out her sexy body from head to toe. Then he rolls her onto her back and applies some black leather straps to hold her down to the table. He fondles and gropes her as he figures out what he is going to do with the sexy spy next!

Starring: Chrissy Marie
Size: 625.69 MB
Duration: 00:14:25 min
Resolution: 1920×1080
Preview:


Download link:
Chrissy_and_the_Hacienda_Special_Steam.mp4 – 625.69 MB