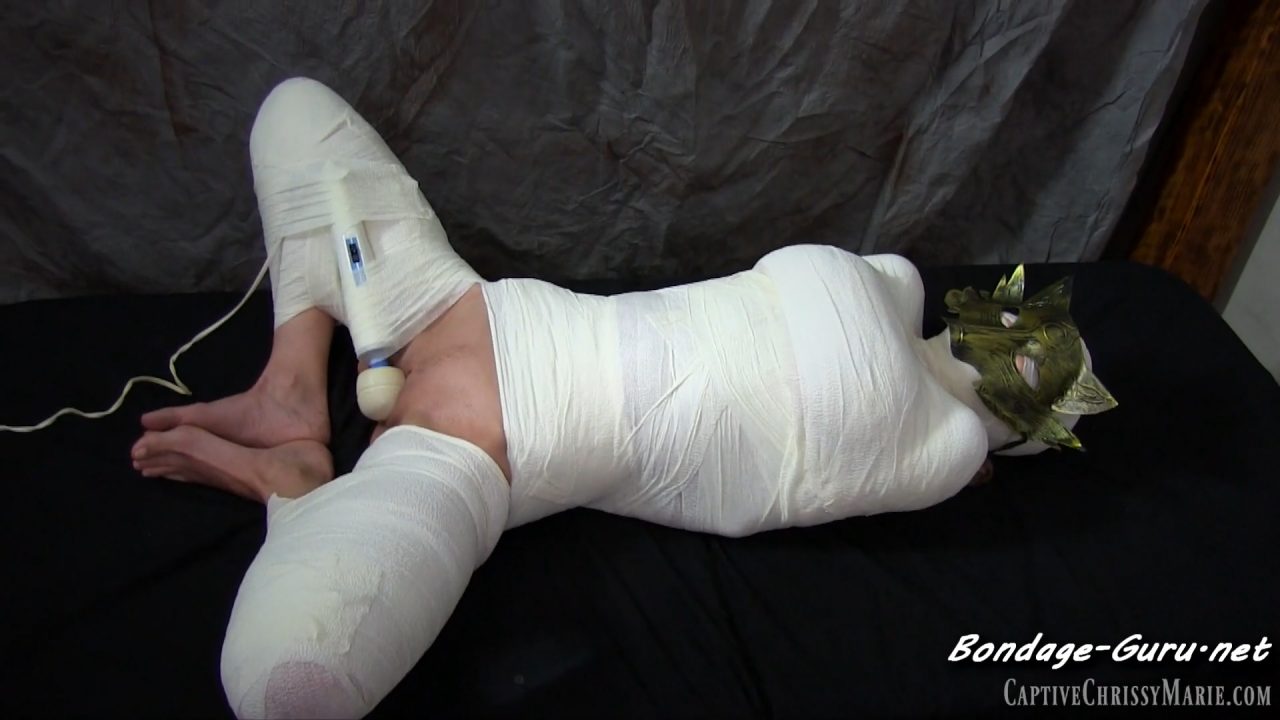 Chrissy Entombed – Captive Chrissy Marie
Chrissy Entombed – Captive Chrissy Marie
In this clip Chrissy plays a tombraider-esque character who stumbles into the wrong tomb where a cursed emperor captures her and takes her to an underground chamber. He mummifies her and performs a ritual that transfers his curse to her then leaves her bound and trapped in the chamber.
Chrissy enters looking amazed by the place. A man dressed as an Egyptian emperor stands frozen at the end of the room. Chrissy wanders over to investigate. "This statue is amazingly detailed, the craftsmanship is magnificent. He must have been somebody of great importance, I wonder if he has any distinctive markings." She begins to brush off dust on the statue looking for identifying features. Her touching the statue triggers something and it comes to life. "Aah! Free at last!" Chrissy jumps back but he waves his hand at her and she becomes frozen. Only her eyes can move. The man comes up behind her and begins to grope her. "Wh-who are you? What have you done to me?" She asks. "I was once a powerful and magical Emperor and this was my palace! I was cursed thousands of years ago and have been trapped here ever since waiting for a chance to escape. You awoke me from my eternal slumber!" Chrissy pleads with him to unfreeze her and let her go. "Oh I cant let you leave my dear" he says then pulls her hair yanking her head back. "I need your help once more and I'm afraid you're not going to like it!" The Emperor cracks an evil laugh before snapping his fingers and they both disappear in a flash.
Chrissy wakes up to find herself tied to the wall in a new room with her hands above her head. She begins to struggle and try to break free but the Emperor notices she's awake. He moves towards her and gropes her body while she squirms. "Wh-Where are we?" she asks. "This is the ritual room hidden deep beneath my palace. This is where you shall help me break my curse." Chrissy vows that she will never help him and demands to be let go. The Emperor responds "Oh you will! But first." He rips her top open revealing her breasts which he gropes. Chrissy struggles but the Emperor waves his hands around again entrancing her. He unattaches her from the wall and starts to remove the cuffs from her wrists. "I have missed the pleasure of a woman these thousands of years so I will enjoy you. Strip for me!" Chrissy begins to slowly strip while dancing. Once she is naked, he begins to spank her behind gently. "Now I must perform the ritual!" He waves his hands over her eyes and she falls limp into his arms then cradle carries her away.
Chrissy awakes now lying on a table naked, her arms bound behind her back and her legs frog tied. The Emperor is standing over her waiting for her to wake. She squirms in her bonds as she looks around and pleads "Please let me go. What are you going to do?" The Emperor explains "This is the ceremony table where I shall perform a ritual that will remove my curse and transfer it to you! You will become immortal and trapped in this tomb!" Chrissy begs "No! You cant!" He leans over and stokes her hair. "Oh I can! Plus nobody will find you here like you found me! Look around, there are no doors or entrances to this room.only I and my great power can come or go.You will spend an eternity here my dear!" The emperor then cleave gags Chrissy to silence her. "Now I must prepare you!" The Emperor grabs bandages and begins to mummify Chrissy starting with her legs which he bandages separately. Next the bandages are wound around her hips and up her body leaving her pussy exposed. When he reaches her breasts he winds the bandages tightly around them in a figure eight before continuing up. (Most of the body wrapping is done off screen). He then bandages around her head and face but leaves her eyes exposed.
Next he picks up "The sacred clamps!" and attaches the clamps to each of her nipples before covering her breasts with bandages. A shot of Chrissy's eyes is seen as they are bandaged over and a mask is place over her face. "And now the ritual shall begin!" The Emperor waves his hands and laughs manically. Both their bodies glow for a second. "My curse is now yours! I have a world to conquer once more. Enjoy eternity my dear. One little present to keep you entertained." A Hitachi wand is strapped between her legs and he turns the vibrator on high. "Farewell!" He disappears and leaves Chrissy to squirm, tightly mummified, gagged and blindfolded, forced to endure bound orgasm after orgasm for all of eternity!

Starring: Captive Chrissy
Size: 681.65 MB
Duration: 00:19:01 min
Resolution: 1920×1080
Format video: mp4
Preview:


Download link:
Chrissy_Entombed.mp4