Chloe & Taylor in: All in a Day's Lady-Jeopardy for 'Captured Chloe' & Her Amazing Gagged n' Tied Pal, Ms Rose! "Mmmmrrmmmpphhh!!!" (Full Adventure)
Chloe & Taylor in: All in a Day's Lady-Jeopardy for 'Captured Chloe' & Her Amazing Gagged n' Tied Pal, Ms Rose! "Mmmmrrmmmpphhh!!!" (Full Adventure)
Poor Chloe. She just keeps getting grabbed by those who would bind her incredible body up and then intensely gag her sensuous mouth. Along with her stunning partner in ropes Taylor Rose (seriously hot) they are going to spend their time struggling and trying to talk through their gags whenever they get a new escape-themed thought. We spit upon those who would treat such beautiful women in such cavalier fashion. And then, when nobody is looking too closely, we shake their hands on a job very well done!
Fresh from the shower, the super-titted and gorgeous brunette is taken out by a visiting invader and carried like a sack of feathery grain (the best kind) into her own parlour. Here she is left struggling with a handkerchief securely bound over her lips and all tied up. The friend plays with her hot thick tits for a bit, even pinching her nipples for a reaction, before leaving her to struggle passionately, barefoot and very, very sexy. And as if this wasn't enough (merely the starter) we proudly sweep across to tonight's MAIN.
In tight cocktail dresses, the ladies have been accosted by a man who has no ticket to the ball they are in charge of checking. We now know what went on here but we know not (yet) of what comes next. Some severely tight and jam-packed mouth-filled wraparound tape gags to REALLY silence them, as their identities are assumed by nasty lady crooks, including the one and only Miss V, who can't seem to help herself sampling the girls' jumbo boobs through their revealing dresses!
Trussed up good and tight on chairs, Chloe looks on, genuinely horrified by how viciously her fellow hat-check bimbo is being muzzled. Taylor repeatedly gags on the thick cloth packing ramming her mouth wide as her face is put to the test with a ton of silver-ass tape. Then Chloe gets it, and her discomfort is evident. Even more humiliating that she must receive her gagging from the VERY hands-on Miss V – damn this babe know how to WRAP! With both buxom beauties all gagged up, the crooks leave to make their final preparations.
Both bound bimbos try repeatedly to kick out with their tied up legs, no doubt imagining a pair of nuts or a shapely rump on the end of their saucy stilettos and their fury at being incapacitated so spectacularly is more than evident. They repeatedly mouth off into their huge packed out gags and whip around like banshees. God thing they are tied up. They're raging!
Comedic relief comes in the form of two separate visitations from the crooks – who both cannot keep their hands off of the trussed up ladies' massive chests. They call out to the other from the dining room, to assure them that they are just 'checking' on the hostages, while in actuality – well, checking on them – intimately! Raging into their gags, the girls continue to struggle wildly, but it does them no good. They are STAYING. Bound up on those chairs, it's just an other-worldly thing to behold when the participants are soooo cute and their legs sooooo sexy. As they writhe around, fighting all the way, we will quickly know we are in the presence of true damsel superstars. Check them out, and see if you agree. And oh yeah; POOR Chloe, out of the frying pan and into this. What a scrumptious menu! Indeed, we'll have the "Ggggmmmmmmmmm!" followed by the "Mmmmrrmmmpphhh!!!"! Delicious!

Starring: Chloe Love, Taylor Rose
Size: 1.17 GB
Duration: 00:19:07 min
Resolution: 1280×720
Format video: mp4
Preview: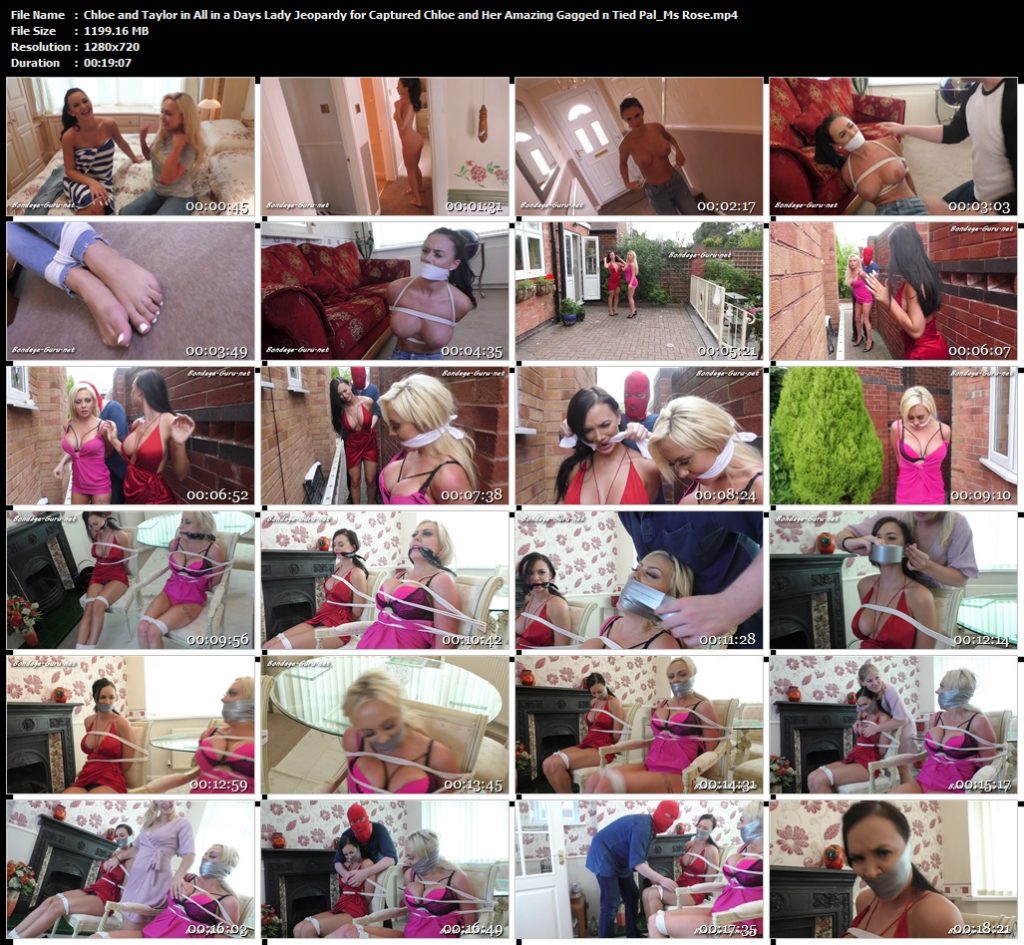 Download link:
Chloe_and_Taylor_in_All_in_a_Days_Lady_Jeopardy_for_Captured_Chloe…mp4