Captured Beauties – The Cat's Doom – Lara and Alba
Captured Beauties – The Cat's Doom – Lara and Alba
Lara is a free lance hitwoman and burglar and do a lot of dirty works for what she suppose to be the criminal boss, Tony. After the last "task" she tells him that the risks she takes deserve a raising of the payout but Tony looks evasive at the request, claiming that he has to sustains a lot of expenses. When Lara sees Tony's mistress Alba coming who cheers him and showing him her last very expansive shopping, done with Tony's credits card, she understands what kind of expenses Tony is sustaining. Apparently Lara drops her request, but she plans to rob Tony, given that she has lost all esteem for him.
Later Lara penetrates in Tony's secret room and identifies the safe hidden behind a paint. But when she's about to steal hit Tony who has foreseen that she would have tried to rob him, grabs her and handgags her.
Later we see Lara tied on bed. Alba and Tony gag her with microfoam tape and tell her that they are going to punish her for her cheat according to mafia's rule, with "concrete shoes".
Lara knows that her life is in peril and when she's left alone she tries to escape. After some struggling she manages to hop from the bed and reach the bathroom. She's lucky and she find a bag that Alba has left there in which she finds a pair of scissors. Once she's free Lara prepares her revenge.
She manages to ambush Tony and fights with him. Taken by surprise Tony can't breack the iron headlock of Lara, but Alba soon joins the fight and hits Lara with the shoe. Lara is defeated again.
In the next scene we see Lara tied with much more white rope. (some on screen tying is shown). Lara threatens the couple so Alba decides to silence her for good. she stuffs a cloth in her mouth and wraps duct tape around her head several times. Then Lara is placed on the floor and tightly hogtied. She's then left alone but Alba tells her that she and Tony will return soon with the concrete bucket, prepared for her. Is it the end of our sexy Catburglar?
Dialogue In English

Featuring: Alba Zevon, Lara
Size: 1.1 GB
Duration: 00:22:08 min
Resolution: 1920×1080
Format video: mp4
Preview: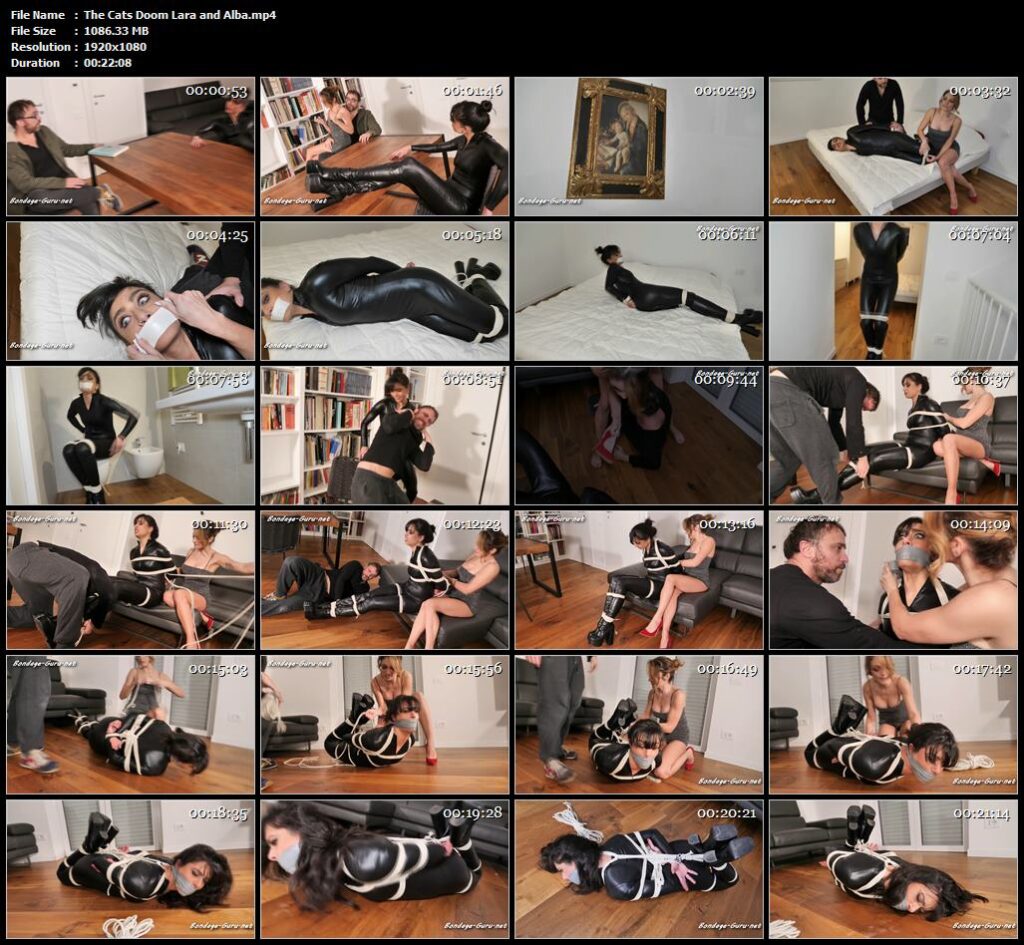 Download link:
The_Cats_Doom_Lara_and_Alba.mp4