Captured After Cheer Practice – Captive Chrissy Marie
Chrissy was captured on her way home from cheer practice and now she's stuck struggling in her tiny shorts, crop top and white ankle socks while stashed away in her captor's creepy garage! He tells her he plans to sell her as a bondage slave but until then has some fun with her himself by testing her cheerleader flexibility by hogtying her ankles to her chest harness (off screen tying), severely arching her back and keeping her chest upright and tits on display! She is begging and pleading for him to let her go, but all we hear are distressed mmpphhss through her tightly OTM gagged mouth! He takes some photos of her bound and gagged then leaves her there squirming on the garage floor while he goes to send out photos of her to his clients!
A while later he comes back to tell her he thinks he has a buyer for her, but first he would like to see her in a ballgag! Chrissy is at first relieved as he starts to remove her OTM gag, perhaps she can reason with him. He threatens her not to scream or else she will get hurt worse. Once the gag is off she starts to quietly try to plead with him, crying that it hurts, but he shows no mercy as he stuffs the big white ball gag into her mouth! She quickly learns this gag is even worse than the over the mouth cloth gag! She tries to cry for help but instead she just starts making gagging noises! He then tells her his client also asked get a better look at her boobs! So he pulls open her top and takes a moment to grope her as she struggles and mmppphhhss in despair through her ballgag. He takes more photos then leaves her struggling yet again, now even more helplessly bound and gagged than before!
Chrissy tries hard to wiggle free from the ropes, at first she was confident with her flexibility she would find a way out, but there's so much rope and the knots are so tight that she quickly loses hope that she will be able to escape. As she endures the painful predicament she quickly becomes visibly distraught. The drool fills her mouth as she gags and gurgles, and eventually spills out all over the ground and her face, leaving her feeling humiliated and defeated. After what seems like an eternity her captor returns one last time to deliver the news. He was very happy with the pictures and he will be here to pick her up tomorrow morning, but he will be leaving her here like this until then!

Starring: Chrissy Marie
Size: 572.66 Mb
Duration: 00:12:11 min
Resolution: 1920×1080
Format video: mp4
Preview: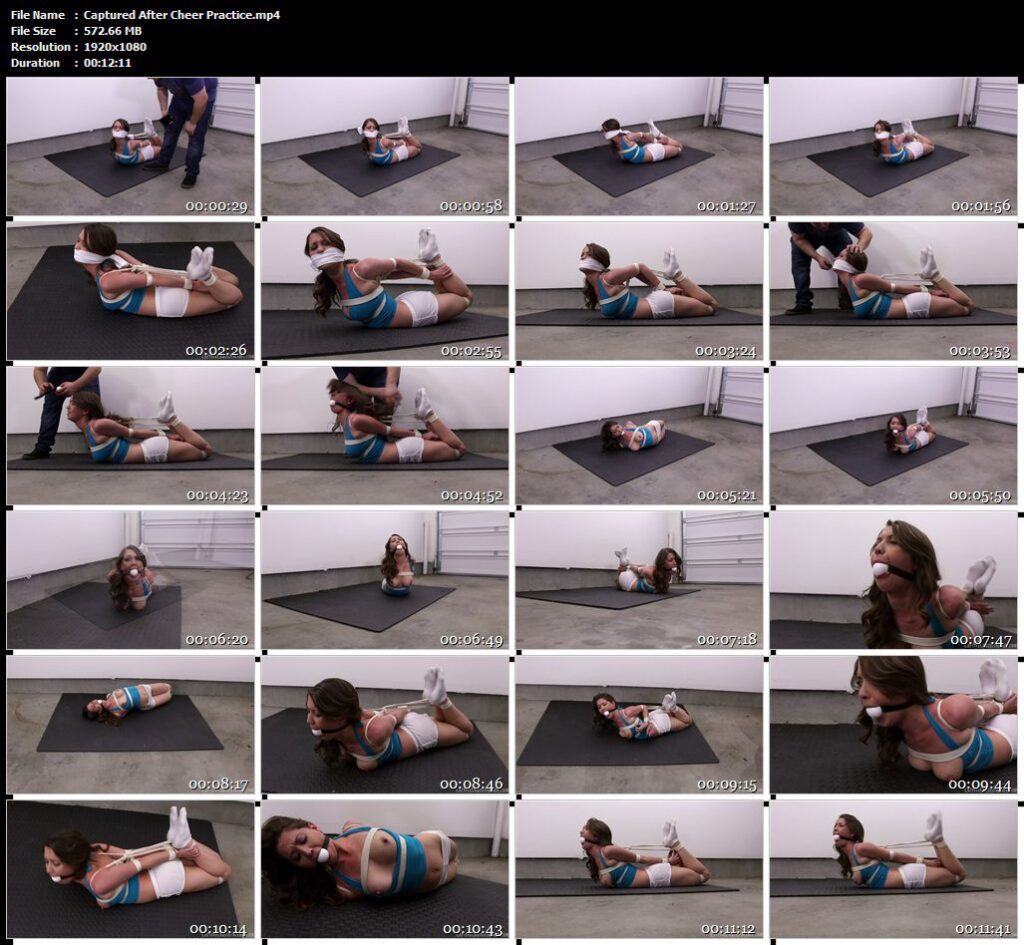 Download link:
https://florenfile.com/s05rq0828vi4/Captured_After_Cheer_Practice.mp4.html