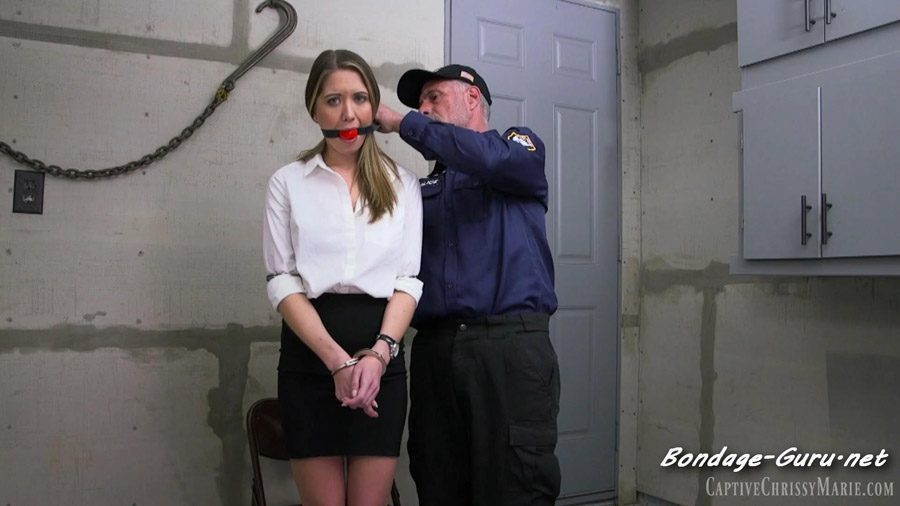 Captive Chrissy Marie – The Seven Month Sentence HD
Captive Chrissy Marie – The Seven Month Sentence HD
Chrissy is tossing and turning in bed. She didn't sleep very well because she couldn't stop thinking about what was going to happen to her today. She grabs her watch with the black leather strap from her nightstand to look at the time. She puts the watch back and sits on the edge of her bed. She notices an incoming call and picks up her phone. It's a friend asking if she is okay. "Yeah, I'm okay. No, I don't need a ride, they are sending a guy to pick me up. No, they told me I wouldn't have to wear handcuffs because I'm self surrendering.Look, I appreciate the support, I really do, but I'm just going to go by myself. I don't really want anyone to have to see this happen to me. I'll be let out in seven months. I'll call you then." Chrissy looks at her watch again. She puts it on her left wrist, then stands up to get ready. She changes into a white long sleeve business shirt, black skirt and knee high boots. Then she hears a knock at the door. She takes a deep breath and goes to answer the door. He is right on time and asks her how she is holding up. She tells him she is anxious and he reassures her she will be okay, he has seen a lot of people get put in and it seems like an easy process. "I know money laundering is a serious crime, but I should have fought this. I'm taking the fall for a lot of people. It's not right. I'm just a low level accountant" she says. The cop then pulls out his handcuffs. "Oh wait, no, I'm self surrendering. I was told I wouldn't have to wear those." The cop explains that someone gave her bad information and that the cuffs are mandatory. To make her feel better about it he tells her they are just like little bracelets for her wrists. Chrissy reluctantly allows the cop the roll up her sleeves and handcuff her wrists behind her back. We get a good view of her cuffed hands before the cop leads her out. This all takes place in a future time where imprisonment is dealt with in a different way… instead of being held in a prison cell for seven months, she will instead be place in a deep freeze for seven months.
Chrissy is now at the freezing facility with her hands still cuffed behind her back, waiting her turn. She shows little emotion. At this point she's accepted her fate. The cop returns. "It's time. Stand up and I'll get you prepared." Chrissy stands and her handcuffs are removed. Then her elbows are shackled and her hands are cuffed closely together in the front. The cop asks if she is okay and she tells him she is pretty scared. Again he reassures her that everything will be okay. Then he pulls out a red ball gag. Chrissy asks him what it is. He explains he has to put it in her mouth for her safety during the freezing process. She understands and allows him to gag her. Chrissy is then lead stoically to the freezing platform. She's placed on the platform and the cop leaves her there to tend to some business. We got a good look at Chrissy standing there with little emotion. She has accepted all of this. The cop returns and removes her front handcuffs. Her hands are free but the elbow shackles remain. Chrissy says "I guess I'll see you in seven months," as the cop walks away. The cop starts a five second countdown. At two seconds left, Chrissy says, "Wait, wait." The cop returns and asks her what's wrong. "My gag feels a little loose. Can you tighten it a notch?" The cop makes the adjustment. She asked why her wrists are not cuffed and he just says the procedure says the handcuffs have to removed and that he will take the Ballgag out when it's over. He walks away again. The countdown starts over. After the countdown, freezing gases rise from the bottom to the top. Once the process is over. The cop approaches her and says "It's a success. She's in perfect hibernation." He then removes her ball gag. Chrissy's mouth remains open since she's frozen. He proceeds to lower her frozen body to the ground. We get a good view of Chrissy's frozen body before the cop announces that she is ready for storage.

Starring: Chrissy Marie
Size: 753.8 MB
Duration: 00:15:39 min
Resolution: 1920×1080
Format video: mp4
Preview: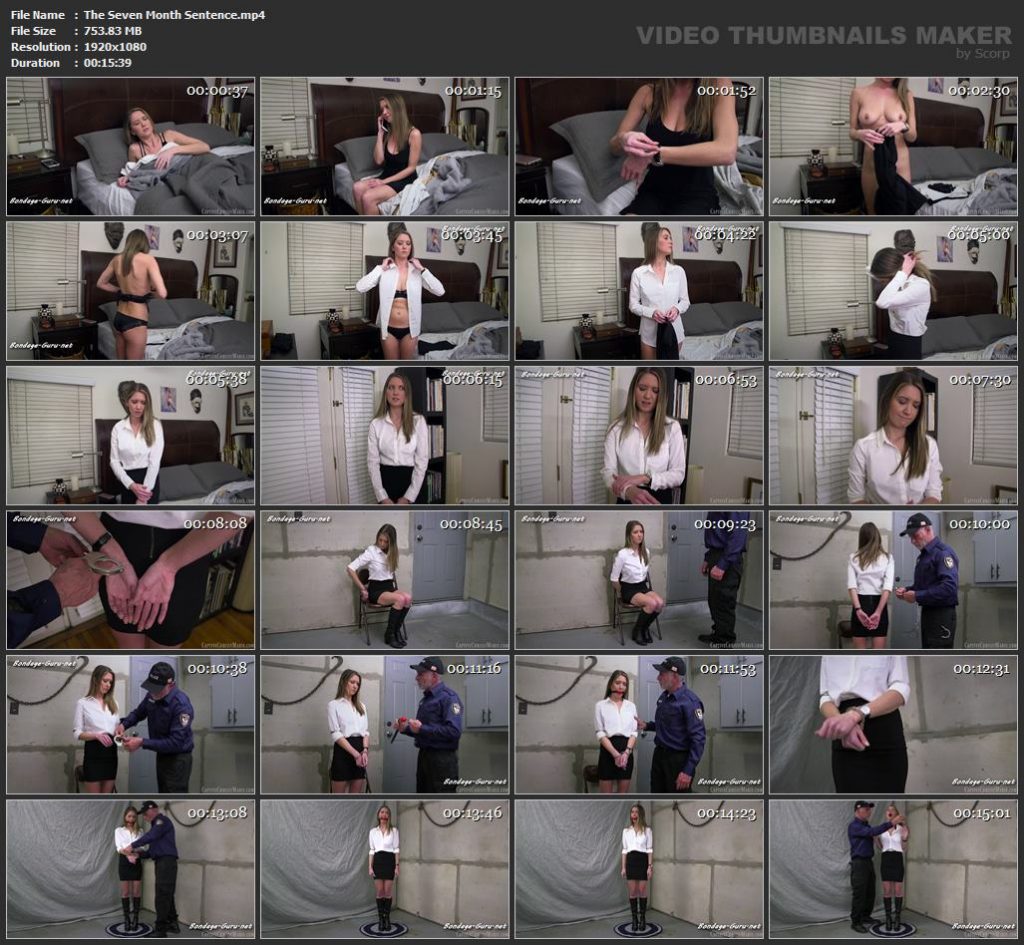 Download link:
The_Seven_Month_Sentence.mp4.