Captive Chrissy Marie – Nursing Student Nabbed HD
Captive Chrissy Marie – Nursing Student Nabbed HD
Chrissy Marie is a rising star in her nursing school. She is currently working on a new project in medicine. Chrissy enjoys her time sitting at her desk and conducting research on her laptop; little does she know, there is someone who has planned to take credit for her hard work. Back in her dorm room Chrissy is encoding input on her laptop while working on her new liquid medicine sample. For safety, she is wearing her white silk medical mask for protection. While focusing on her work, she did not realize the robbing student was already there. He startles Chrissy by asking her "How is it your project going?" Chrissy feels a bit weird that why this guy was in her room without her knowing it. "You scared me! Well, it should be done soon. I have finished encoding the data so now completing the report should be easy!" But feeling a bit uncomfortable, Chrissy asks the guy to leave her room, so she can get back to her work.
The robber suddenly goes behind Chrissy and puts his hand over Chrissy's masked mouth. She mumbles through her mask: "What are you doing?" The robber replies "Your work will be mine, I am here to steal it. Don't scream and do as your told, you will be fine when I'm done!" The robber then pulls out some handcuffs and cuffs Chrissy hands behind her back then ties Chrissy ankles together to the chair with rope. Being scared for her life, Chrissy begs the robber to stop now and she won't tell anyone about this. The robber replies "It's too late." He then pulls the medical mask on Chrissy face down her chin and tapes her mouth with a strip of microfoam tape. Then he carefully puts the mask back on Chrissy's face, so her mumbling sounds will be harder for anyone to hear. After securing his hostage, the robber takes Chrissy's laptop and her liquid medicine sample, leaving and locking the door behind him.
Chrissy is alone now, bound, gagged and masked. She is barely able to make a sound, knowing that even if she does, no one would hear her. She struggles in the handcuffs and ropes, but it is too tight to escape. She is scared and her sad eyes almost burst into tears. Still, Chrissy manages keep her calm even though it is tough to breath though the tight mask on her face with the tape over her mouth. Eventually Chrissy exhausts all her effort and begins to sleep for she is too tired to struggle. Soon after, the robber returns, wakes Chrissy up and tells her that he has transferred all the files and documents of Chrissy's hard work to his computer. He has deleted all the evidence of Chrissy's experimental research. However instead of letting her go as promised, he now has other plans for the poor beautiful captive. Chrissy mumbles through her gag and her frightened eyes stare at the robber as he begins his 'other plan' with Chrissy.

Starring: Chrissy Marie
Size: 395.26 MB
Duration: 00:10:54 min
Resolution: 1920×1080
Format video: mp4
Preview: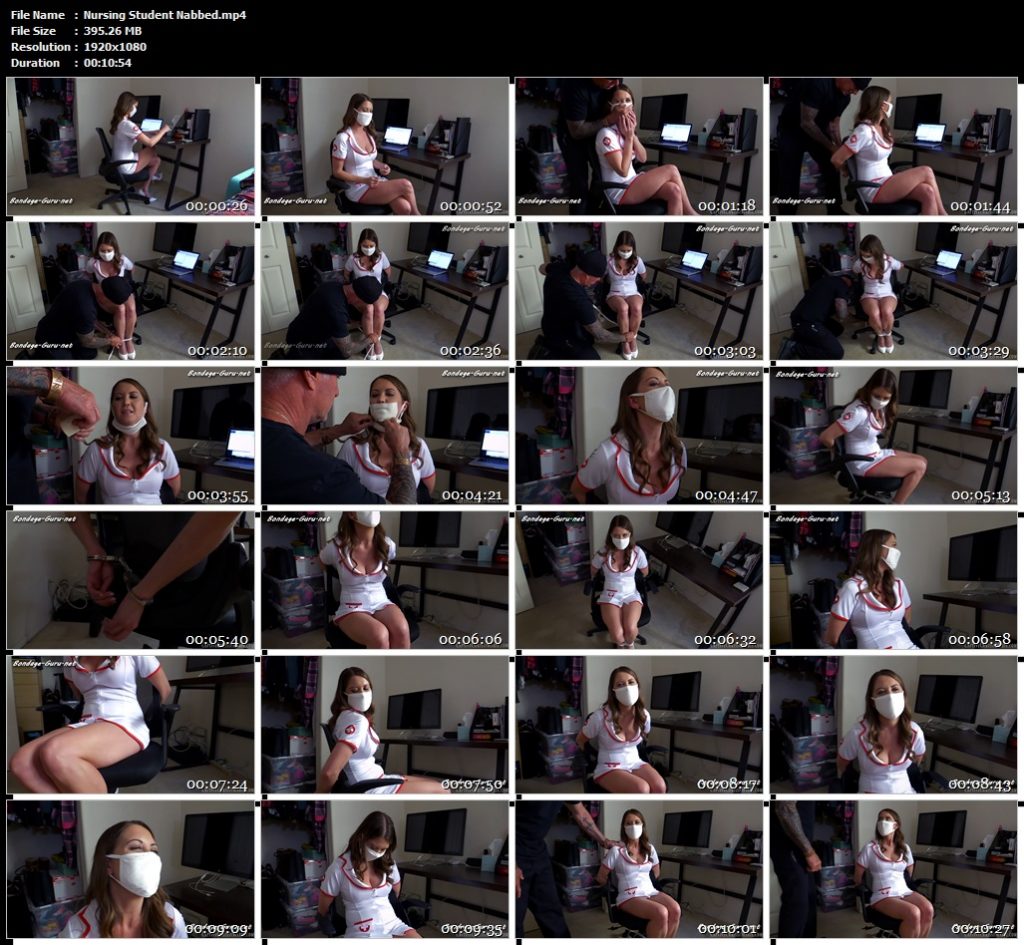 Download link:
Nursing_Student_Nabbed.mp4